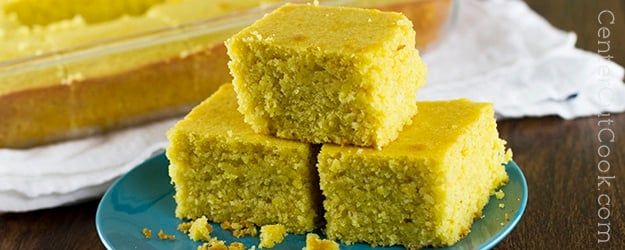 With Thanksgiving right around the corner, I made the decision that I'd try to share as many recipes with you as possible to help you prepare, starting with The Best Mashed Potatoes last week! When I think of Thanksgiving, one of the first things I always think of is stuffing. I love the stuff, but truth be told, I've never made homemade stuffing before *gasp*! I've always bought the boxed stuff at the grocery store and called it good.
This year, I decided it was about time I made homemade stuffing. I spent waaaaay too much time agonizing over whether I wanted traditional stuffing, or if I should go with a corn bread stuffing. In the end, I ended up going with corn bread stuffing, largely in part to this very recipe for Old-Fashioned Corn Bread.
A couple of months ago, one of my dedicated readers, Sophia (thanks!!!), sent me a recipe for corn bread that she said I just had to try. I finally got around to making it and it has turned out to be some of the best corn bread I've ever had. It's moist and crumbly, just the way corn bread should be! The other HUGE plus is that it actually comes together so quickly (about 10 minutes of hands-on time) which means you have every reason to ditch the boxed stuff.
Corn bread is great for serving alongside chili, soups and stews. One of my favorite times to serve it is when I make this recipe for Slow Cooker Chili, or even Slow Cooker Pulled Pork. The only ingredient you need for this recipe that you may not already have on hand is corn meal, but it's easily found in the baking aisle at your grocery store. All the other ingredients in this recipe, you will likely already have on hand. One note though, is that this recipe makes a rather large pan (a 9 x13). If you're making this as a side dish for a small group, feel free to cut the recipe in half. If you're using this recipe to make corn bread stuffing, you'll need the full batch.
Lastly, keep your eye out tomorrow for a fabulous recipe for corn bread stuffing, using this very corn bread recipe as the base. It's darn tasty, and I can't wait for you to try it!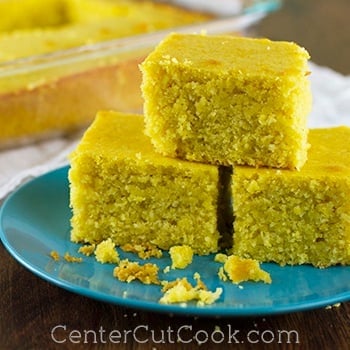 INGREDIENTS
1 cup butter, melted
1 1/3 cups sugar
4 eggs
*Almost* 2 cups milk (less 2 tablespoons)
2 tablespoons vinegar
2 cups corn meal
2 cups flour
1 teaspoon baking soda
1 teaspoon salt
DIRECTIONS
Pre-heat your oven to 375 degrees. Grease an 8 x 13 inch casserole dish.
In a large 2-cup measuring cup, add two tablespoons vinegar. Add enough milk so that you have 2 full cups of liquid. Set aside.
In a large bowl, pour in melted butter. To the melted butter, add in sugar and stir well.
Whisk in eggs.
In another bowl, combine milk/vinegar mixture with baking soda. Pour into butter/egg mixture. Add in cornmeal, salt, and flour. Stir until most of the clumps are worked out.
Pour into greased 8 x 13 inch casserole dish and bake for about 35 minutes, or until a toothpick inserted in the middle comes out clean.
Recipe from
CenterCutCook reader, Sophia (thanks!)