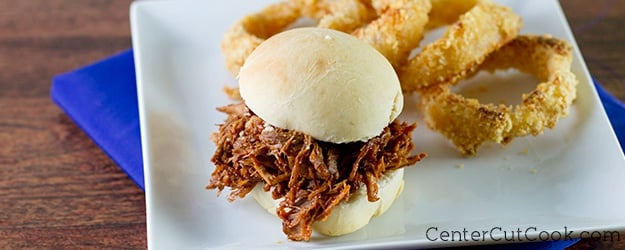 Pulled pork made in the slow cooker is a recipe that you need in your life, year-round. While some people put their slow cooker away for the summer, I like to use it for every season, the summer included, especially for quick and easy, not to mention delicious recipes like this Slow Cooker Pulled Pork.
Typically, I am the type of person that loves nothing more than to fire up the grill during the hot summer months to avoid turning on the oven at all costs. My whole anti-oven-in-the-summer philosophy sort of changes when Chicago turns into a terrarium with the temperature so hot that the thought of going outside to grill does not even sound fun anymore. That's when the slow cooker comes into play. While it creates a bit of heat, it is nothing compared to the oven which means the house stays nice and cool.
Whenever I have a taste for a pulled pork sandwich, there are a variety of methods that I like to use, but my favorite by far is when I use the slow-cooker to turn a pork shoulder roast into super flavorful, incredibly tender pulled pork.This Instant Pot Pulled Pork recipe is also fantastic!
This recipe requires literally 5 minutes of your time. You just plop a few ingredients in the slow cooker, walk away, and about 8 hours later you've got yourself a meal that is SO tasty, people will think you spent hours preparing it.
Do I have to use root beer to make this Pulled Pork recipe?
Variations of this recipe are all over the web. Some call for covering the meat with Coke, but I love using Root Beer. Use whatever you have on hand.Dr. Pepper would be a good option. If you don't have any kind of dark cola, you could also use a dark beer if you have that on hand.
What to serve with Slow Cooker Pulled Pork
I served the pulled pork on homemade hamburger buns, and made these delicious Crispy Baked Onion Rings to go with it! Other fantastic side options include Loaded Baked Potato Salad, Creamy Cucumber Salad, or this copycat KFC Cole Slaw recipe.
Whether you're serving this for a Memorial Day, 4th of July, or Labor Day picnic, or you're making this on any ole' weekday night, it is sure to be a hit both in taste, and with the ease of preparation. Enjoy!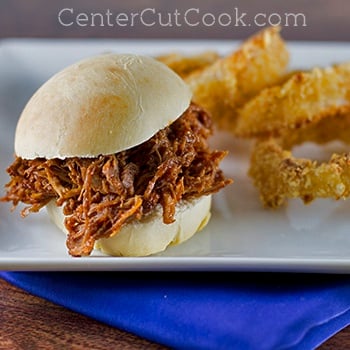 INGREDIENTS
1 onion, sliced
2-3 pound pork shoulder roast, or a 2 pound pork tenderloin
12-16 ounces root beer
18 ounces bbq sauce
Salt, pepper, garlic powder
DIRECTIONS
Prepare the shoulder roast by poking it with a fork several times. Sprinkle the roast with salt, pepper, and garlic powder and gently press the seasonings into the roast.
Place the seasoned roast in the slow cooker and place the sliced onion on top.
Pour the root beer over the roast. Cook on low for around 8 hours.
Carefully remove the roast after it's cooked. Discard the bone if you used a shoulder roast. Use two forks to shred the meat. Discard the liquid from the slow cooker. Return the shredded meat to the slow cooker. Add in 18 ounces of your favorite bbq sauce and cook on low for an additional hour.
Serve on fresh toasted buns.