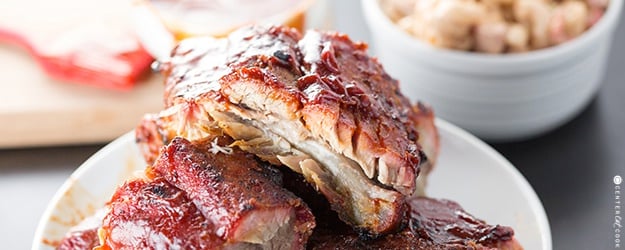 Mmmmmm BBQ ribs! Finger-lickin' good, and so perfect for summer! I know some people like to cook BBQ ribs in the oven, but I love cooking them on the grill so today I thought I'd share with you my recipe for Grilled BBQ Ribs made right on the grill. Grilling ribs is easier than you might think, you just need to make sure to follow the steps correctly for the best result. If you don't, you might be left with dried out ribs, and who likes that? Grilled BBQ Ribs are just perfect for summer!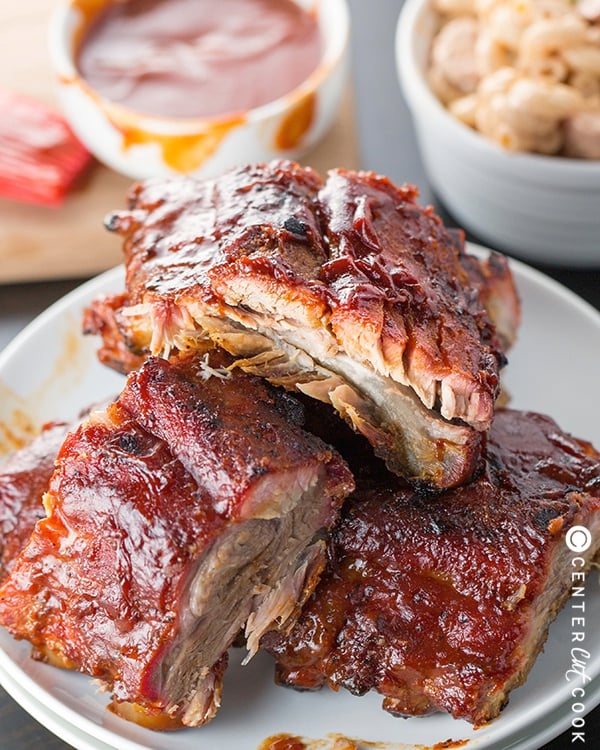 Disclaimer: I am NOT a rib grilling expert. I'm just sharing with you my method for grilling ribs. I don't know if it's right or wrong, all I know is that it works for me. Okedokes?
One of the most important steps you need to take before you grill ribs is to prep them. I like to trim any excess fat off the ribs – fat that is hanging loose, or little chunks of meat just hanging on by a thread. The other key is to remove the membrane. This part is kinda tricky if you haven't done it before, and truth be told, I haven't always done this step because I didn't realize I was supposed to until a couple of years ago. The membrane is going to be on the side with all of the bones. You'll need a knife and starting at one end, kinda wiggle the knife under the membrane. Once you get it going, you'll be able to grab onto it and pull it off. It's going to be slippery though so you might want to use a paper towel to help you get a better grip. Like I said, you don't have to do this, but you'll get the best results if you do.
Oh, and don't forget to rinse the ribs. Just give them a quick rinse under cold water and pat them dry with paper towels.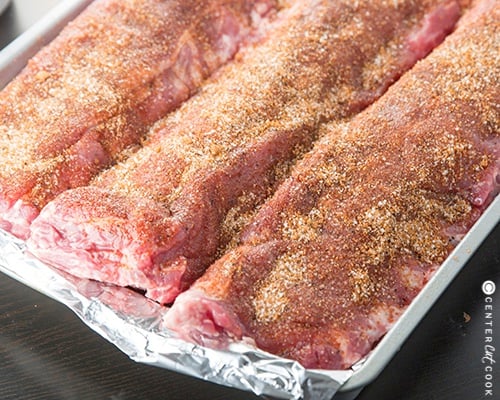 To really take your ribs to the next level, you'll want to season them with a dry rub. I have a recipe for my signature blend of spices that I use for my dry rub, and you can find that here. Season both sides liberally with the dry rub. This is your only opportunity to season the meat. A dry rub adds a lot of flavor, so don't skip this step!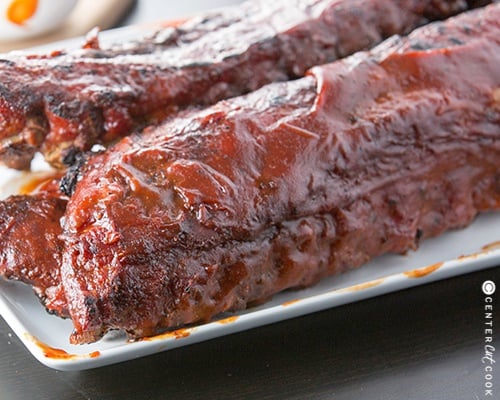 The key to really terrific grilled ribs is to cook them indirectly which simply means you will NOT be placing these ribs over the flame. To be able to do this you need a large enough grill where you can light only one section of the grill. If you have a Big Green Egg Like I do (you can see a picture in this post if you have no idea what I'm talking about), you'll be using the plate setter for indirect heat. You will want to heat your grill to about 275-300F.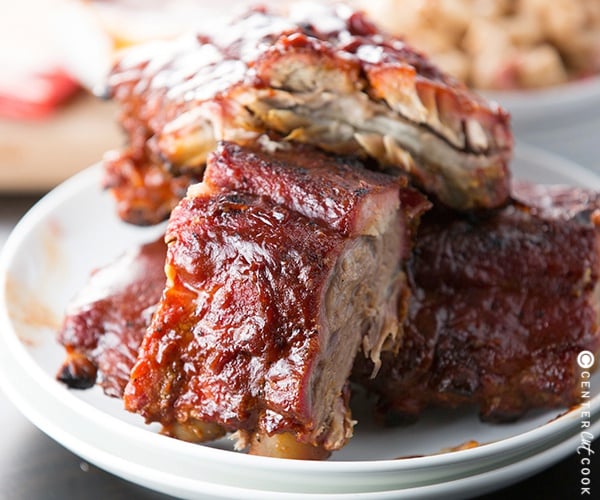 The last tip I'm going to offer is to use a great BBQ sauce. Whether you make your own or buy one from the store, make sure you like it before you slather it all over the ribs! Feel free to share your favorite BBQ sauce in the comments below!
I like to serve these ribs with my KFC Coleslaw copycat recipe, Loaded Baked Potato Salad, and Crispy Potato Wedges. Happy Grilling!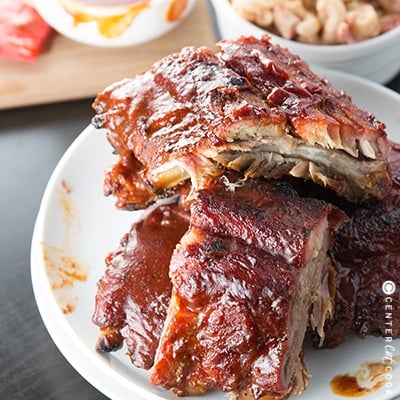 INGREDIENTS
3 slabs park baby back ribs
1 cup Dry Rub (this is my Dry Rub Recipe) – use more if you wish
Your favorite BBQ sauce
1 cup honey
3 cups apple juice
DIRECTIONS
Prepare your grill for indirect heat by only lighting half of it OR if you are using a Big Green Egg, use the plate setter. You will want to heat the grill to 275-300 degrees.
Prep the ribs: Trim any excess fat or loose pieces of meat from the ribs. Flip the ribs over so that the bone side is up. Use a knife to get under the membrane, then use your hands to pull the membrane up. The membrane is going to be slippery. Use a paper towel to help you grip the membrane if needed. You don't HAVE to do this step, but you'll get the best result if you do.
Rinse the ribs under cold water and pat dry.
Season the ribs with the Dry Rub. You will use about 1/4 of the rub on the bone side of the ribs and 3/4 of the rub on the meaty side.
When the grill has reached a steady temperature and is no warmer than 300F, place the ribs on the grill, making sure they are NOT above the flames. You are cooking these over indirect heat!
You can also use your favorite smoking chips if you wish, to add flavor. Just make sure to soak them in water, according to package directions. I usually soak mine for about 30 minutes.
Cook the ribs for about 90 minutes, making sure that the ribs don't start to burn.
Remove the ribs from the grill and slather them with 1 cup honey.
Place the ribs in a foil pan that will fit on the grill, again, over indirect heat. Pour in about 3 cups apple juice, or enough so that there's about 1 inch of apple juice in the bottom of the pan. Cover the pan with foil and place it on the grill away from the direct heat.
Continue cooking the ribs for another 45 minutes to 90 minutes, or until the ribs are tender and just starting to fall off the bone.
Remove the ribs from the pan and place them directly on the grill. Brush the ribs with your favorite sauce and cook for about 10 minutes on medium low heat, until the BBQ sauce starts to caramelize.
Recipe adapted from
Big Green Egg Championship Ribs