I have never really been one to go crazy for St. Patricks Day. As a child, I loved coming up with leprechaun trap ideas and all of the cute green decorations that my mom would put out but as an adult, it hasn't really been one of my favorite holidays.
However, I happened to be downtown in Chicago for their St. Patrick's Day parade a few years ago and it was impossible to not get in the St. Patrick's Day spirit! The Chicago river was dyed green and everywhere you turned, people were dressed from head to toe with all things green — hats, socks, shirts, suspenders, glasses, pants! So much green.
Now that I have a little guy of my own, it has been fun to find little ways to make St. Patrick's Day special. He's a preschooler and just loves all of the holidays. I usually try to print out some cute St. Patrick's Day coloring pages with leprechauns and rainbows. And I always put out a few decorations because he just loves that stuff.
In years past I've searched Pinterest for something cute to make but this year I decided to come up with my own St. Patrick's Day treat idea which is how this Lucky Leprechaun Bark came to be!
If you've never made homemade bark before, it couldn't be any simpler to make. For this particular recipe you'll start with 24 ounces of green candy melts. My personal preference is Wilton Candy Melts. They can be found in 12 ounce bags, so you'll need 2 bags of green candy melts.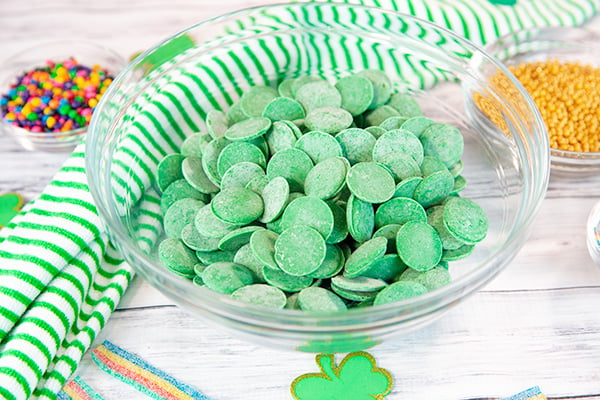 And then comes the fun part. Once you've melted the candy melts, you'll spread it on a parchment lined rimmed baking sheet and then top it with all of your favorite festive sprinkles. I went to Jo-Ann fabrics and found some super cute Wilton Rainbow Sprinkles along with Wilton Gold Sugar Pearls.
I had originally wanted to find Rainbow Airhead Bites (found here) to sprinkle on top but all of my local stores were sold out so I turned to Amazon where I found strips of rainbow candy. They were called "Smarty Stop Sour Candy Belts All Color" and you can find them here. I cut the strips into bite sized pieces and sprinkled them on top.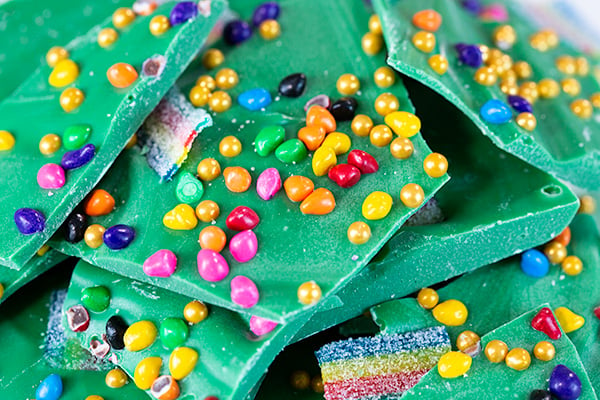 St. Patrick's Day wouldn't be the same without a green treat. This Lucky Leprechaun Bark is so easy to make, so festive, and one batch is plenty for a crowd.
May the luck of the Irish be with you!
Enjoy. :)
PS: If you're looking for a fantastic St. Patrick's Day appetizer for your party, check out our Slow Cooker Reuben Dip!
Pro tip: I have found that Wilton has the best selection of candy melts and sprinkles. Many of them can be purchased online or in stores like Jo-Ann Fabrics or Michaels.
INGREDIENTS
24 ounces green candy melts (I use Wilton)
Rainbow Sprinkles
Gold Pearl Sprinkles
Rainbow Candy Bites (Airhead bites)
DIRECTIONS
Line a large rimmed baking sheet (17 1/4 x 12 1/4) with parchment paper.
Place the candy melts in a microwave safe bowl and melt according to package directions.
Spread the melted candy melts evenly on the parchment lined baking sheet.
Top with sprinkles and place in the freezer for 30 minutes or the refrigerator for 2 hours.
Use your hands to break the bark into small pieces.
Store in an air-tight container.