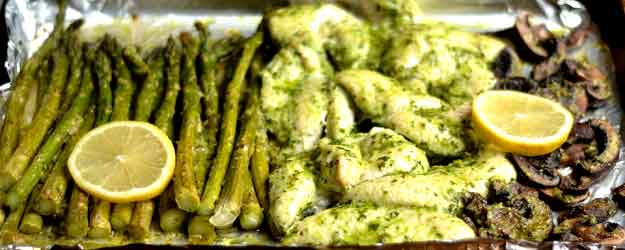 I am always trying to develop easy and healthy recipes that are easy to prepare. One pan meals are kind of my new thing. While I love my Instant Pot and Slow Cooker as super cool kitchen gadgets, they don't always give me that roasted taste I am looking for in a dish with veggies. Especially when I am looking to enjoy my asparagus and mushrooms. There really is no way but the oven! To be able to throw my chicken and veggies altogether in one pan with minimal cleanup is a win-win! It also must satisfy a few other "rules" I have with dinner: be super tasty, kid-friendly, versatile, and delicious (I guess I mentioned that one already). This homemade pesto is absolutely incredible and easy to make. A little splash of lemon juice with the sauce only enhances the flavor of this dish!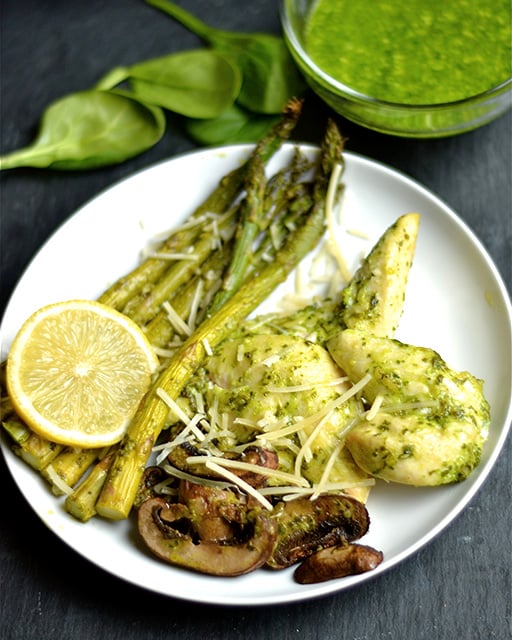 Pesto is a sauce my family is crazy about. I love to keep it on hand for easy lunches, spreads, and dips. But I also love it for dinner because of the amazing flavor! I love how versatile it is on pretty much anything. I have included my "go-to" pesto recipe in this post, and you will have plenty of leftovers. You can also use your favorite store bought brand if you are really short on time. This particular dish is so easy to swap out certain veggies in season, or add your personal favorites. You can also easily add this into your weekly dinner rotations but make it different each time. The cook time is generally always going to be around 25 minutes; as long as you use smaller pieces of chicken or chicken tenders. With vegetables, I found that roasting asparagus and mushrooms together work well because they can roast for about the same time (be sure to not have your asparagus be super thick). Brussel sprouts would also work well here. I have used tomatoes and potatoes as well!
We served this with a bowl of pasta for the kids (I like mine with zucchini noodles or spaghetti squash). You can add in some fresh tomatoes, parmesan cheese, and fresh ground pepper to serve. Enjoy this complete and easy meal!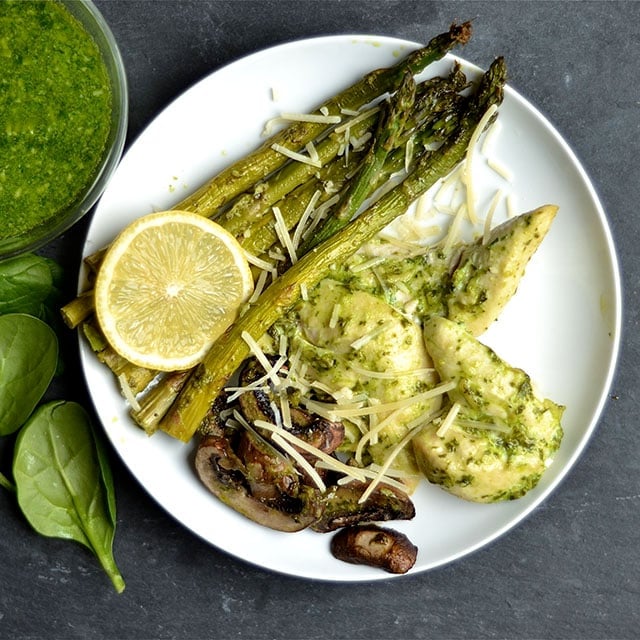 PESTO INGREDIENTS
4 cups lightly packed fresh basil leaves
4-5 cloves chopped garlic
1 tsp lemon juice
1/2 tsp sea salt
2/3 cup extra virgin olive oil
3/4 – 1 cup grated parmesan cheese
Fresh ground pepper to taste
1/2 cup pine nuts (optional)
CHICKEN & VEGGIE INGREDIENTS
1.5 lbs chicken breast, cut into tenders or small chunks
1/2 cup pesto (plus more for taste)
12 oz asparagus stalks, not thick
8 oz sliced mushrooms, any kind
Salt and pepper to taste
1/2 cup parmesan cheese for garnish
Juice of 1/2 lemon
DIRECTIONS
Preheat your oven to 375. Line a roasting pan or cookie sheet with foil and set aside.
Begin my making your pesto in a food processor or high powered blender.
If using the pine nuts, use only 3/4 cup parmesan cheese. If not using, use up to 1 cup parmesan.
Combine basil, pine nuts (is using), garlic, lemon, and salt in a food processor until the ingredients are well incorporated (15-30 seconds). Shut down the motor and scrape down the sides. While the motor is running, slowly add in olive oil, then cheese.
The mixture should resemble a thick paste. If you would like a thinner pesto, feel free to add in more olive oil.
Add pepper to taste.
Pesto can be stored in an air tight container in the fridge for up to 2 weeks.
Place chicken and veggies in your pan. Generously spread 1/2 cup of the pesto on top of the veggies (maybe more if you like).
Place the pan inside the oven and bake for 20 mins. Increase temperature to 425 and bake an additional 5 minutes so the vegetables are nice and toasty.
Remove immediately. Drizzle with lemon juice, sprinkle with parmesan cheese, and add salt and pepper to taste.
Eat plain, or over pasta with remaining pesto.
Servings: 4-5