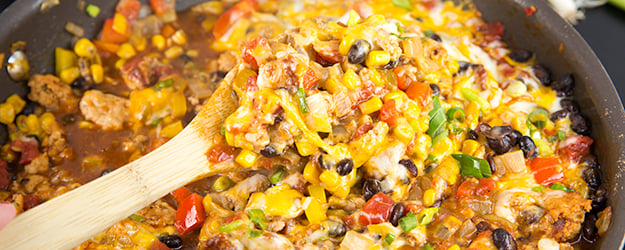 Somehow, summer days are almost gone and fall will soon be here which means it's time for hearty, comforting meals that the whole family will enjoy.
This One Pot Cheesy Turkey Taco Skillet (phew, it's a mouthful. A delicious mouthful) is loaded with veggies and ground turkey making it a healthy option that you can feel good about feeding your family.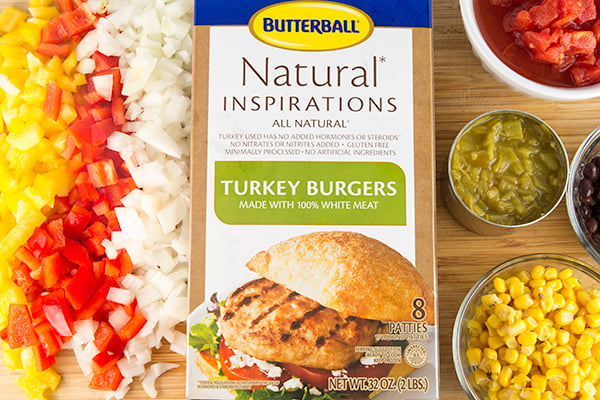 My three year old is not very picky when it comes to meals, as long as there's meat. He loves his protein and turkey is no exception. My little turketarian enjoys the flavors in tacos, so there was no question that he was going to love this skillet. And he did.
I used one of my favorite kitchen "hacks" for this recipe. There are too many times that I've forgotten to pull ground turkey out of the freezer ahead of time so that it's thawed when I need it. One of my favorite things to do in those instances is to use these Butterball Frozen Turkey Burgers that can go directly from the freezer to the pan or grill. We use them all the time for burgers, as they're meant to be used, but it is also a genius option to use when you need ground meat and don't have any thawed.
The concept is simple. For this Cheesy Turkey Taco Skillet you'll start by sautéing some veggies, adding in Butterball Ground Turkey or Butterball Ground Turkey Burgers and some seasonings. To give it a hearty boost, you'll add in black beans, corn, and green chiles. Top with melty cheese and chopped green onions and you've got yourself an impressive, healthy meal.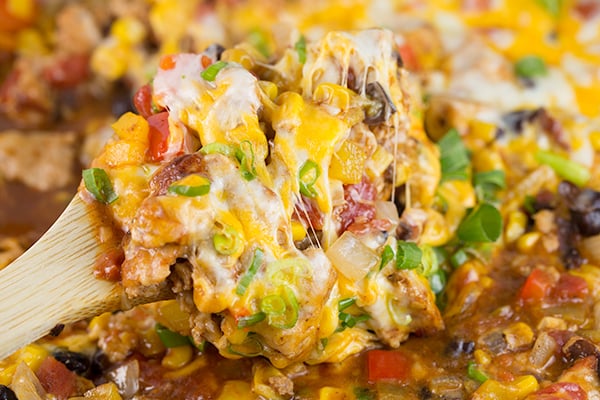 You could incorporate more veggies into this skillet if you'd like. I've made it before with chopped zucchini and spinach. Serve it over rice, or my new favorite, cauliflower rice, or even tortilla chips.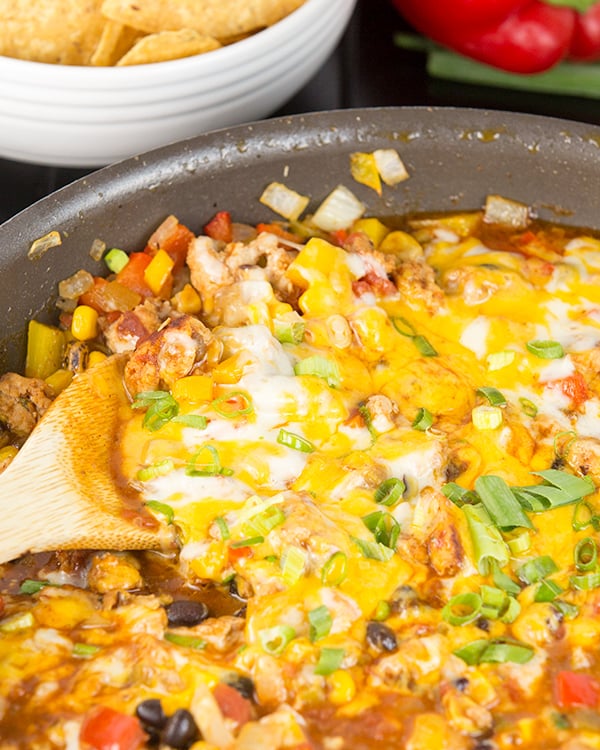 Ready in under 30 minutes, this will soon be a go-to recipe that you'll find yourself making over and over again. Enjoy.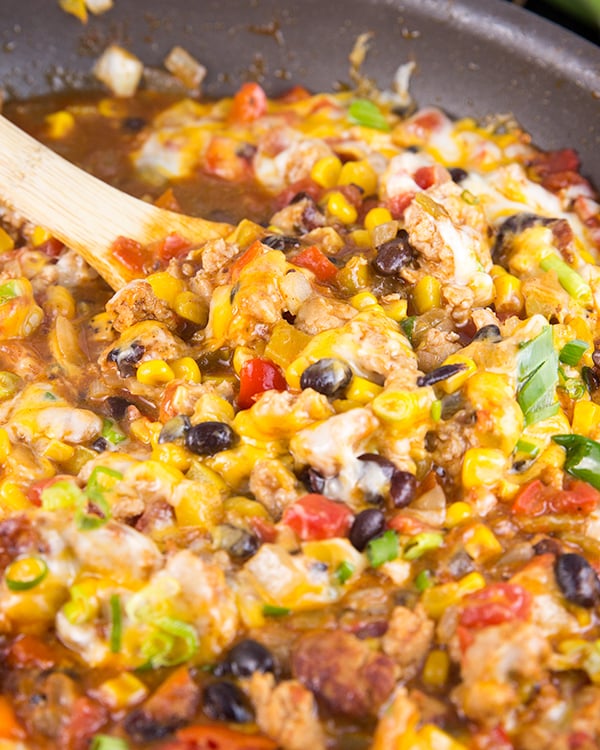 I am honored to have partnered with Butterball for this recipe. Thank you for supporting the brands that make CenterCutCook possible. All thoughts and opinions are my own.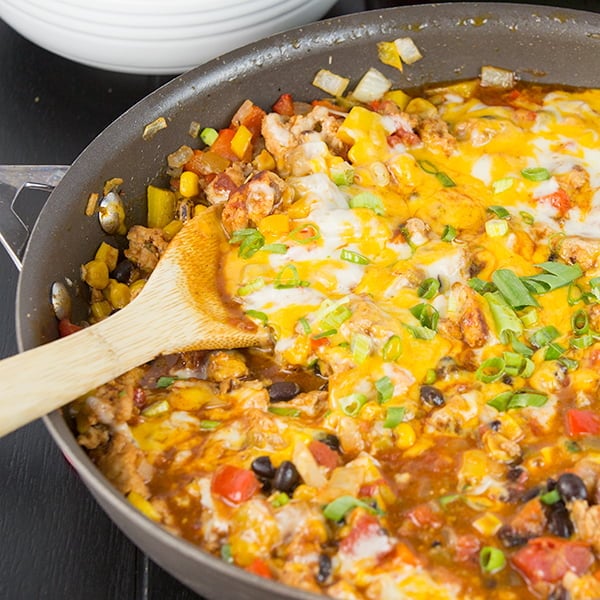 INGREDIENTS
1 T olive oil
1 yellow onion, diced
2 green or red bell pepper, diced
4 Butterball Frozen Turkey Burgers or 1 pound Butterball Ground Turkey
1 packet taco seasoning of choice (or 2 T homemade seasoning)
1 T hot sauce (optional)
14.5 ounce can fire roasted tomatoes, drained
14.5 ounce can black beans, rinsed and drained
14.5 ounce can corn, rinsed and drained
5 ounce can green chiles, drained
2 cups cheddar cheese or monterrey jack (or other cheese of choice)
2 green onions, chopped (garnish)
DIRECTIONS
Heat 1 Tablespoon olive oil over medium heat in a large skillet.
Add in diced yellow onion and peppers and saute' until veggies soften, about 5 minutes. Remove from pan and set aside.
Add in ground turkey burgers and cook according to package directions. Spray each burger with non-stick cooking spray. Place in a skillet heated to medium-high for 5 minutes on one side, then flip and cook for another 5-7 minutes until cooked through. As the burgers are finishing up on the second side, use a spatula to break the burgers into small pieces. Alternatively, you could use ground turkey.
To the pan add in 1 packet taco seasoning of choice, 1 tablespoon hot sauce (optional) 2/3 cup water, fire roasted tomatoes, black beans, corn, and chiles. Add in cooked peppers and onion. Stir to combine. Reduce heat and simmer on low for about 10 minutes.
Sprinkle cheddar cheese evenly over the skillet. Cover until cheese has melted. Alternatively, you could turn your broiler on high, and transfer your oven safe skillet to the broiler to melt the cheese for a few minutes.
Garnish with chopped green onions if desired.
Serve over rice, cauliflower rice, or tortilla chips.
Servings: 6