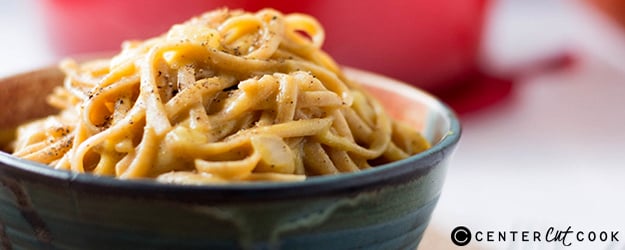 As soon as pie pumpkins become available at the grocery store, I buy at least 2-3. I'm like a pumpkin hawk. And then I buy more. And more. If you've never roasted your own pumpkin to make homemade pumpkin puree, I highly recommend it – it's super simple and makes a ton of delicious, fresh pumpkin puree which you can toss into recipes.
This means, at any given time during the Fall, I have at least 3 cups of fresh pumpkin puree in my fridge, just waiting to be used in a delicious recipe.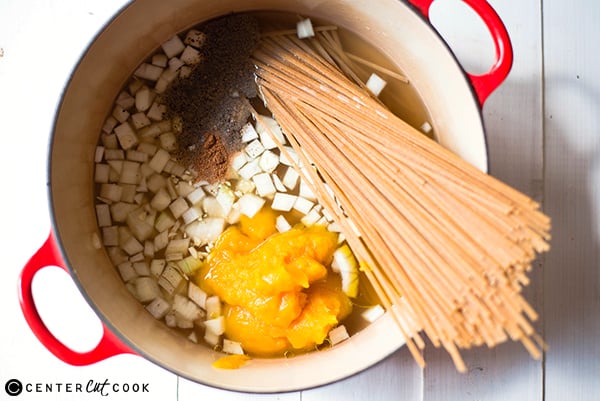 Alas, there comes a time when I can no longer make pumpkin brownies, pumpkin spice lattes, pumpkin cookies, pumpkin pancakes, or pumpkin protein shakes. It takes a while, but it always happens. There comes the need to turn the pumpkin puree into something savory.
That's how this one pot creamy pumpkin pasta came to be. I had been wanting to create some new one pot meals for the Fall and decided to use up the fresh pumpkin puree in the fridge. I'm so glad this turned out to be terrific because it was also super easy to make.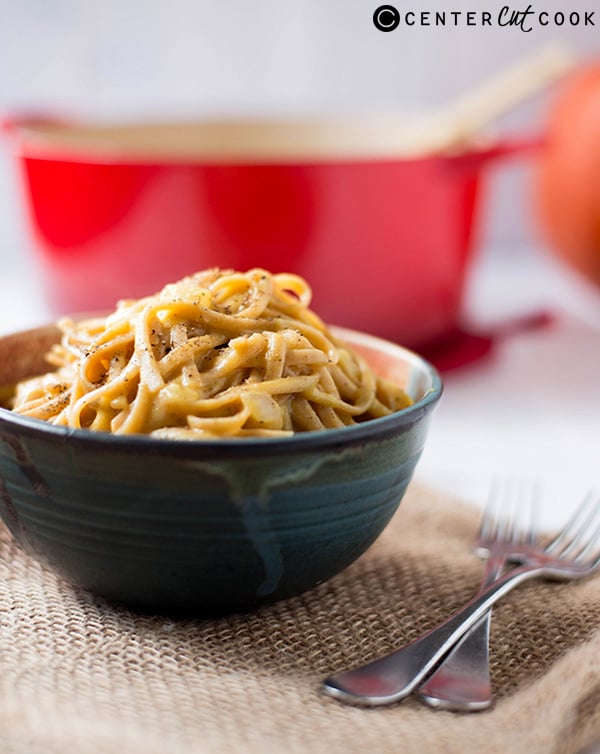 Once you try this creamy, rich pasta, you'll be surprised that it's actually quite healthy and contains not a drop of cream. The combination of the pumpkin, starches from the whole wheat noodles, and goat cheese make for a luscious creamy texture that goes perfectly with the whole wheat linguine.
If you don't have the time to make your own pumpkin puree, this meal will still be totally delicious. Just be sure to pick out the pumpkin puree at the store, not the pumpkin pie filling.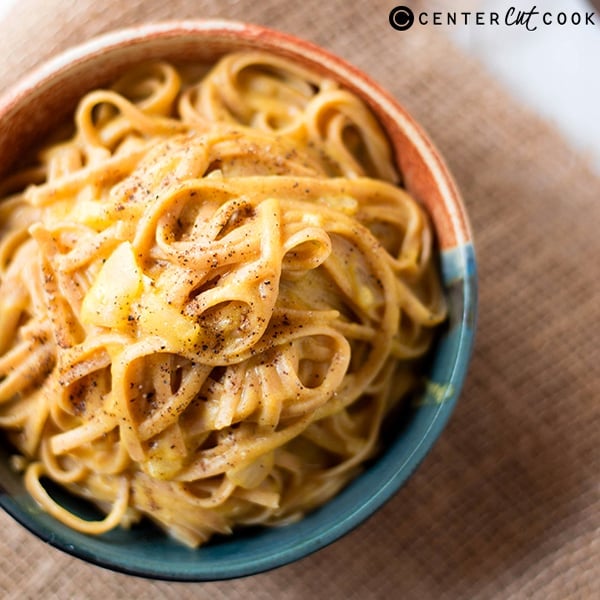 INGREDIENTS
1 tbsp. olive oil
1/2 lb. linguine noodles (I use whole wheat)
4 cups vegetable broth
1 cup pumpkin puree (not pumpkin pie filling)
1 yellow onion, diced
3 cloves garlic, minced
1/2 tsp. ground nutmeg
1 tsp. kosher salt
1/2 tsp. ground black pepper
4 oz. goat cheese
DIRECTIONS
Add all ingredients except the goat cheese to a large, deep stock pot. Place the pot over high heat and bring to a rolling boil.
As soon as it comes to the rolling boil, reduce to medium-high and cook for 7-10 minutes, stirring frequently, until the pasta becomes just tender.
Remove from heat .
Crumble the goat cheese into the pasta and stir melted and combined.
Let sit for 5 minutes to allow the sauce to thicken more (it will still look soupy at this point). Stir and taste for any additional salt or pepper.
Serve hot.
Servings: 4