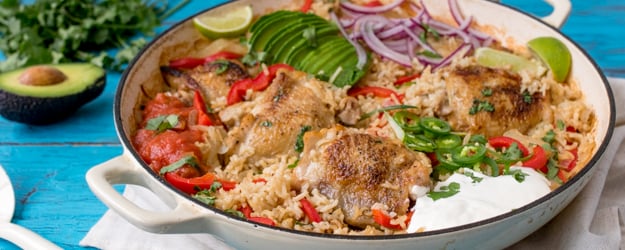 Cooking rice in the same pan as chicken adds such wonderful flavor and moisture to the whole meal.
I love to serve it on the table, straight out of the pan so the family can help themselves.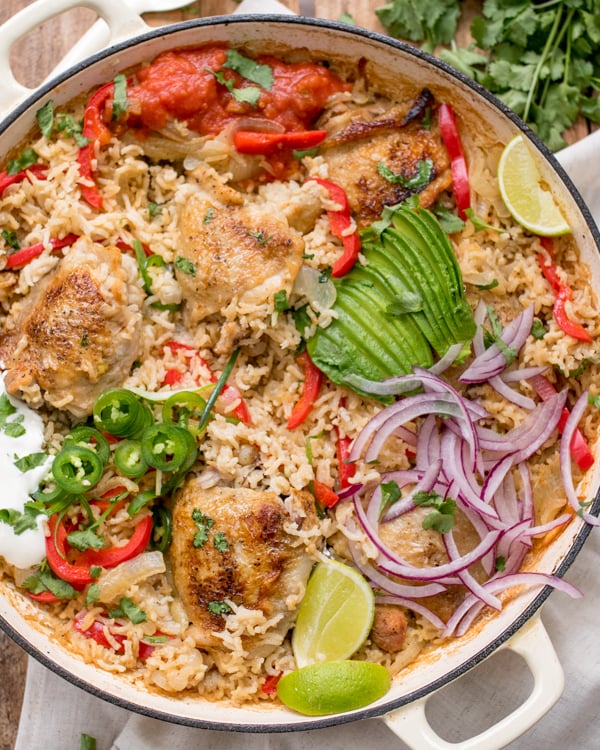 You can customize however you fancy. We enjoy this Mexican version with fajita spices and topped with all of your typical Mexican toppings like avocado, red onion, salsa, sour cream, cilantro and jalapenos.
Some of my other favorites are:
Spanish style – add chorizo and paprika when you're cooking the onion, then sprinkle with parsley and serve with lemon wedges and maybe a little salsa verde.
Indian style – coat the chicken in curry powder before frying, then add curry powder, cumin and ground coriander when stirring in the garlic. Top this one with chopped onions and tomatoes.
Thai style – add Thai red or green paste when you're stirring in the garlic. You can also replace half of the stock with coconut milk for a slightly creamy taste. Top this one with cilantro and lime wedges, plus a drizzle of sweet chili sauce.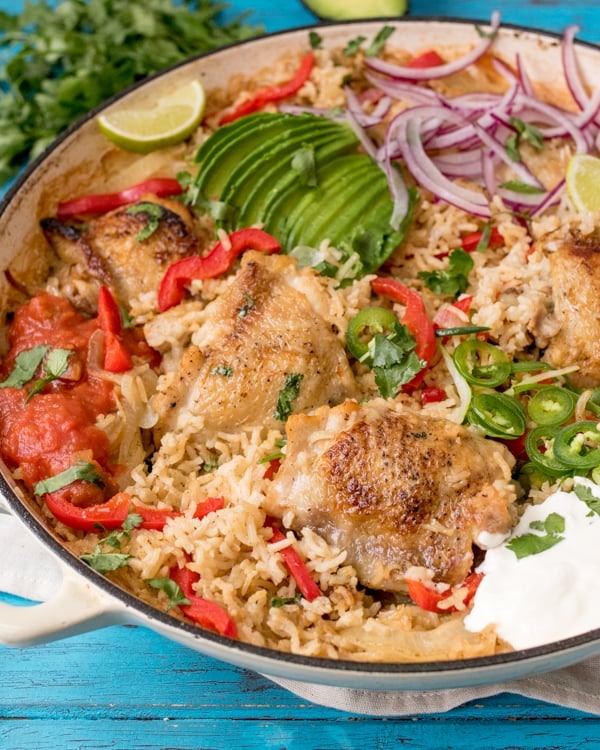 Delicious! Which one would you make?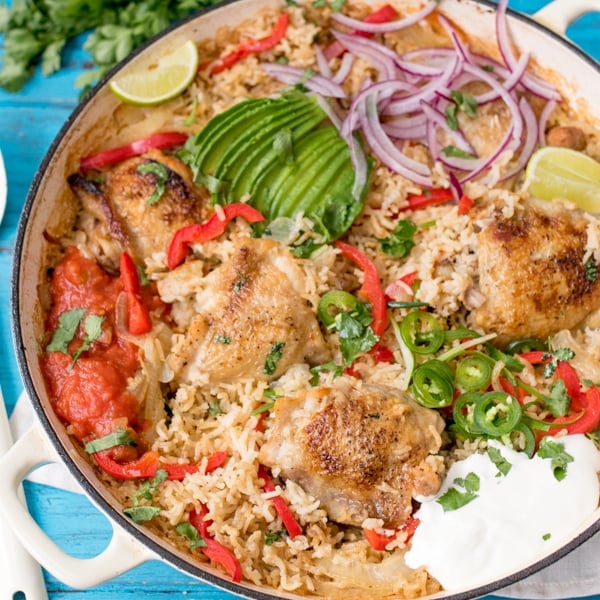 INGREDIENTS
1 tbsp olive oil
Large pinch of salt and pepper
6 chicken thighs
1 medium brown onion, peeled and chopped
1 tbsp Fajita spice
2 cloves of garlic, peeled and minced
1 1/2 cups basmati rice
3 1/2 cups hot chicken or vegetable stock
1 red bell pepper, sliced into lengths
1 small red onion, peeled and sliced
1 avocado, de-stoned and sliced
2 heaped tbsp salsa
2 heaped tbsp soured cream
Small bunch cilantro, roughly chopped
Lime wedges
1 jalapeno, sliced
DIRECTIONS
Preheat the oven to 325f
Heat the oil over a medium heat, in a shallow, wide, oven-proof dish or pan (the pan should be big enough to hold the chicken in one layer with room to spare).
Sprinkle the salt and pepper on the chicken thighs, and place in the hot pan, skin-side down. Cook for 4-6 minutes until the skin is golden brown. Turn over and cook for another 2 minutes.
Add the onion, and cook for a further 2-3 minutes, moving the onion around the pan to prevent it sticking.
Push the chicken to one side of the pan, and add in the fajita spice, garlic and rice. Stir together to combine, then pour over the hot stock. Stir again and distribute the rice in the pan quite evenly. Nestle the chicken thighs on top, skin side up.
Place a lid on the pan (or a double layer of foil) and place in the oven to cook for 25 minutes.
After 25 minutes, check the rice for 'doneness'. It will probably need a little longer. Add a splash of hot water if it's starting to look dry, then nestle the red pepper slices into the rice. Cover and cook for a further 10 minutes until the rice is done.
Scatter the red onion, avocado slices, salsa, soured cream, cilantro, lime wedges and jalapenos on top before serving.
Servings: 4-6