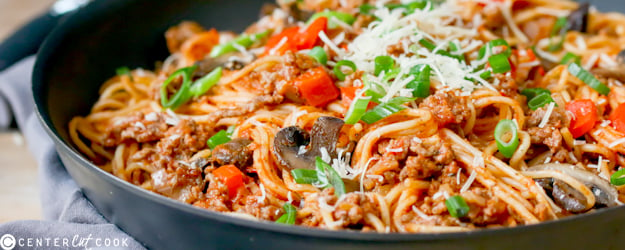 I bet if you asked 10 adults to name their five most-hated chores, washing-up would appear on every single one of those lists!
Well this recipe for pasta bolognese is not only quick and delicious, but it's also all cooked in one pan. None of that – 'fry this, then remove from the pan and place in a bowl, then fry that'. For this recipe you just add as you go along, until you're left with a meaty, flavor-packed dinner that's just a little bit lighter on the washing up (paper bowls and plastic spoons too? ok, maybe that's going too far).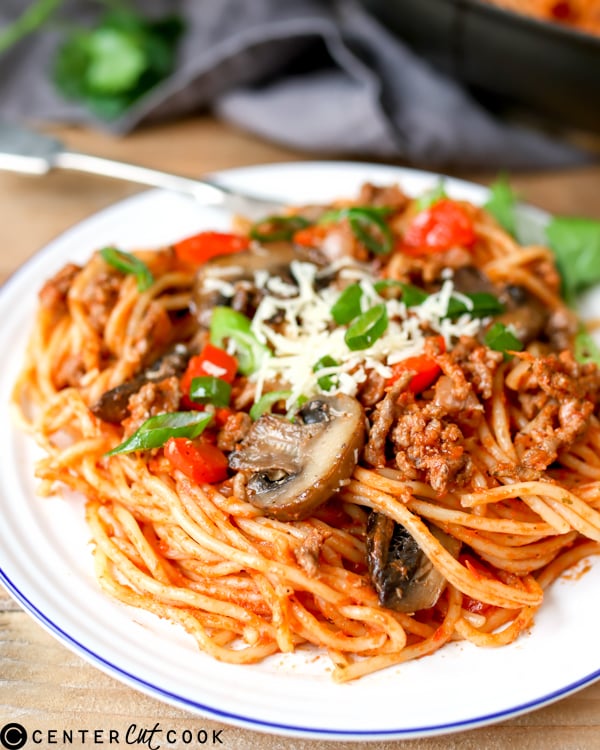 For this recipe you're going to need a large skillet with a lid (you can use foil at a push). The pasta goes in at the end, and is cooked in the meaty-tomato sauce – absorbing all that lovely flavor as it cooks.
Sprinkle with a little parmesan, and you can have dinner on the table in 30 minutes.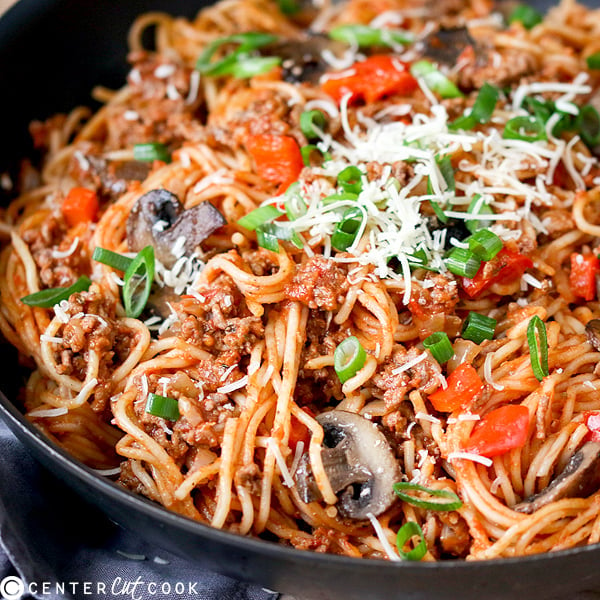 INGREDIENTS
1 tbsp olive oil
1 brown onion, peeled and finely chopped
1 red bell pepper, deseeded and chopped
2 cloves garlic, peeled and minced
6 medium mushrooms (your favorite variety) sliced
1 pound ground beef
1/2 cup red wine (optional)
2 cups tomato puree
2 tsp dried oregano
1 tbsp tomato puree
1 tsp sugar
1/4 tsp salt
1/4 tsp black pepper
2 + 1/2 cups vegetable stock
9 + 1/2 oz dried spaghetti
TO SERVE:
Shredded parmesan
Chopped scallions
DIRECTIONS
Heat the olive oil in a large skillet and add the onion. Cook on a medium heat for 4-5 minutes until the onion softens. Add the bell pepper, garlic and mushrooms and cook for a further 2-3 minutes.
Add in the ground beef, turn up the heat to high, and brown the beef – breaking up any large chunks with a spatula.
Add the wine and allow to bubble until almost all of it has evaporated (3-4 minutes).
Add the tomato puree, oregano, tomato puree, sugar, salt, pepper and stock. Bring to the boil, then add the spaghetti. Push the spaghetti into the liquid. Place a lid or some foil on the pan, turn down the heat and simmer for 10-12 minutes, until the pasta is cooked. Stir once or twice during cooking to prevent the pasta from sticking together.
Turn off the heat, stir everything together again, and sprinkle on parmesan and chopped scallions before serving.
Servings: 4