Who's in for one pot stovetop enchiladas? Yes, you heard me right. You don't have to switch on the oven for these insanely delicious, cheesy enchiladas because everything get's done on the stovetop – from start to finish.
And it's totally mess free because this is an easy, one pot recipe. Don't we all love those? When we don't have to wash an entire load of dishes and clean a messy kitchen? Who's with me on that?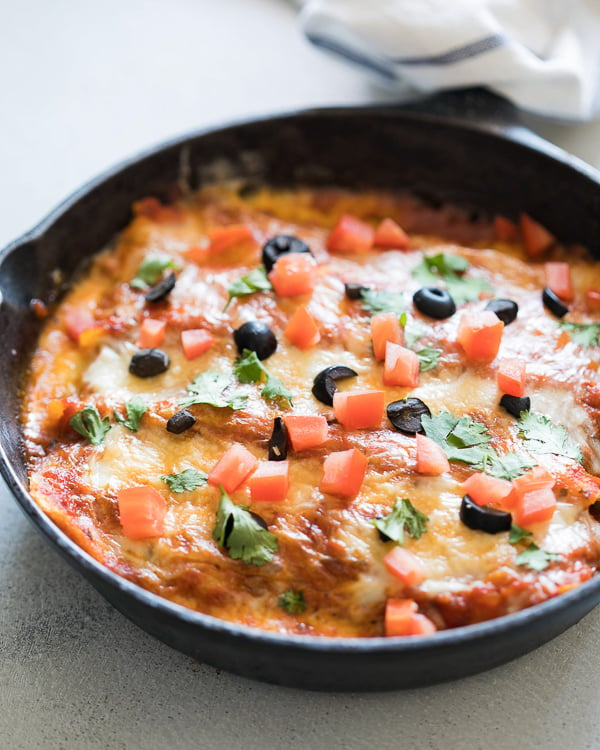 We are big Mexican food fans around here. There is just something so comforting about Mexican flavours, especially enchiladas. I always like to make a big batch and use leftovers for the next day because they reheat so well. I actually never thought of trying stovetop enchiladas but they work so well, that I may never go back to baking mine in the oven again.
I've used a combination of refried beans, chicken and cheese in the filling but you can easily swap this up for your favourite filling. A can of store-bought enchilada sauce, lots and lots of shredded cheese and you are set. We like ours extra cheesy which is why the cheese goes into the filling as well on top. I recommend that you use this recipe more as a guide to making enchiladas on the stovetop and mix things up to your liking.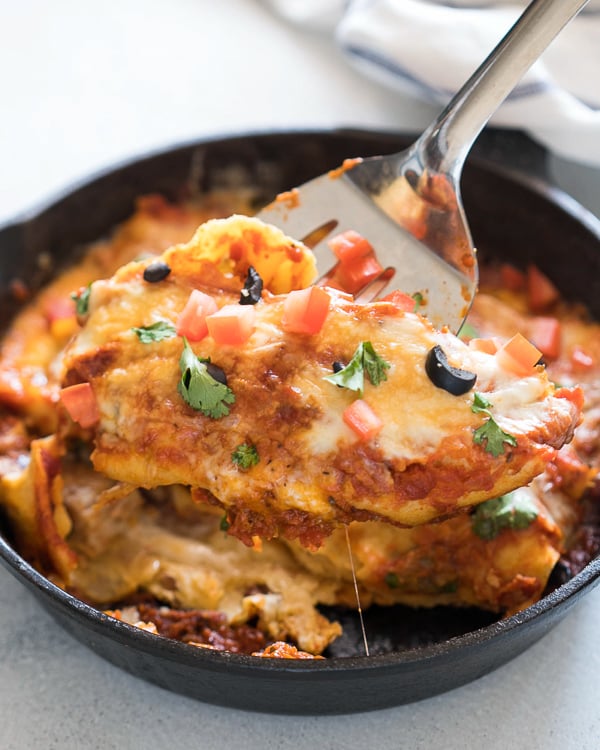 Let's talk about toppings next because toppings are everything. I love loading these stovetop enchiladas with lots of toppings. Fresh tomatoes, olives and sometimes avocado can make these enchiladas taste amazing!
Have I sold these to your yet and are you planning to make them for dinner already? Because I bet you have everything you need for these in your pantry. And if you don't, you won't regret making that trip to the store! Here's the recipe, and if you try this out, I'd love to know what you thought about it. Don't forget to leave us a comment!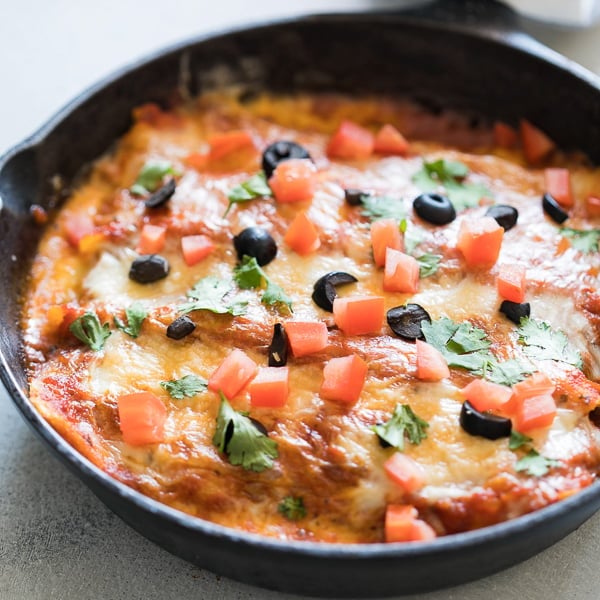 INGREDIENTS
1 teaspoon Oil
1 10 ounce can Enchilada Sauce
5-6 Flour Tortillas
1 16 ounce can of Refried Beans
2 cups cooked shredded Chicken
2 cups shredded Cheese, divided
Chopped Tomatoes, Olives, Avocado for topping
DIRECTIONS
To make the tortillas, divide the refried beans, chicken and half the cheese between the tortillas. Start with refried beans, top with chicken and sprinkle a tablespoon of cheese on each tortilla. Wrap them up into rolls and set aside.
In a 12 inch skillet, heat oil and add half the enchilada sauce in the base of the pan. Lay the enchiladas side by side and top with the remaining enchilada sauce.
Cover and cook on slow flame for 15 minutes. After 10 minutes, top with remaining cheese. Cover again, and cook for 2-3 minutes till the cheese melts and the enchiladas and cooked through. Serve hot.
Servings: 3-4 people