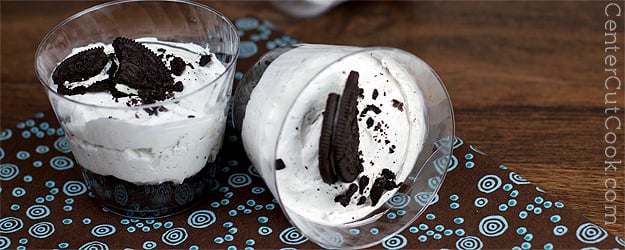 Sometimes there are days that throw unexpected curve balls at you. You know the kind I'm talking about, right? You're out for a lovely stroll on a perfect 71 degree day with the sun shining, just taking in the breeze. You bring your two adorable little dogs with (insert children, if that applies to you) because it's just too nice to leave them at home. Just as you're finishing your leisurely stroll through the neighborhood, your dog (or child) is suddenly limping and has blood all over it's poor little paw (foot!)!
I'm one of those pathetic, loving doggie mommas (any other proud fur Mommas out there?) who proudly babies my four-legged fur balls, and I felt SO bad to see my little pup hurt. After I got her paw all cleaned up, and she was resting after somehow tearing up the little pad on her foot, I had no other choice but to indulge in Oreo Pie, IN mini cups, that require NO BAKING! The perfect solution to an unexpected curve ball to any day!
The truth is, these Oreo Pie cups were already made long before the incident with my little pup because I made them for my weekly Girl's Night to watch Grey's Anatomy. This recipe for Oreo Pie Cups is SO super simple and perfect for entertaining. I started with my favorite recipe for no-bake Oreo Pie, and just divided the ingredients among 8 little cups. Instead of fussing with cutting a pie and trying to get each piece to come out looking good (don't you hate it when you just can't get the pie to cut nicely?), each person gets their own individual pie, in a cup! A disposable cup, no less! Clean-up is a breeze!
Whether you're getting together with the girls, you think pie in a cup is genius, or you had a curveball thrown your way, Oreo Pie (no bake!), in mini cups is a must!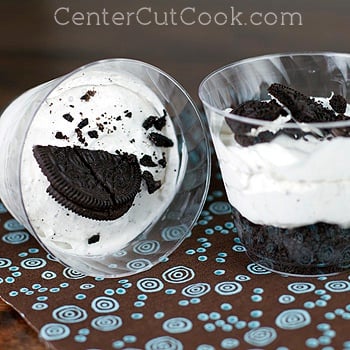 INGREDIENTS
1 8-ounce tub cool whip
1 package Oreo cookies (about 40 cookies)
1 8-ounce package cream cheese, softened
1/3 cup sugar
1/4 cup butter (1/2 stick), melted
8- 9 ounce plastic tumbler cups
DIRECTIONS
In your food processor, crush 26 Oreo cookies (you can also place them in a ziplock bag and smash them).
In a large bowl, mix the 26 crushed Oreos with melted butter. This is the bottom layer (crust). Divide the crust evenly among your 8 tumbler cups. Press the cookie crumbs down firmly.
Crush 9 cookies and set aside.
In your food processor, or with your mixer, combine softened cream cheese with 1/3 cup sugar. Mix until light and fluffy.
By hand, mix in 1 tub cool whip (about 2.5 cups), and the crushed cookies from step 3. When everything is mixed well, divide the mixture among the 8 tumbler cups.
Crush the remaining 5 cookies, or cut them in half to garnish each cup.
Allow the Oreo Pie Cups to rest in the refrigerator for at least 2 hours before serving. Enjoy!
This recipe yields 8 individual servings.