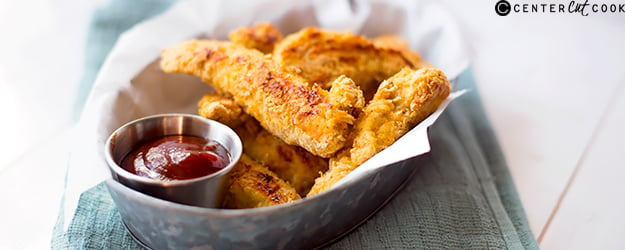 Chicken strips are a big family favorite in our house. We probably eat them at least once a week.
They're a go-to snack or even dinner for us. My kids love them because they're finger food and they can be dipped into tasty sauces. My husband and I love them because they're high in protein and usually pretty inexpensive.
Plus…because they're finger food and they can be dipped into tasty sauces. Hey – I'm being honest here.
The problem with so many chicken strips out there at restaurants, though, is that they're deep fried and/or loaded with a ton of salt, making them a pretty unhealthy choice for a healthy lifestyle.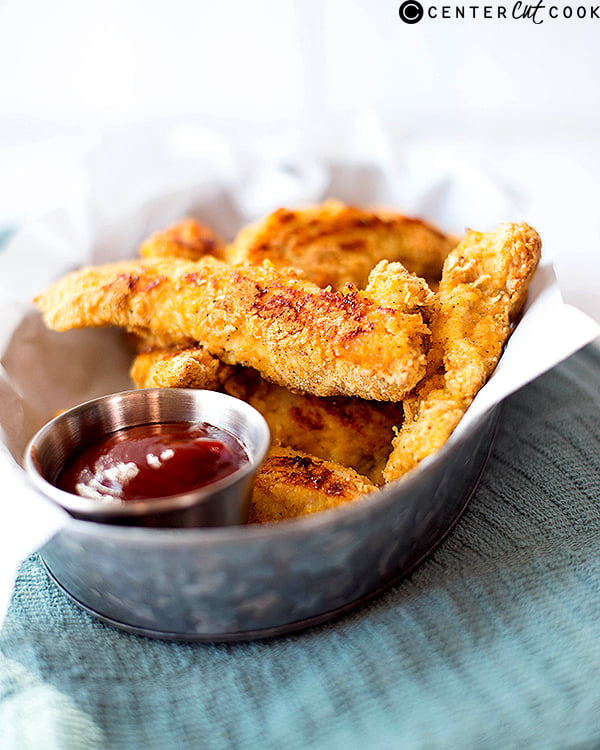 To make them healthier and at home, I bake the chicken strips and to coat them in a parmesan "breading," rather than using a bunch of refined all-purpose flour. I also use a touch of garbanzo flour instead of all-purpose flour to keep the recipe clean and as healthy as possible.
The good news is that these parmesan baked chicken strips are super delicious (and so easy to make, too!). The kids love them. Us parents love them. They're easily a great go-to family meal or snack.
If you've never purchased chickpea/garbanzo flour before, it is often sold in the bulk section for very cheap. If not there, it can also be found on the specialty flour aisle with the baking items. It's very high in protein and super healthy for you, making it the perfect ingredient substitution for regular flour in this recipe.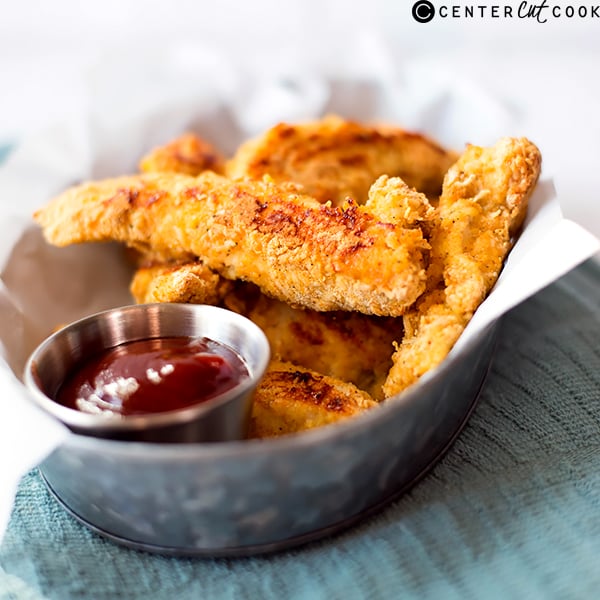 INGREDIENTS
DIRECTIONS
Preheat oven to 400 degrees. Line a baking sheet with parchment paper and set aside.
In a medium mixing bowl, combine the parmesan, chickpea flour, garlic powder, paprika, black pepper, and kosher salt and stir to mix.
In a separate medium bowl, whisk together the eggs.
Starting with the egg mixture, dip the chicken slices until fully coated. Then give them a little shake to let any extra egg drip off.
Transfer to the seasoned parmesan coating and gently toss until the chicken strip is completely covered. Remove and transfer the chicken strip to the baking sheet.
Repeat with remaining chicken, allowing some space in between the chicken strips for even baking.
Place in the oven and bake for about 20-25 minutes, turning once halfway through, until the chicken is cooked through and no longer pink in the middle and the tasty almond coating is golden.
Servings: 4