Growing up, my mom prepared acorn squash just one way.
She would roast the acorn squash in the oven after sprinkling it with butter and brown sugar. Fortunately, I LOVED this one way and it made me oh so happy. It was insanely delicious and is something I've prepared many times for myself as well (though I skip the butter and brown sugar and use coconut sugar and honey nowadays instead).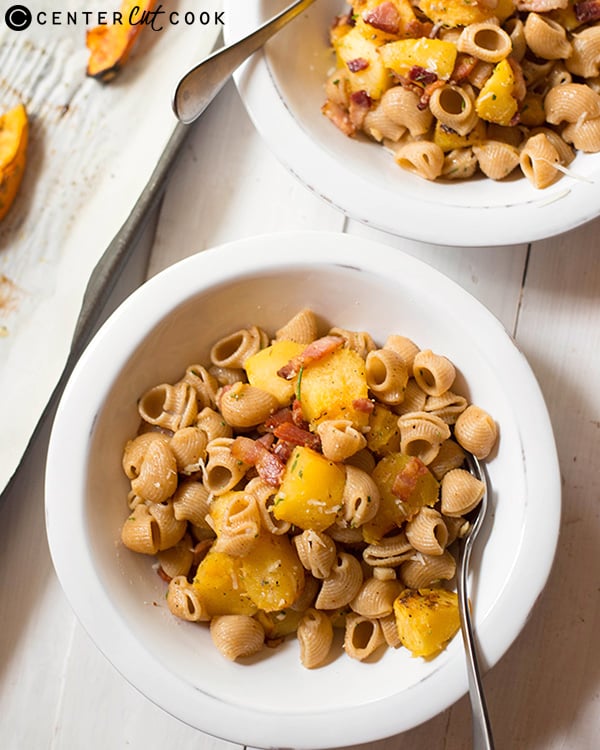 I realized the other day, though, that I have come to rarely prepare acorn squash any other way. In fact, my husband asked me if we were ever going to prepare the acorn squash any other way. Out of the thrill of a challenge, I decided to find a new way to enjoy acorn squash…a new savory way to switch things up.
I did a little research and found that salty bacon, ham, sausage, or pancetta pair really nicely with acorn squash, as does pasta. Wait a minute? Bacon and noodles? Okay! This was all the direction I needed.
This pasta with acorn squash and bacon is so incredibly delicious. I just love how the naturally sweet acorn squash, which is smooth and creamy, pairs with the salty, crunchy bacon. Add into that the chewy bite of the al dente whole wheat pasta and then the flavor kick from the fresh rosemary and garlic and you have yourself a very complex and satisfying combination that your tastebuds will love.
I also love how quickly this whole meal comes together. Typically, when roasting foods, it first seems like it would take too long to have for a weeknight dinner. But, you can do so much of the other prep work while the acorn squash is roasting that the whole meal comes together in pretty much 40 minutes or less.
I hope you enjoy this savory take on acorn squash as much as we do.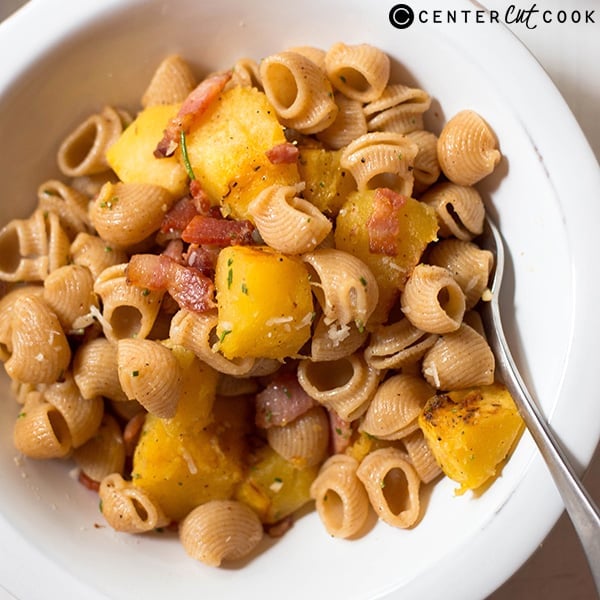 INGREDIENTS
1 medium acorn squash (roughly 1 1/2 lbs.)
2 tsp. olive oil
1/2 tsp. kosher salt
1/4 tsp. ground black pepper
1/2 pound whole wheat noodles (can be penne, elbows, rigatoni, etc.)
1/2 pound bacon, diced
1 garlic clove, minced
1/2 cup chicken stock
1 tsp. fresh rosemary, minced
1/4 cup Parmesan cheese, grated
DIRECTIONS
Preheat the oven to 400 degrees.
Slice the acorn squash in half through the stem and remove the seeds with a spoon. Prepare a rimmed baking sheet with aluminum foil or parchment paper and set aside.
Cut each half crosswise into long wedges, about 1/2-inch thick. Lay the acorn squash slices flat on the prepared baking sheet. Drizzle with the olive oil and season with the salt and pepper.
Bake the acorn squash for about 25-30 minutes, turning the squash once half-way through, until tender and slightly caramelized.
Heat a large pot full of water to cook the pasta. Once the water is boiling, add the noodles and cook until al dente, about 7-10 minutes.
Allow the acorn squash to cool slightly. Then, peel each slice of squash to remove the skin. Once peeled, cut into large, bite-size pieces.
In a large saucepan, cook the diced bacon until crispy, but not burned.
When the bacon is finished cooking, remove with a slotted spoon and set aside. Pour out all but about 1 tbsp. of the rendered bacon fat from the pan.
Add the garlic to the pan and cook for 1 minute, until fragrant.
Add the chicken stock and rosemary and continue to cook over medium-high heat, whilst scraping up any brown bits on the bottom of the pan.
Add the chunks of squash and bacon to the pan.
Drain the pasta and add to the squash/bacon mixture.
Toss everything to coat, then stir in the Parmesan.
Servings: 4