When I think of Christmas cookies, these soft Peanut Butter Blossom cookies are one of the first that come to mind. My Mom used to make these when I was a child, and they were always one of my favorites. Speaking of my Mom, she deserves a huge shout-out right now. My Mom is in the hospital right now after giving us all a huge scare when she stopped breathing a couple of days ago. Thanks to CPR she is still alive, but she will be in the hospital for a least a little while. If you can, please send any positive thoughts, vibes, or prayers her way. She sure could use them, even if they're coming from complete strangers. :) She introduced me to cooking when I was pretty young, so I have her to partially thank for CenterCutCook.
Now back to these Peanut Butter Blossom cookies. If I had to think of one cookie that reminded me of my childhood, it would be a tie between these, and Thumbprint Cookies (recipe coming soon!).Not only are these little cookies super tasty, they're also super easy to make. They involve basic ingredients, and not a lot of effort. While these cookies can be made year-round, I've only ever made them for Christmas. To make them festive, you simply roll the cookies in red and green sugar instead of granulated sugar. And with a bake time of only 8-10 minutes, they're hard to beat!
With Christmas right around the corner, the sugar rush starts! Keep an eye out for my list of favorite Christmas cookie recipes that will be posting over the next week or so! In the mean time, I suggest you whip up a batch of these Peanut Butter Blossoms to get the season started right. Enjoy!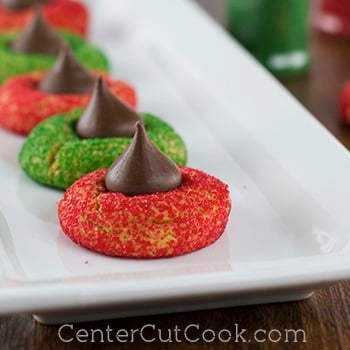 INGREDIENTS
3/4 cup creamy peanut butter
1/2 cup shortening
1/3 cup brown sugar
1/3 cup sugar
1 egg
2 tablespoons milk
1 teaspoon vanilla
1 1/2 cups all purpose flour
1 teaspoon baking soda
1/2 teaspoon salt
48 Hershey's Kisses
Red and green colored sugar (found in the baking aisle)
DIRECTIONS
Preheat your oven to 375 degrees.
Unwrap Hershey's Kisses.
Beat together peanut butter and shortening.
Add in brown sugar and sugar and mix well.
Beat in egg, milk, and vanilla and mix until fluffy.
In a separate bowl sift together flour, baking soda, and salt.
Add dry ingredients into the wet, a little at a time.
Shape dough into one inch balls. Use a tablespoon to measure the dough.
Roll each ball of dough into red or green sugar. I rolled half in the red sugar and half in the green sugar.
Place dough balls on an ungreased cookie sheet.
Bake for 8-10 minutes or until the cookies are lightly browned.
Immediately after you take the cookies out of the oven, place a Hershey's kiss in the middle.
Allow to cool.
Yields between 3-4 dozen cookies.
Recipe adapted from
Hershey's