I promise this cheesecake isn't hard to make at all even though it looks pretty fancy. It only takes a few ingredients and you have a truly decadent dessert that everyone will love! The crust is Oreo's, a whole pack of them, and you really can't go wrong when you start with an Oreo crust! Then the filling is a creamy peanut butter cheesecake that is rich and smooth. Finally it's topped with a thick chocolate ganache that takes it over the top. Add some chopped Reese's on top and you have one amazing dessert!
You want to mix the cream cheese, sugar, and peanut butter together with a hand mixer. Then fold the eggs in by hand so you don't over mix the batter because that can cause cracks in the top. I have good news though- even if there are cracks you are topping it with chocolate so no one will know! I still like to avoid cracks if possible though.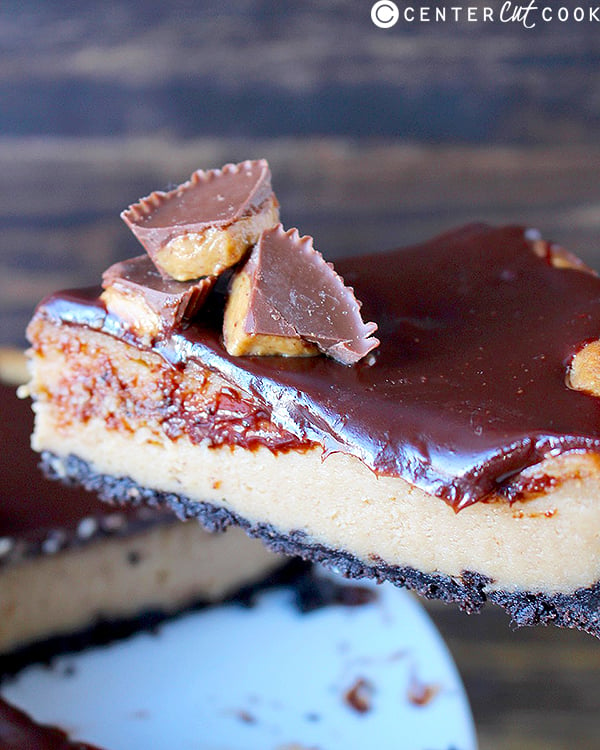 If you love the combination of chocolate and peanut butter, then you will love this cheesecake!!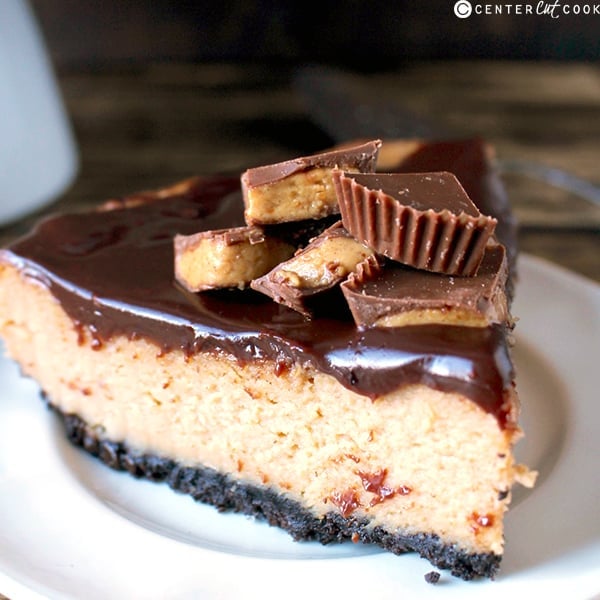 CRUST INGREDIENTS
36 Oreo's (1 package)
6 tablespoons butter, melted
FILLING INGREDIENTS
3- 8oz blocks cream cheese, room temperature
1 cup sugar
1 cup smooth peanut butter
2 eggs, room temperature
1 teapsoon vanilla
TOPPING INGREDIENTS
1 cup chocolate chips
1/2 cup heavy whipping cream
CRUST DIRECTIONS
Preheat oven to 350° and grease a 9 inch springform pan.
Crush Oreo's in a food processor or blender until no large chunks remain and mix with melted butter. Press into bottom and up sides of the pan and bake for 7-9 minutes.
FILLING DIRECTIONS
While the crust is baking, make the cheesecake.
In a large bowl combine cream cheese and sugar and beat with a mixer until fluffy. Add in the peanut butter and mix again until fully incorporated. Scrape down the sides of the bowl as needed.
Add in the vanilla and mix again.
Fold in the eggs by hand, just until incorporated. Do not over mix or this will cause cracks in the cheesecake.
Pour on top of the crust and smooth with a spatula so the mixture is even
Bake for 50-55 minutes or until the center is just set.
Remove, let cool, and remove from the pan.
Run a butter knife around the edges until it is released, then take the side of the springform pan off.
Loosen the bottom and slide onto a plate. Cover and refrigerate.
TOPPING DIRECTIONS
Once fully cool, make the ganache.
Combine chocolate chips and heavy cream in a microwave safe bowl.
Microwave for 60-90 seconds or until melted- stirring every 30 seconds.
Pour over cheesecake and top with Reese's Cups.
Servings: 8