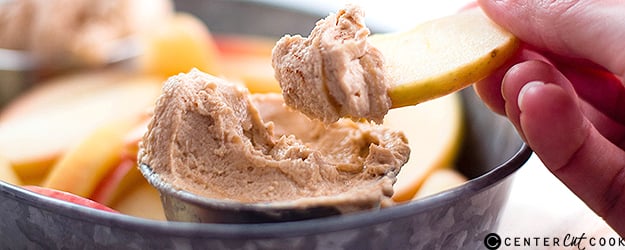 I think, if I really tried, I could find a way to sneak peanut butter into every meal I eat. Some of those meals might be kinda weird, but it'd be worth the try. Did I mention I'm a huge fan of peanut butter?
I use peanut butter in my breakfast protein shakes, on toasted whole wheat bread with sliced banana and cinnamon, and in spicy peanut dipping sauces. Such goodness.
What I had yet to try, somehow, was to add peanut butter into a fruit dip. Mind. Blown.
I mean, c'mon now – let's think about this: Fruit? Good. Peanut butter? Good. Yogurt? Good. This is really a no brainer here.
This peanut butter fruit dip is light and fluffy, yet filling and creamy. It pairs perfectly with a crisp apple and is so darn good. It's the perfect appetizer or snack for the SuperBowl, an easy and healthy snack for the kids, or just a sweet treat for yourself.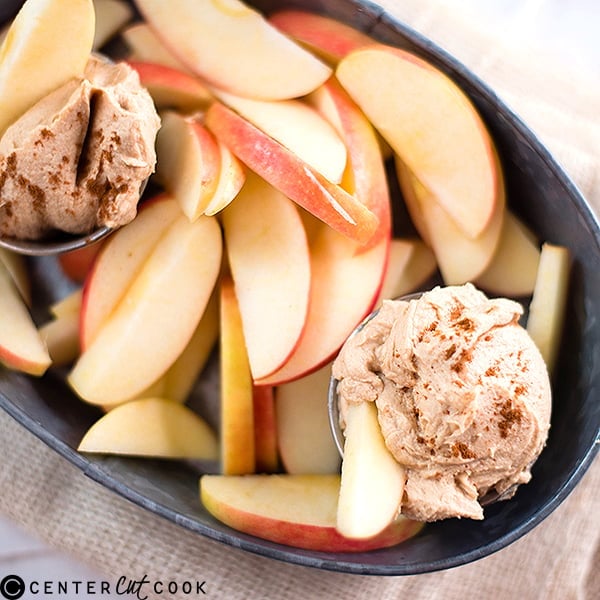 INGREDIENTS
1/2 cup plain greek yogurt (can choose vanilla greek yogurt for sweeter flavor)
2 tbsp. creamy peanut butter
1 tbsp. honey (or pure maple syrup)
1/8 tsp. ground cinnamon
2 apples, cored and sliced into wedges (i.e. fugi, gala, honeycrisp)
Optional toppings: sliced almonds, raisins, dark chocolate morsels
DIRECTIONS
Combine the greek yogurt, peanut butter, honey, and ground cinnamon in a small mixing bowl.
If you want it a little sweeter, can add more honey or maple syrup. For less sweet, add more peanut butter or greek yogurt, as needed.
Can top with additional toppings, like sliced almonds, raisins, or dark chocolate morsels.
Serve with apple wedges.
Servings: 4