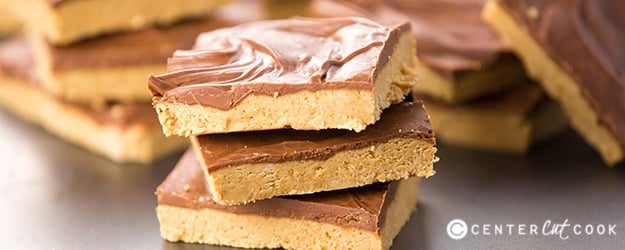 Peanut Butter Squares and Peanut Butter Bars are one of those treats that everybody loves! I've seen recipes that are baked, others that are no bake. Some are made with oatmeal or corn flakes, others are made with graham crackers. Some are made with peanut butter frosting while others are made with chocolate frosting. My version is just like the ones I used to get when I was in school, the ones that the lunch ladies would pass out and everybody would devour! My version is no-bake, made with a few simple ingredients and topped with chocolate frosting!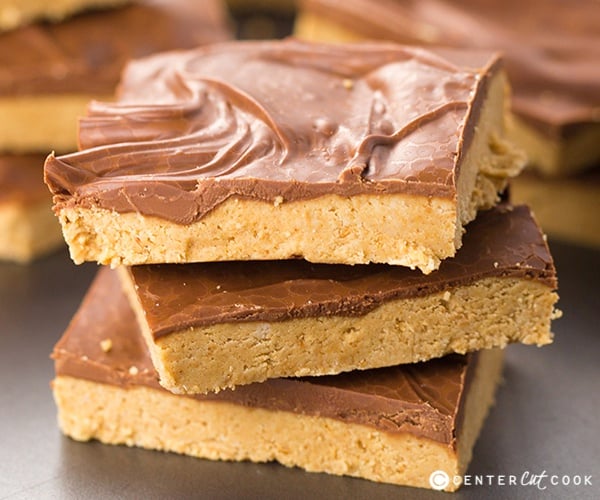 Did I mention that this recipe for Peanut Butter Squares comes directly from the lunch ladies?
When my hubby was in high school, he was extra nice to the lunch ladies in hopes that they'd throw extra food on his tray every now and then. And they did. I'm pretty sure he even brought them a little gift for Christmas to ensure the extra food continued. When his favorite peanut butter squares were on the menu, they'd usually give him two, and often times if there were extras, they'd save them for him and he'd get them the next day at lunch. How lucky was he?
When he was a senior and it was time to graduate, the thought of leaving behind these peanut butter squares was just too much, so he actually asked the lunch ladies for the recipe, and they were happy to give it to him. The recipe they jotted down was lacking in details, and it was enough to fill one of those mega trays that make enough to feed a small army! I'm sure he wouldn't have minded if I made the whole mega tray so he could munch on them for days upon days, but I reduced it down to a more suitable 9×13 inch version.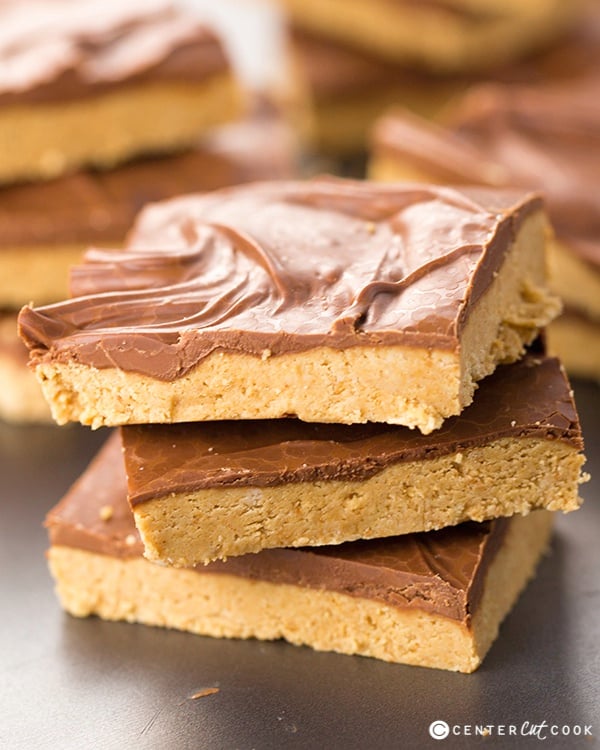 One thing I love about these little babies is that they are no-bake! The first time I made them, I was convinced that the lunch ladies had forgotten to jot down the baking instructions, so I came up with my own. BIG, big mistake. Would you like to know what happens when you bake what is meant to be a no-bake treat? In this case, the peanut butter melted and began overflowing and oozing over the edges of the pan and settled on the bottom of my oven. Can you imagine the mess I had to clean-up? It was NOT pretty! Lesson learned.
If you love peanut butter as much as we do, this recipe for no-bake, no-muss, no-fuss peanut butter squares straight from the lunch lady at school promises to send you into peanut butter oblivion! Enjoy!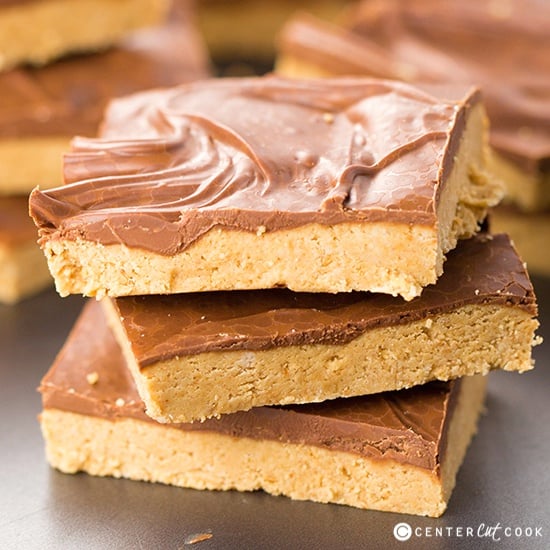 INGREDIENTS
DIRECTIONS
Cut butter into chunks and place in a large microwave-safe bowl. Microwave for about 1 minute or until butter is melted.
Stir in powdered sugar, graham cracker crumbs, and peanut butter. Stir well until all of the ingredients are incorporated.
Line a 9 x 13 inch dish with foil. Drape the foil over the sides of the dish so that you can easily remove it once the bars set.
Press the peanut butter mixture into the bottom of the dish.
Melt the semi-sweet chocolate according to package directions. Once melted, spread the chocolate over the peanut butter mixture.
While the chocolate is still warm, cut the bars. Allow to set for at least an hour.