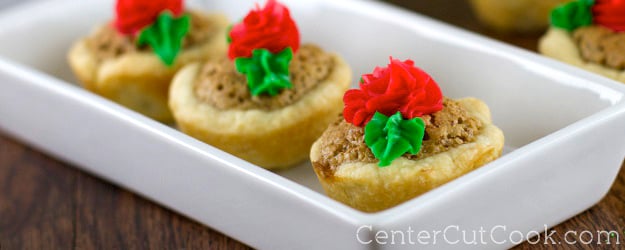 When I was a child, my hatred for all things nut related ran deep. Anytime my Mom made anything with nuts, I didn't even bother to try it. Each year I remember her making these festive little Pecan Tassies for Christmas, and each year, I never bothered to try them, simply because of the pecans.
Then I met my now husband, and as it turns out, Pecan Tassies are his favorite Christmas cookie! What's not to love? They are like little miniature pecan pies with ooey gooey pecan filling! I finally decided to give them a try and fell in the love. He always called them Fireside Tassies, while my mom always called them Pecan Tasies. As it turns out, both variations are used to describe these little cookies along with additional names such as Pecan Tarts. It doesn't really matter what you call them, just know that they are melt in your mouth delicious!
The beauty of this recipe is that if you don't happen to like pecans, you can't really tell that these cookies have a full cup of pecans. The main reason is that the pecans get chopped up very finely (I used my food process for this step), so that you never really get the "crunch" or strong taste from the nuts.
I should caution that this should not be considered a quick recipe because it does take some time to measure out the dough to form the little cups. I used about 3/4-1 tablespoon of dough for each cookie which yielded about 4 dozen cookies. It took me about an hour and a half to make 4 dozen cookies.
Note: Make sure you chill the dough for at least an hour in the refrigerator!
DOUGH INGREDIENTS
2 sticks butter, softened
6 ounces cream cheese, softened
2 cups flour
1 teaspoon lemon zest
FILLING INGREDIENTS
2 eggs, slightly beaten
1 1/2 cups brown sugar
2 tablespoons melted butter
2 teaspoons vanilla
1/8 teaspoon salt
1 cup finely chopped pecans
Frosting for decoration – optional
DIRECTIONS
Using your mixer, combine softened butter and cream cheese. Mix in flour and lemon zest. When the dough is combined well, transfer it to the refrigerator and allow it to chill for at least an hour.
While the dough is in the fridge, combine the ingredients for the filling.
Preheat oven to 350 degrees and grease a mini muffin tin.
When dough is chilled, measure about 3/4-1 tablespoon of dough for each cookie. Roll the dough into a ball, then flatten it to fit in the mini muffin tin. I used the bottom of a round glass to help flatten the dough. You could also use a rolling pin.
Fill each dough cup about 3/4 of the way full with the pecan filling.
Bake for 350 degrees for 15 minutes.
Reduce the temperature to 250 degrees and bake for 10 minutes, or until the edges are golden brown.
Allow to cool completely, then decorate with frosting if desired. Yields about 4 dozen cookies.
Recipe from
My mother in-law