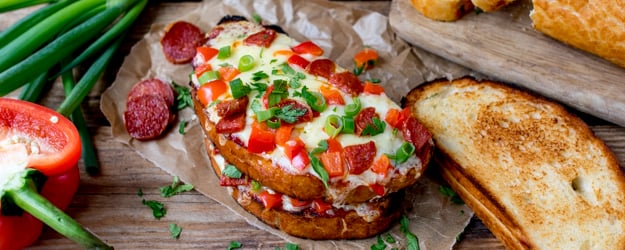 This is one of those recipes where your kids look at you with utter love and adoration.
Simple to prepare and quick to get on the table, it makes a fab meal.
I made this at the weekend for brunch.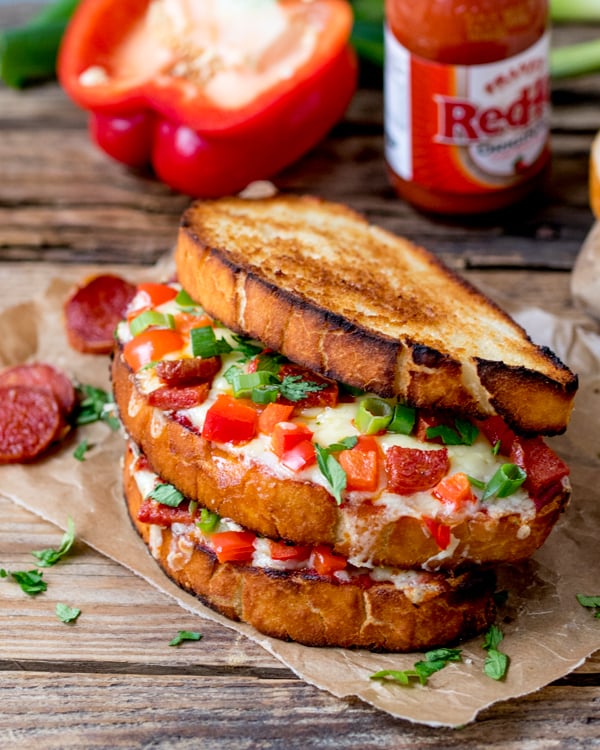 We'd had a late night, the night before, as we were at a birthday dinner. The next day I was expecting to make breakfast slightly later than usual – i.e maybe 9 or 10am.
I then decided to make this pizza grilled cheese. I warned the kids that I had to photograph it, so it would be more like 11am before they could eat it.
I knew that would result in howls of hunger, so I told them they could have cereal for breakfast, or they could have a piece of fruit to keep them going, then have the pizza grilled cheese for brunch.
Never have I seen the kids move so fast to the fruit bowl!!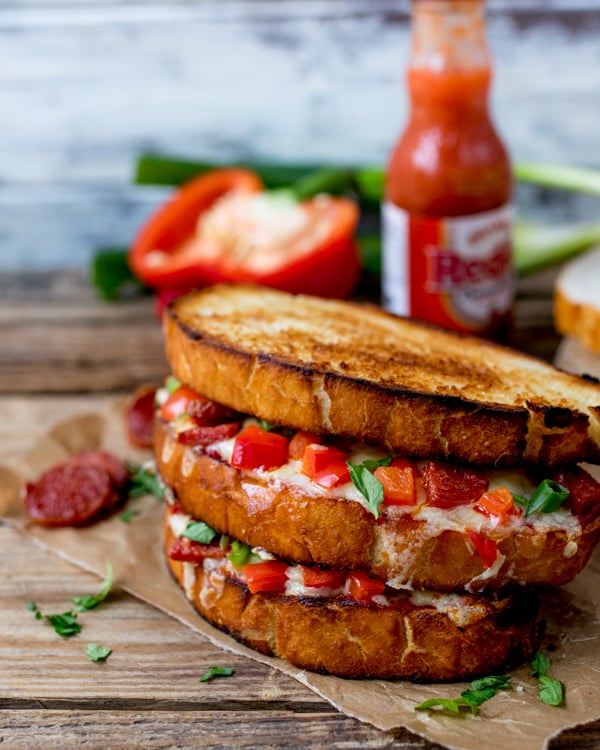 So whilst pizza grilled cheese might seem a little naughty, it appears to be a great method for getting the kids to eat extra fruit. I also topped it with lots of chopped peppers, and served with extra tomatoes, and they scoffed the lot. Win Win!!
Try with any of your favorite pizza combos:
Ham and Pineapple
Tuna and Sweetcorn
Peppers and Mushrooms
I think I'll be going through plenty of combinations now that the kids have asked for this to be put on the regular recipe rotation!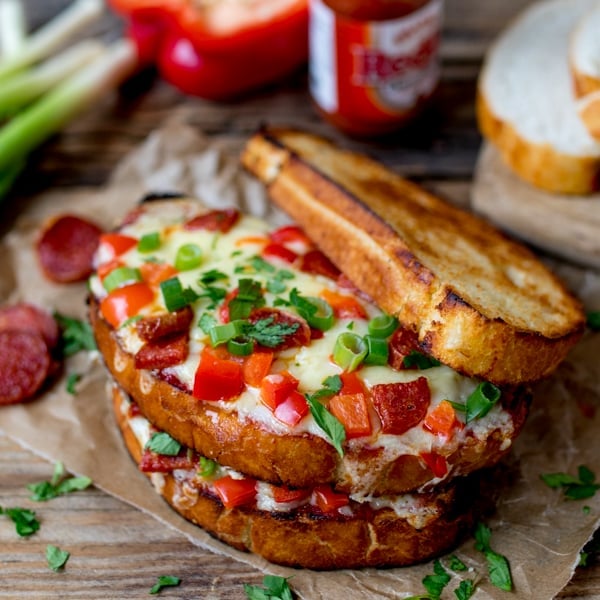 INGREDIENTS
3 thick slices of bread from an artisan style loaf (I used tiger bread)
1 tbsp butter, softened
2 tbsp tomato paste
1/4 cup shredded cheddar cheese
1/4 cup shredded mozzarella cheese
1/4 cup sliced thinly sliced pepperoni or chorizo
1/4 red bell pepper, chopped into small chunks
1/4 green bell pepper, chopped into small chunks
1 tbsp chopped scallions
1 tbsp chopped fresh parsley
DIRECTIONS
Butter one side of one of the slices of bread – this will be the top of your grilled cheese. Put to one side.
Place the two remaining slices of bread on a tray and place under the broiler. Toast on both sides until lightly browned.
Spread the tomato paste on the two slices of toast, then top both slices with the cheddar and mozzarella.
Arrange the pepperoni and chopped peppers on top.
Place back under the broiler to melt the cheese. Put the buttered bread under the broiler at the same time, and toast this piece on both sides.
When the cheese has melted and the pepperoni is bubbling, remove from the tray and place on a plate. Sprinkle both slices with scallions and parsley, then place on piece on top of the other. Add the buttered toast on top (I add it butter-side up so it looks lovely and golden, but you can place it either-side-up).
Serve immediately.
Servings: 1 hungry person