Perfect Chocolate Chip Cookies
These Perfect Chocolate Chip Cookies are the best chocolate chip cookies ever! Super thick, ultra soft, delicious!
You know the type of chocolate chip cookies that those cute little cafes, deli's, and bakeries sell? The super thick, ultra-soft, cookies that seem like they must be impossible to make at home? Guess what guys, I've got the recipe and I couldn't be more excited to share it with you.
I have been trying recipe after recipe for chocolate chip cookies over the years searching for the one that would provide me with the thickest, softest cookie possible. I was beginning to think it was unobtainable….And then finally… FINALLY I found it.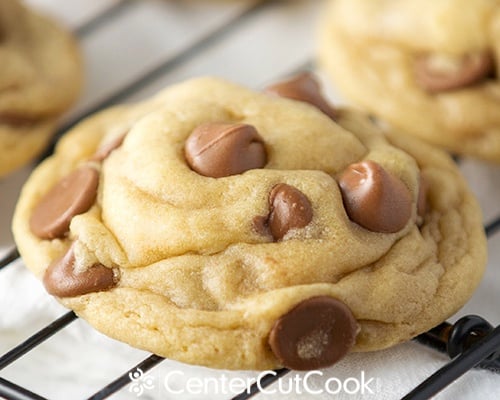 Have you heard the craze as of late? The secret ingredient to chewy perfect chocolate chip cookies? It's cornstarch! Only a teaspoon and a half is needed, but it does something magical to these cookies to make them super chewy. I first tried the cornstarch method with these Chewy Butterfinger Cookies.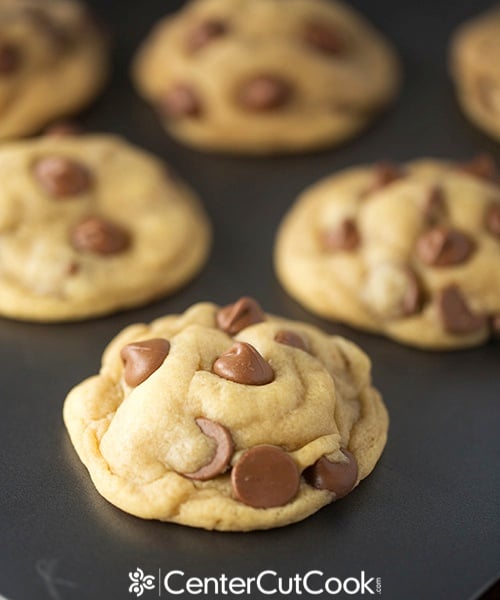 There are a few reasons these cookies are different. For starters, they call for melted butter instead of softened butter that most cookie recipes call for. Another key step is the chilling of the dough. I know, I know, it's really annoying to have to make cookie dough and then wait for it to chill. It's 100% absolutely necessary for this recipe, so make sure you do NOT skip this step.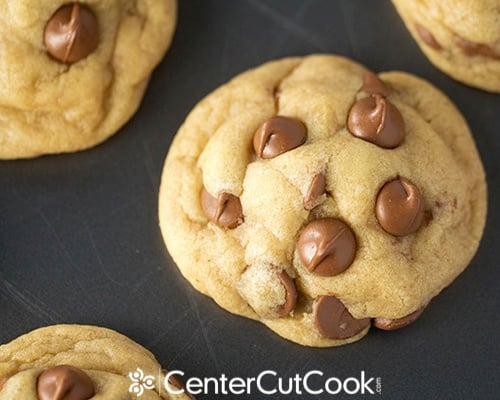 Can we talk about size here? These cookies are HUGE. Typically I use my handy dandy one tablespoon cookie scoop to make cookies, but these guys require 3 tablespoons of cookie dough! Additionally, the dough is going to be a little bit different in terms of consistency than what you're used to. When you take the dough out of the fridge after it's chilled, it's going to be pretty solid. Even though you'll let it soften up a bit, it's still going to be hard. You will not be able to use a cookie scoop for this recipe! It will seem as though you won't be able to form balls of cookie dough, initially, but trust me, you can.
Forming the cookies WILL take a bit of work, but it's worth it!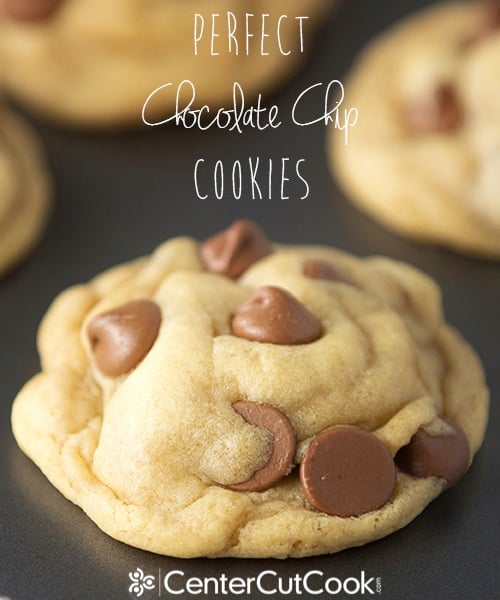 And because they are bigger, you're going to need more room between each cookie to ensure the cookies don't run into each other as they're baking. I fit about 6 cookies on each of my large baking sheets. Be sure to leave adequate room between each cookie!
If you want your chocolate chip cookies to look extra perfect, press additional chocolate chips onto each ball of cookie dough. This is what makes them look "professional."
Oh, and one of my favorite parts? You do not need a stand mixer, nor a hand mixer to make these cookies!
You'll get about 16 large, soft, chewy, delicious cookies from this recipe! Oh, and be sure to under-bake them! When you pull 'em out of the oven, they're going to look like they aren't quite done baking. They'll be super soft. Just know that you WANT them like this. As they cool, they'll firm up and you'll be left with perfect, soft, chewy chocolate chip cookies.
Perfect Chocolate Chip Cookies
These Perfect Chocolate Chip Cookies are the best chocolate chip cookies ever! Super thick, ultra soft, delicious!
Ingredients
2 1/4

cups

all-purpose flour

1

tsp

baking soda

1 1/2

tsp

cornstarch

1/2

tsp

salt

3/4

cup

packed brown sugar

1/2

cup

granulated sugar

3/4

cup

unsalted butter

melted

1

large egg

1

large egg yolk

1

tbsp

vanilla extract

1

cup

milk chocolate chips

plus additional for garnish
Instructions
Pour the wet ingredients into the dry. Use a large wooden spoon to combine the ingredients together. Fold in milk chocolate chips.

Place the dough in a large bowl, cover, and chill in the refrigerator for at least 3 hours. I chilled my dough overnight.

When you're ready to bake the cookies, pre-heat your oven to 325 degrees. Pull the dough out of the fridge and let it sit for about 10 minutes.

Use 3 tablespoons of dough for each cookie. Use your hands to form the dough into balls. Press a few additional chocolate chips onto the top of the dough ball.

Bake for 11-12 minutes. The cookies are going to appear under-baked. This is what you want!

These will stay fresh for about 7 days. You will get about 16 cookies from this batch. If you'd like to make them a bit smaller, use 2 tablespoons of dough and bake for 10 minutes.
This recipe was inspired by this recipe from Annie's Eats, and slightly adapted from Sally's Baking Addiction with a similar version from America's Test Kitchen.