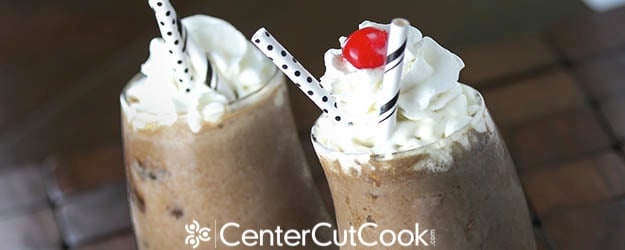 I do not think there is a marriage more perfect than the one that exists between chocolate and peanut butter, is there? The combination of chocolate and peanut butter is one that I just love, and as a result, I tend to combine these two ingredients quite often! Today I am going to share my recipe for Perfect Peanut Butter Chocolate Milk Shakes which is another shining example of why peanut butter and chocolate go together SO WELL!
Now, let's talk about these shakes, shall we? When I was in high school, I was a server at a restaurant called Steak N' Shake. They're known for their burgers and shakes, and this is where I learned that the best shakes should simply consist of only ice cream and milk!
I've been working on perfecting the milk shake over the years to get just the right combination of ice cream, milk, chocolate syrup, and peanut butter. I've finally found it and I'm happy to share it with you today. All you need is milk, ice cream, chocolate syrup, peanut butter, ice and whipped cream and a cherry for garnish if you'd like!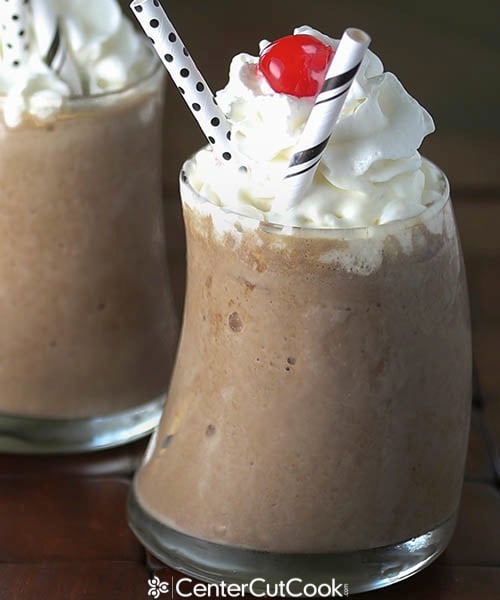 The key to making the perfect milk shakes is to use good ice cream, and follow the instructions for how much of each ingredient you should include. One little tip: I like to put my glasses in the freezer for about 30 minutes before I make the milk shakes so that the ice cold milk shake gets poured into an ice cold glass!
Aren't those paper straws super cute? If you're looking for some fun paper straws, you can buy them from Amazon.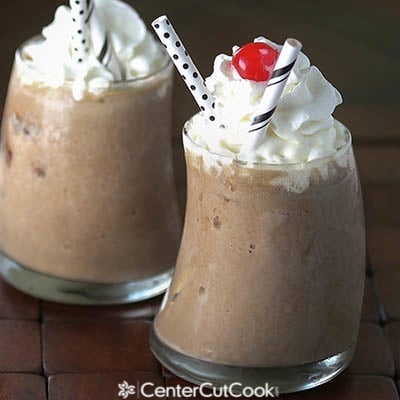 INGREDIENTS
2/3 cup milk of choice
1/2 cup chocolate syrup
1/3 cup peanut butter
2 cups vanilla ice cream or frozen yogurt
2 cups ice cubes
Whipped cream and cherry for garnish
DIRECTIONS
Place all ingredients in your blender in the order listed (except whipped cream and cherry).
Blend on high for about 1 minute, or until the consistency is to your liking.
Top with whipped cream and a cherry if you wish!
Makes 4- 1 cup servings.
Recipe adapted from
Vitamix