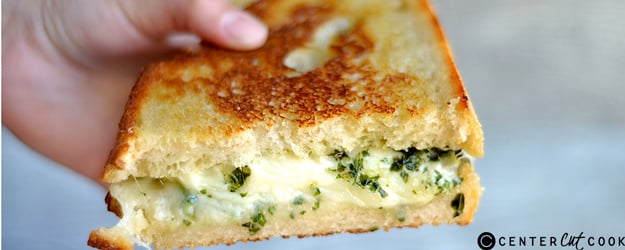 Grilled cheese sandwiches are a super easy idea for busy weeknights, or make a perfect addition to soups and salads. When I want a big salad for dinner, I know the entire family will be on board if I pair it with a grilled cheese! I am always trying to find new and fun ways to change around grilled cheese, and the addition of pesto and artichokes was our latest variation. My kids LOVE pesto, so I knew they would be super excited with the addition to their grilled cheese.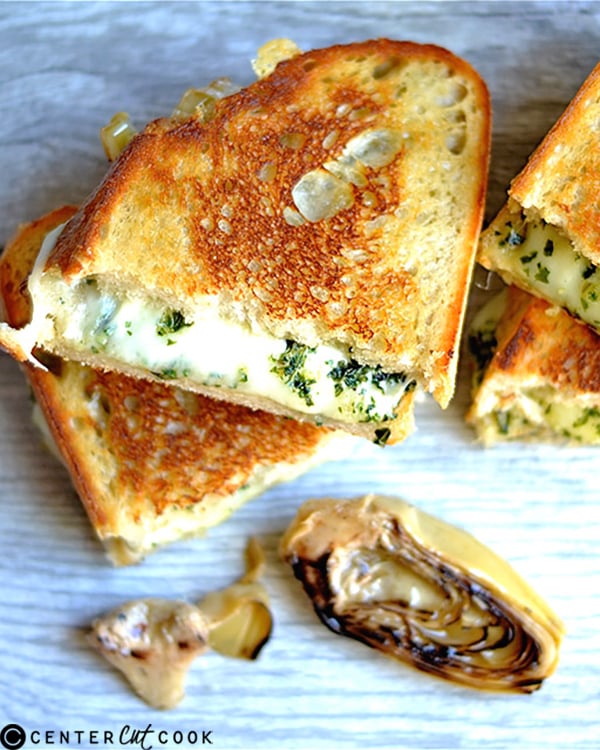 I always keep a glass jar of homemade pesto in my fridge. It can come in super handy for several meals. It makes a simple pasta dish, spread for a sandwich, topping for baked potatoes, tastes delicious on grilled meat, or even great addition to sautéed or roasted vegetables. I am giving you my tried and true super simple recipe that only takes me a few minutes to make. It can last in the fridge for up to a few weeks! This particular recipe makes plenty for you to have extra and use for an upcoming meal or side dish. You will notice that I added pine nuts as "optional". As much as I love pine nuts, I don't always add it to my pesto because it can be hard to find and expensive. Be sure to use a little more parmesan cheese if omitting the pine nuts.
For this sandwich, it's all about the bread and cheese! My favorite bread for a grilled cheese is sourdough, but feel free to use your personal favorite. I also love the way havarti cheese melts in a grilled cheese. It's ooey, gooey, and melts perfectly! I always joke that a perfect sandwich is all about the bread and the spread. We covered those perfectly in this sandwich. Enjoy!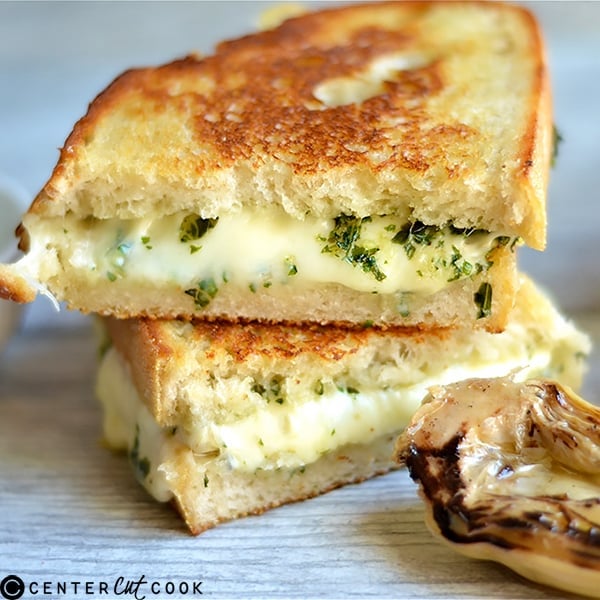 INGREDIENTS
Sandwich ingredients:
8 large slices of sourdough bread (or your own personal favorite)
8 slices havarti cheese (feel free to substitute your favorite here too)
3 tbsp butter, softened
1/2 cup marinated artichoke hearts, removed from oil
1/3 cup homemade pesto
For the Pesto:
4 cups lightly packed fresh basil leaves
4-5 cloves chopped garlic
1 tsp lemon juice
1/2 tsp sea salt
1/2 cup extra virgin olive oil
3/4 – 1 cup grated parmesan cheese
Fresh ground pepper to taste
1/2 cup pine nuts (optional)
DIRECTIONS
Pesto directions:
If using the pine nuts, use only 3/4 cup parmesan cheese. If not using, use up to 1 cup parmesan.
Combine basil, pine nuts (is using), garlic, lemon, and salt in a food processor until the ingredients are well incorporated (15-30 seconds). Shut down the motor and scrape down the sides. While the motor is running, slowly add in olive oil, then cheese.
The mixture should resemble a thick paste. If you would like a thinner pesto, feel free to add in more olive oil.
Add pepper to taste.
Pesto can be stored in an air tight container in the fridge for up to 2 weeks.
Sandwich directions:
Heat up a large skillet to medium high heat.
Spread pesto on the inside of each sandwich (approximately 2 tsp per side). Place 2 slices of havarti between two slices of bread, and add a few artichoke heart leaves.
Butter one side of the bread, and place butter side down on the skillet. Lower heat to medium.
Cook one the first side for approximately 5 minutes or until golden brown. Be sure to butter the top slice before switching sides. Cook on second side for about the same time, or until cheese is melted.
Cut in half and serve immediately.
Servings: 4-6