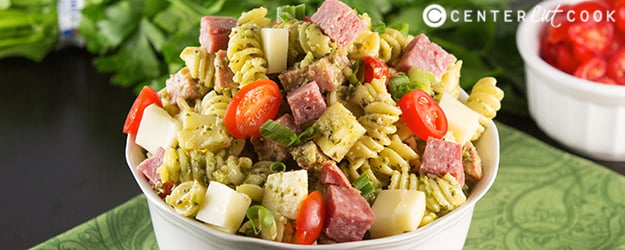 I am always looking for ways to change up traditional pasta salad. Not that there's anything wrong with traditional pasta salad, I love the stuff, but I also think it's fun to experiment with different dressings and add-ins. Sometimes I make pasta salads with chicken or tuna and a variety of veggies like peas, sundried tomatoes, or broccoli. Today I thought I'd share one of my favorite combinations I've come up with to date: Pasta tossed with pesto dressing, chunks of salami and mozzarella cheese and to top it all off, fresh sliced grape tomatoes. It is a gorgeous pasta salad recipe that is just bursting with flavor, partly thanks to that pesto dressing!
Have you ever had pesto before? There are all kinds of variations out there, but traditionally it's made from fresh basil, olive oil, pine nuts and grated parmesan cheese. Sometimes I make it fresh, but other times I buy a good quality pesto from the grocery store. One of my favorite places to get Pesto is actually Costco. They've got a great Pesto that tastes fresh and delicious; it's the next best thing to making fresh homemade pesto! You can typically find pesto in the refrigerated section at the grocery store.
And can we talk about the chunks of salami and mozzarella? Yum! You could definitely sub chicken or leave out the salami altogether. Even bacon might be a great addition. I generally go to the deli and just ask for a chunk of salami that I cut into chunks myself. I thought mozzarella cheese would pair really well with pesto, and it did. To add a little bit of freshness and a pop of color, I tossed in some grape tomatoes and a few green onions for garnish.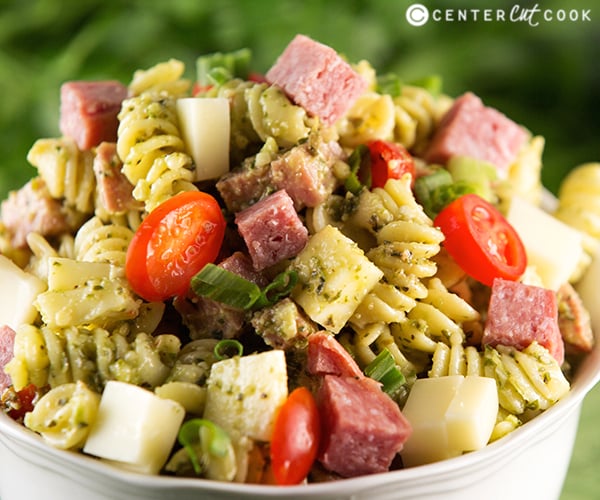 The end result is a pasta salad just bursting with flavor. While pesto isn't traditionally used as a dressing for pasta salad, it works wonderfully. This Pesto Pasta Salad will be a great addition to your summer BBQs and parties. I even ate it for lunch all week. Yum!
Enjoy!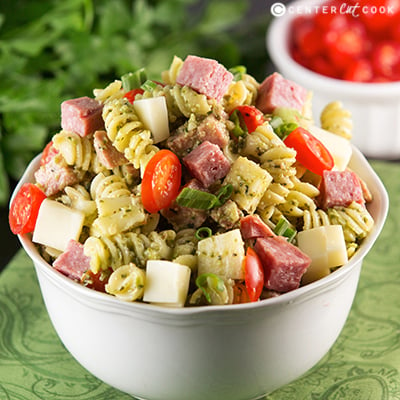 INGREDIENTS
1 pound rotini (or another pasta of your choice)
1 1/2 cups Basil Pesto
1 Tablespoon olive oil
8 ounces grape or cherry tomatoes, quartered
8 ounces salami, cut into cubes OR 8 slices bacon, cooked and crumbled *you can also sub chunks of grilled chicken in place of the salami
8 ounces mozzarella cheese, cut into small cubes
1/4 teaspoon salt
1/2 teaspoon black pepper
1/2 teaspoon dried oregano
Fresh basil for garnish
DIRECTIONS
Cook pasta according to package directions. Drain the pasta, then allow to cool completely.
Toss the pasta with 1 and 1/2 cups to 2 cups Basil Pesto, more or less to taste. Add in olive oil and stir to combine.
Season with 1/2 teaspoon each of salt, black pepper and dried oregano.
Stir in quartered grape tomatoes, salami cubes, and mozzarella cheese.
Garnish with fresh basil.
Chill in the refrigerator for a couple of hours before serving for the best result. If the pasta looks a little dry after chilling in the fridge, add a bit more pesto and stir to combine.
Store leftovers in the refrigerator in an air-tight container. Enjoy!
Recipe from
CenterCutCook