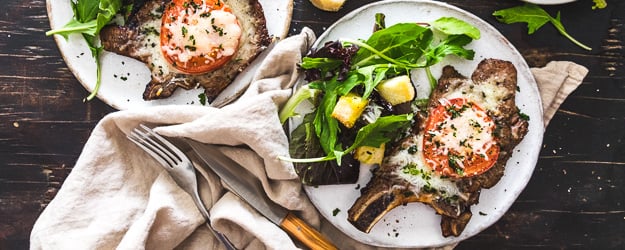 Topping cheese on any food will make it taste better. It's a simple truth.
This pizza pork chop is a super simple recipe. It involves adding just three things onto your typical pork chop – basil, mozzarella cheese, and tomato. But it turns what would be an average dish into an extra comforting one that you just cannot stop eating.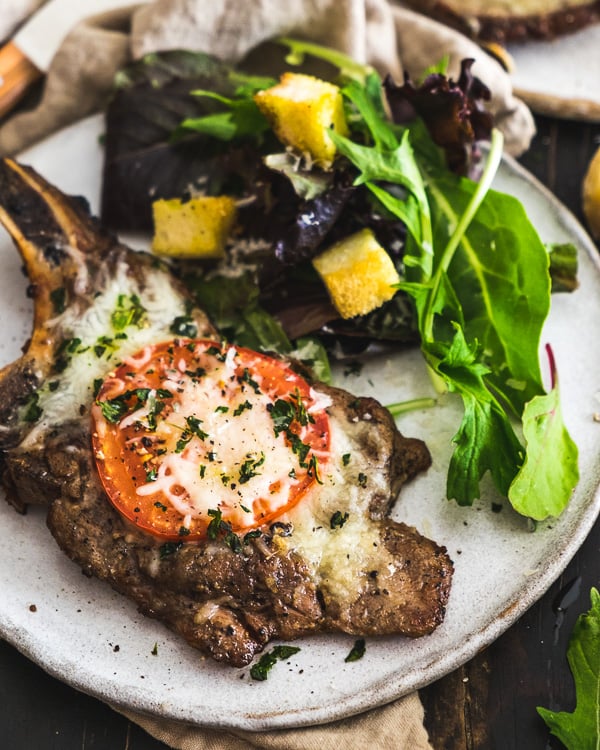 To cook a juicy pork chop, try to use a cast iron pan if you have one, or a heavy bottom skillet. Just like browning steak, you want to sear the surface of the chops with very hot pan so they will turn crispy and a little smoky. Always pat the chops dry with a paper towel before cooking, to help with the browning process.
After searing the pork chops, you simply need to add tomato and cheese onto them and bake them for another few minutes. I found that a nice slice of tomato serves the purpose of pizza sauce and makes the pork chop juicy and flavorful. However, if you want your pork chop extra saucy, you can add tomato sauce before topping with cheese.
Happy cooking!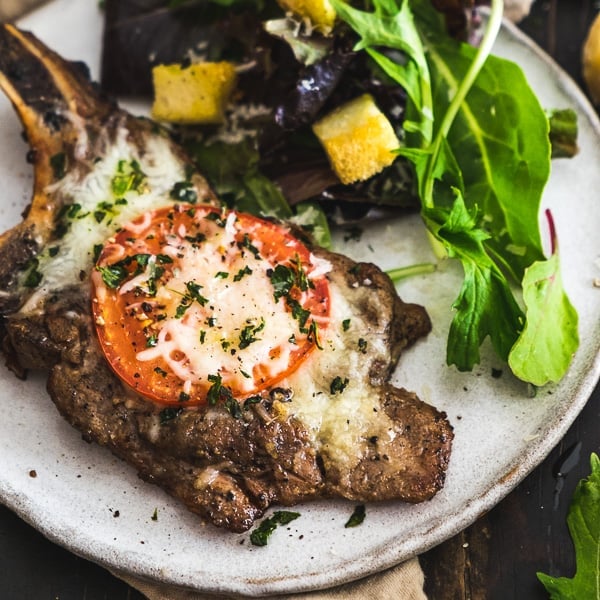 INGREDIENTS
4 pork chops
Salt and black pepper to taste
4 teaspoons dried basil
1 teaspoon dried oregano
1 teaspoon garlic powder
2 tablespoon olive oil
4 slices fresh mozzarella cheese (or 4 tablespoons shredded cheese)
4 slices of tomato
(Optional) Chopped fresh basil or dried basil for garnish
DIRECTIONS
Preheat oven to 400 F. Line a large baking tray with aluminium foil.
Season both sides of the pork with salt and black pepper.
Mix dried basil, oregano, and garlic powder in a small bowl. Sprinkle evenly onto the pork chops.
Heat olive oil in a large skillet until hot. Add pork chops. Cook until both sides turn golden brown. Transfer pork chops onto the lined baking tray. Place sliced tomato and cheese on top. Bake until the pork registers 145 F and the cheese is melted.
Let rest for 5 minutes. Garnish with basil.
Serve warm.