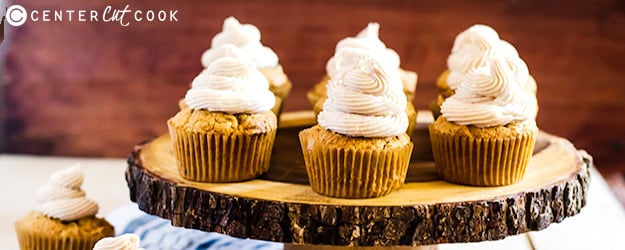 We are officially in the throws of fall and that means we need to pumpkin spice all the things. I am one of those people who loves pumpkin spice and count down the days until it becomes socially acceptable to turn everything into pumpkin spice. I even grow my own pumpkins for the occasion! I knew I had to make these pumpkin spice cupcakes because what better way to celebrate fall than with a delicious cupcake topped with the most incredible cinnamon cream cheese frosting?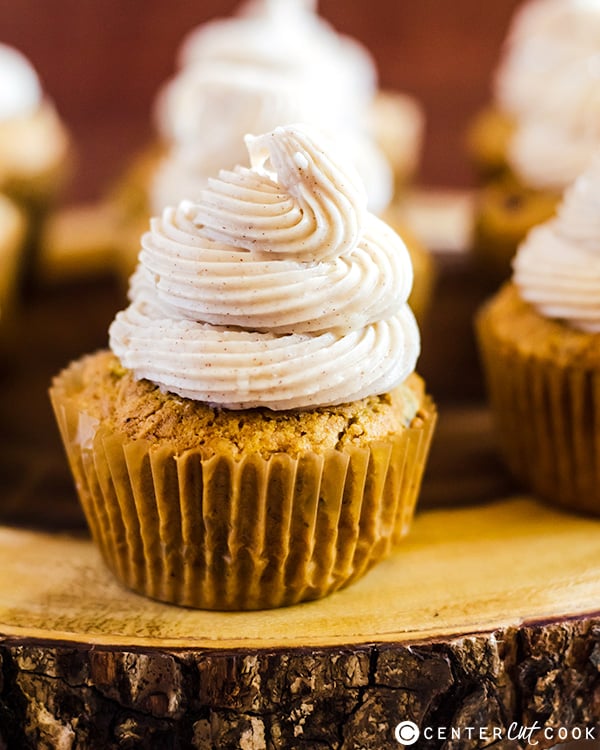 What makes this recipe so amazing is that these pumpkin spice cupcakes can easily become pumpkin spice muffins once you take off the frosting and maybe add in a few chocolate chips and pepitas. Sometimes I will make them as muffins and then make a small batch of cinnamon cream cheese frosting so I can indulge a little more at night. It's a wonderful thing. You can also use this same batter to make a pumpkin spice loaf topped with the cream cheese frosting – I have been known to sometimes put an egg in the frosting and then putting it in the middle of the batter for a sweet surprise!
These pumpkin spice cupcakes are super moist and have a delightful balance of sweetness and spice. It fills the kitchen with heart-warming scents that will instantly take you back to your favorite fall memories. Since it is so simple to make, it is also a wonderful recipe to make with kids or beginner bakers.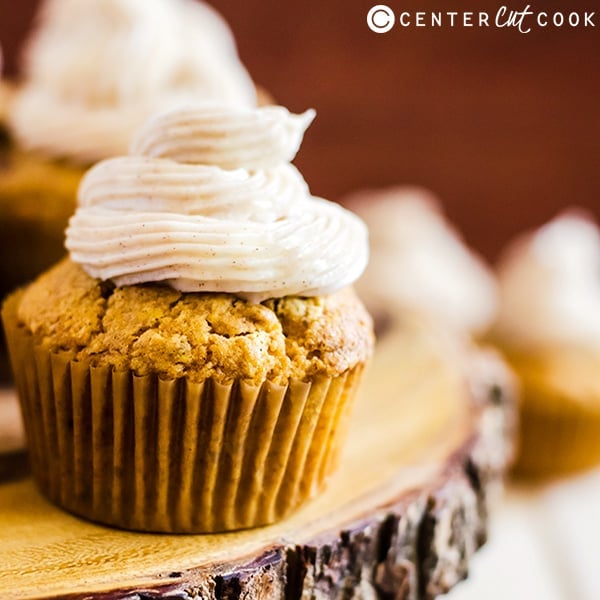 PUMPKIN SPICE CUPCAKES INGREDIENTS
CINNAMON CREAM CHEESE FROSTING INGREDIENTS
8 oz cream cheese, room temperature
4 tablespoons unsalted butter, room temperature
2 cups powdered sugar
1 teaspoon vanilla extract
2 teaspoons ground cinnamon
DIRECTIONS
Preheat the oven to 350 degrees F. Line a muffin tin with cupcake liners.
In a medium bowl, mix together the flour, baking powder, baking soda, spices, and salt together. Set aside.
In a separate bowl, beat the sugars, butter, and oil together until the sugar is fully incorporated. Beat in each egg one at a time. Add in the pumpkin and vanilla then mix in well.
Slowly mix in the flour into the wet ingredients and mix until there are no lumps, but being careful to not overmix.
Evenly divide the batter into the wells of the muffin tin. Bake for about 20 – 24 minutes, or until a toothpick comes out clean after being inserted. Remove from the oven and allow to cool completely.
Make the frosting by beating the cream cheese and butter together until completely mixed. Slowly add the powdered sugar half a cup at a time until it is thoroughly mixed in. Slowly mix in the vanilla and the cinnamon.
Fit a piping bag with your favorite piping tip and then fill with the frosting. Frost each cooled cupcake with the frosting and serve!
Servings: 12