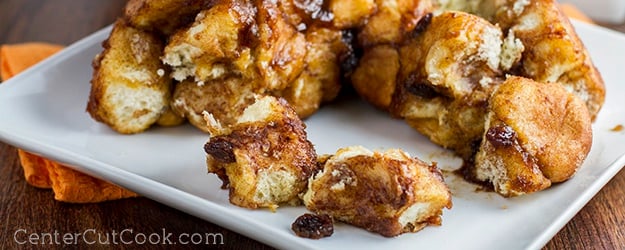 Monkey Bread oh Monkey Bread, what's not to love about it? I remember the first time I tried the stuff as a kid, and I was hooked! Some people consider it a breakfast dish, while others consider it dessert. In this house, it's typically served as a special breakfast on a weekend because it IS quite sweet! There are A TON of variations of monkey bread out there, and I haven't found one I didn't like, but I tend to stick to the standard version with the cinnamon sugar coating. I'm a creature of habit, what can I say?
This time around though, I had a can of pumpkin in my pantry just waiting to be used. I decided to get festive and put a fall twist on classic monkey bread! Instead of using just cinnamon and sugar to coat each piece of bread, I used a trio of cinnamon, sugar, and pumpkin spice seasoning! And instead of just pouring the brown sugar/butter combo over the monkey bread, I added some fresh canned pumpkin to the mixture. The result was just perfect! The pumpkin spice flavor wasn't too overwhelming, but it was strong enough that you could really pinpoint what was different, and that's a good thing!
Most people I know, myself included, tend to use the Monkey Bread recipe that calls for 2 cans of Pillsbury Biscuits. It's quick, and easy, and you'd never know you were eating biscuit dough. This time around though, I decided I wanted to go all out and make homemade dough. It really didn't take much time, and turned out quite delicious. I'll include the recipe below, in case you want to make your own dough, but just know that you can also take the simplistic route and use canned biscuits.
Notes: I recommend using a fluted cake pan that does NOT have any removable parts. Some have a bottom that pops out, which I don't' recommend using because liquids tend to run out and create a smoky mess in the kitchen!
To go all out: Make your own dough. Recipe below!
To simplify: Use 2- 16.3 ounce cans Pillsbury Grands Homestyle refrigerated buttermilk biscuits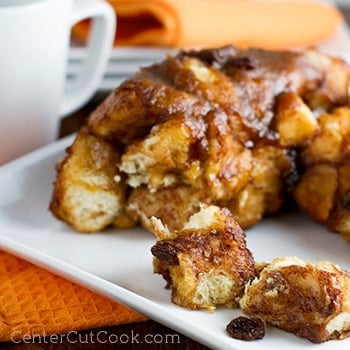 DOUGH INGREDIENTS (If you want to go all out, make your own dough – source)
5 cups all purpose flour, divided
2 packages rapid rise yeast
1/2 cup sugar
1 1/2 teaspoons salt
1/2 cup butter, softened
1 1/2 cups warm water
2 eggs
MONKEY BREAD INGREDIENTS
1 recipe dough, or 2 – 16.3 ounce cans Pillsbury Grands Homestyle refrigerated buttermilk biscuits.
1/2 cup sugar
1 teaspoon cinnamon
1 teaspoon pumpkin spice blend
1/2 cup raisins
1/4 cup pumpkin (not pumpkin pie mix!)
3/4 cup butter, melted
1 cup brown sugar
HOMEMADE BREAD DIRECTIONS
In the bowl of your mixer, or in a food processor, combine 2 cups flour, yeast, sugar, and salt. Mix well.
Add in butter. Use a fork to incorporate the butter into the flour mixture. If your'e using a food processor, pulse it a few times until the mixture is crumbly.
Add in water and mix for 2 minutes
Mix in two eggs and 1 cup of flour.
Add in the last two cups of flour, 1/2 cup at a time until the dough has reached the right consistency. Knead on a non-stick mat, or a lightly floured surface until the dough is smooth. Allow the dough to rest for twenty minutes.
DIRECTIONS
Pre-heat your oven to 350 degrees.
If using biscuits, cut each into quarters so that you end up with 32 pieces of bread per can of dough, or 64 pieces altogether. If using homemade dough, shape the dough into 64 small balls.
In a large ziplock bag, combine 1/2 cup sugar with cinnamon and pumpkin spice. Add the pieces of dough to the bag and shake well to coat.
Grease a fluted cake pan or a bundt cake pan. Arrange the monkey bread pieces in the pan and sprinkle raisins over the top.
In a small bowl combine melted butter with brown sugar and pumpkin. Pour the mixture over the monkey bread.
Bake for 30-32 minutes or until the top is golden brown and the dough is cooked through.
Allow the monkey bread to cool for 10 minutes, then carefully flip the pan upside down onto a large plate.
Recipe adapted from
Pillsbury.com