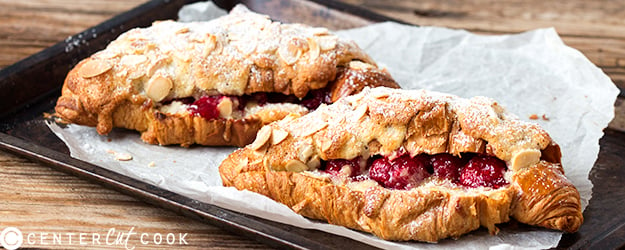 I love it when I find coffee shops that sell warm almond croissants. One of my all-time favorite pastries, I find them totally hard to resist!
However, I think there may be a new favorite in town! This version – filled with frangipane and raspberries, then topped with more frangipane – simply can't be eaten without a contented sigh between each mouthful.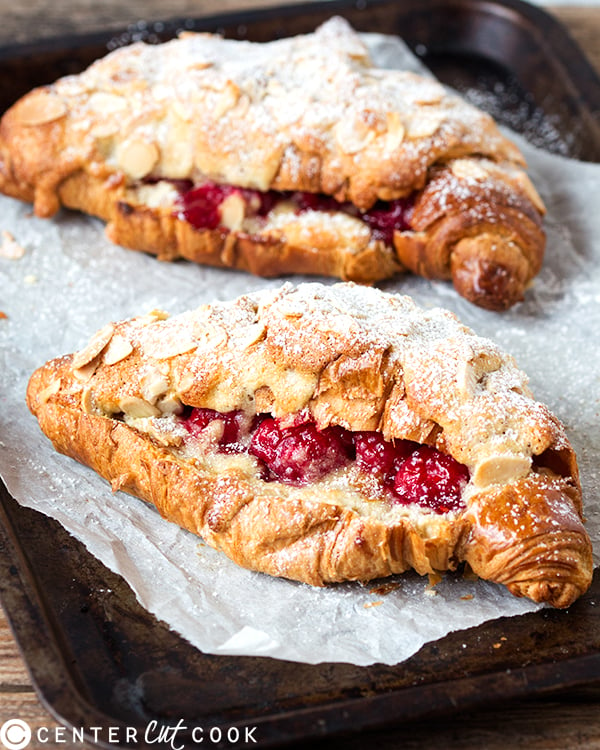 My children have requested them as their special Christmas Day Breakfast (with a few more 'trials' – since it's still so far away), and I've agreed. For something that only takes 10 minutes prep followed by another 10 minutes in the oven, this is a very special breakfast.
Fresh or even slightly stale ready-made croissants are called for as part of the recipe. However, you could make your own too if you wish.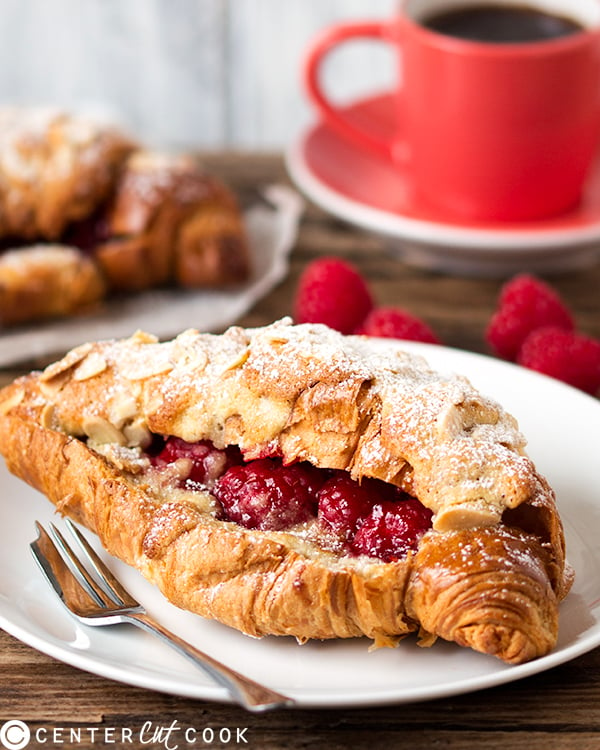 The light syrup that the croissants are dipped in before baking helps to prevent the croissants from burning since they're in the oven for a little longer than usual. It also helps to develop a crispier coating. If you are using slightly stale croissants, just dip them in the light syrup for a few seconds longer to add a bit of additional moisture.
The croissants are filled and topped with the frangipane. You'll find that once cooked, the frangipane on top will be chewy and a little crunchy, and the frangipane inside will be sweet and creamy.

The raspberries are coated in a little jelly and cornstarch – this just helps ensure the raspberries don't just turn to mushy liquid. Instead they'll hold their shape better, but will still retain a little tartness that works wonderfully with the sweet frangipane.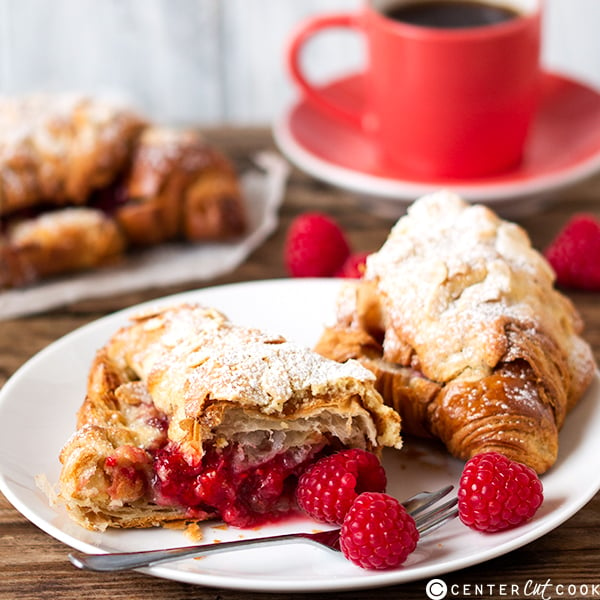 LIGHT SYRUP COATING INGREDIENTS
FRANGIPANE INGREDIENTS
3/4 cup ground almonds
4 tbsp soft (but not melted) butter
1/2 cup golden caster sugar
Pinch of salt
1 egg
1/4 tsp almond extract
RASPBERRY FILLING INGREDIENTS
2 tbsp raspberry jelly
1 tsp cornflour/cornstarch
20 fresh raspberries
ADDITIONAL INGREDIENTS
DIRECTIONS
First make the light syrup coating. Boil the water with the sugar and vanilla extract for 5 mins until the sugar has dissolved. Turn off the heat and let it cool slightly (it will still be very watery).
Preheat the oven to 350F. Make the frangipane by beating the ground almonds, butter, sugar and salt until combined – you can do this in a bowl with a wooden spoon. Mix in the egg and almond extract and put to one side.
Place the raspberry jelly, cornstarch and raspberries in a small bowl and stir together until the cornstarch is mixed in.
Take 4 large croissants and dip them in the light syrup (dip them all over, so the top and bottom of the croissants are damp, but not soaking).
Place the croissants on a baking tray and make a horizontal cut in the middle of each one using a sharp knife. Spread half of the frangipane mixture inside the centre of the 4 croissants and then stuff the insides with the raspberry mixture.
Spread the remaining frangipane on top of the croissants and sprinkle on the flaked almonds.
Place in the oven and cook for 10-12 minutes until the frangipane and flaked almonds are golden brown. Take out of the oven and serve with a sprinkle of powdered sugar.
Servings: 4