We love dips at our house. If there are a couple of dips and some chips we will sit around and eat and chat until 30 minutes later, all the dip is suddenly gone. Sweet, dessert dips, like this red velvet cake dip is a whole new world of delicious snacking for us. And if I am honest with you, we are a little obsessed.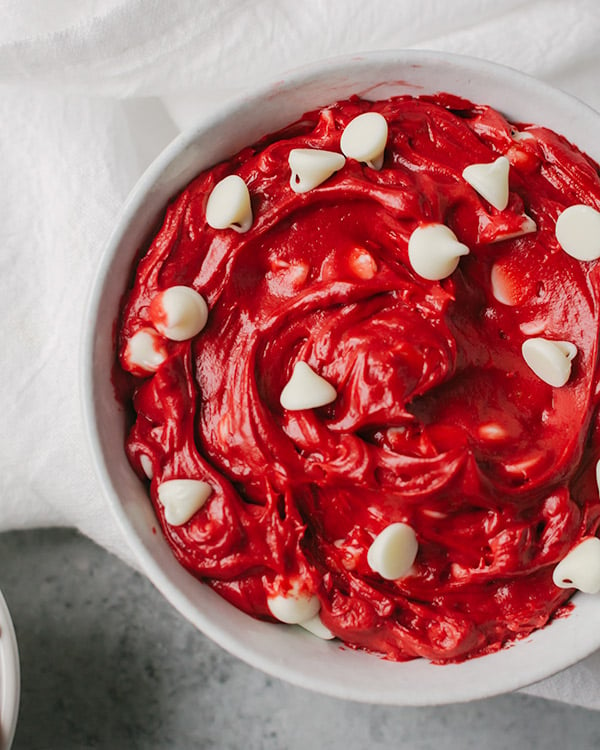 Normally, we don't use cake mix, but I will buy it just to make this dip on repeat. Luckily, this red velvet cake dip is done in minutes. For a seriously addictive red velvet cake dip, I will sometimes make a single cupcake and crumble it on top of the dip. Seriously, you should try it.
Of course to keep things simple, I usually make the dip on its own with plenty of white chocolate chips and things to dip and enjoy it just like that.
If you are concerned with calories, you can take a couple of steps to lighten the dip a little. While I usually use full fat cream cheese in almost everything I make, you can easily substitute the cream cheese with something with reduced fat. You can also substitute the heavy cream for any other milk or milk alternative. I haven't found a great substitute for butter, but please comment if you try anything!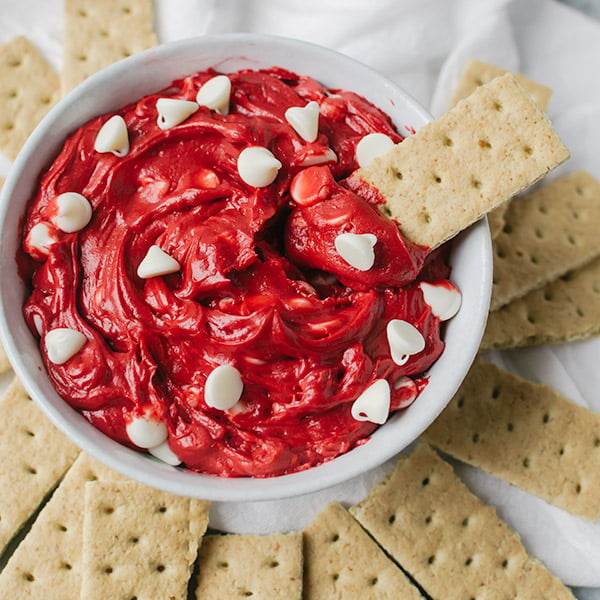 My trick to smooth and fluffy red velvet chocolate cake dip, besides making sure everything is at room temperature, is to whip it up in my stand mixer with the whisk attachment. It gets the dip so unbelievably smooth and light. It contrasts so perfectly with the white chocolate chips. Trust me, you will end up eating at least half this dip in less than 10 minutes.
I recommend dipping graham crackers, cookies, pretzels, and fruit slices. Get creative, because you really can't go wrong!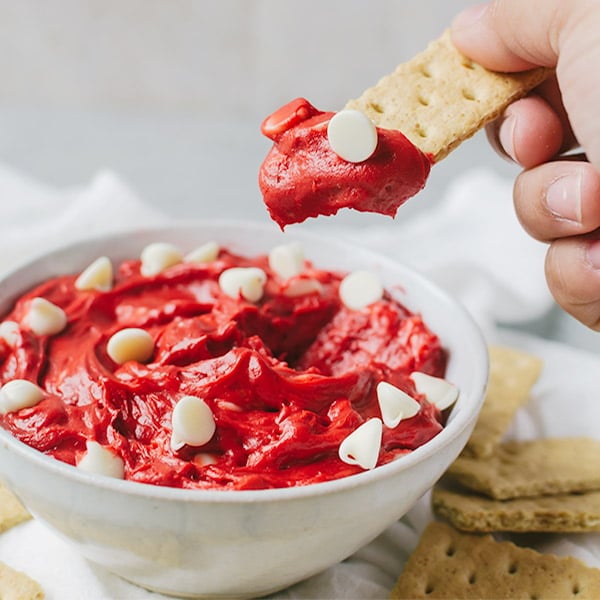 INGREDIENTS
8 oz cream cheese, room temperature
4 tablespoons unsalted butter, room temperature
3/4 cup red velvet cake mix
1 cup powdered sugar
1/4 teaspoon salt
2 – 4 tablespoons heavy cream
1/2 teaspoon vanilla extract
1/2 cup white chocolate chips
DIRECTIONS
In a mixer, add the cream cheese, butter, cake mix, powdered sugar, and salt together. Beat on medium until well combined. This mixture will look dry and a little crumbly.
Slowly beat in the heavy cream one tablespoon at a time until the dip is a smooth consistency.
Beat in the vanilla extract and whip the dip for about a minute.
Fold in the white chocolate chips.
Serve with graham crackers, pretzels, or fruit!
Servings: 10 – 12 servings