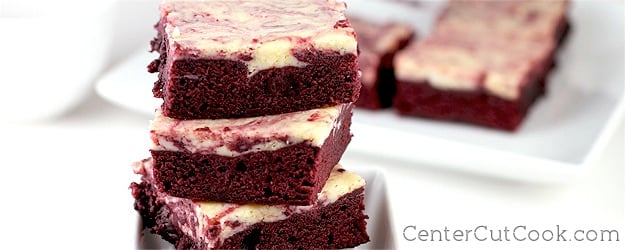 I had no clue, absolutely no clue until recently that there is cocoa powder in traditional Red Velvet cake! Did you? The color is so deceiving because it made me think that there had to be something really off-the-wall in it for the cake to appear red. Then I did a little recipe search and found that most recipes simply call for red food coloring and cocoa powder. Honestly, I was a little disappointed! Some recipes call for beet root, but generally this delicious cake is just red food coloring!
Thanks to Valentine's Day last week, I had been seeing all kinds of red velvet recipes out there which gave me the inspiration for this recipe. Red Velvet pancakes, crepes', cookies, and the list goes on. Despite the fact that Valentine's Day is long gone, I decided it still might be fun to make Red Velvet Cream Cheese Brownies because they sounded SO delicious. And then I got an idea to try and make them purple for Mardi Gras tomorrow, so I experimented with magenta food coloring instead of the traditional red. As you can see from the pictures, the brownies hardly look magenta and actually almost appear red! So much for Mardi Gras brownies….
How would I describe these Red Velvet Cream Cheese Brownies? Well, for starters, they are NOT your traditional brownie. While they do have cocoa powder in them, it's not a lot so it's just a hint of chocolate that you taste. And as far as consistency, these are definitely more cake-like than fudge like. The cream cheese layer on top adds a bit of a creamy consistency to these brownies, and makes them look so pretty!
Bottom line: If you're looking for a slightly chocolately, cake-like brownie, you'll really enjoy this treat. Do we have any red velvet fans out there?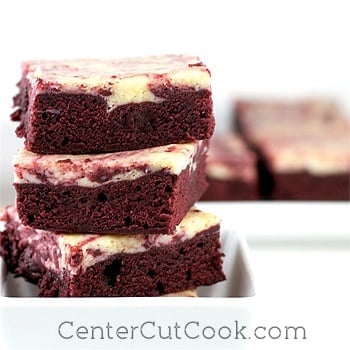 BROWNIE INGREDIENTS
1 stick unsalted butter, softened
1 cup sugar
1 teaspoon vanilla extract
1/4 cup cocoa powder
1/4 teaspoon sea salt
1 tablespoon red food coloring
1 teaspoon vinegar
2 eggs
3/4 cup flour
CHEESE INGREDIENTS
8 ounces cream cheese, softened
1/4 cup sugar
1 egg
1/4 teaspoon vanilla extract
DIRECTIONS
Pre-heat your oven to 350 degrees and grease an 8 x 8 baking pan.
Melt butter (1 minute in the microwave).
In mixer bowl, combine melted butter and sugar. Add in vanilla, cocoa powder, and sea salt. Continue mixing.
Next add in food coloring (red makes it "traditional" red velvet. I used magenta and it still turned out somewhat red) vinegar, eggs, and flour. Continue mixing for 3-5 minutes until all ingredients are incorporated and the consistency is smooth. Reserve 1/4 cup of the brownie mixture.
Pour remaining mixture into greased baking pan.
In a mixing bowl, combine softened cream cheese (it will be more lumpy if you don't let it soften a bit) sugar, egg, and vanilla extract. Beat until smooth.
Pour cream cheese mixture over brownies and smooth it out.
Take your reserved brownie mixture and drop spoonfuls over the top of the brownies. Then, using a toothpick or a skewer, make swirls with the brownie mixture and cream cheese.
Bake in the oven for 30-35 minutes or until a toothpick stuck in the middle comes out clean. I needed to bake mine more towards the 35 minute mark.
Allow brownies to cool completely before serving.
Recipe adapted from
Sunny Anderson