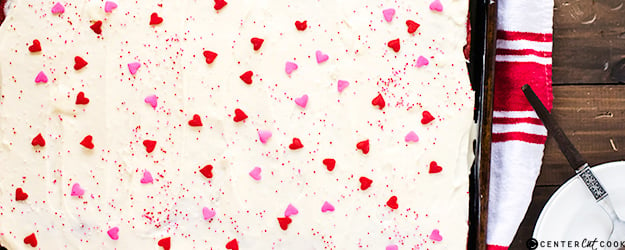 Red velvet is a weakness of mine. I've never been a huge fan of food coloring, but when it comes to red velvet, all rules go out the window. My great grandmother was a true Southern woman who always made the most amazing red velvet cake. She did it in the truest Southern way without the food coloring. She explained that red velvet's always been around, but the food coloring was something new and if you knew what you were doing, you didn't need it. And she was right. Her cakes always had a beautiful – natural- red tone to it and it was the most delicious thing you could ever taste!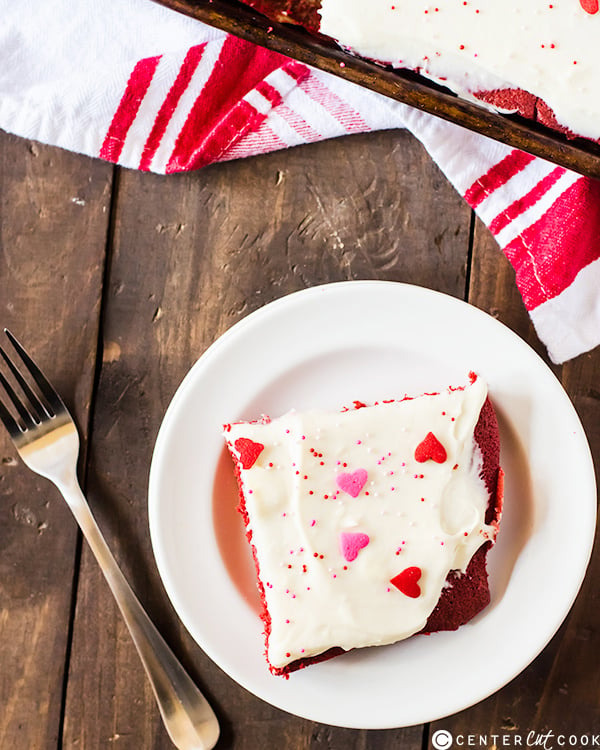 Sadly, my great grandmother passed a few years ago, and took her recipe with her. Now, all I can do is make the "new traditional" red velvet with the red food coloring. It is still incredibly delicious and even though it has a ton of coloring in it, it's still one of my favorite cakes!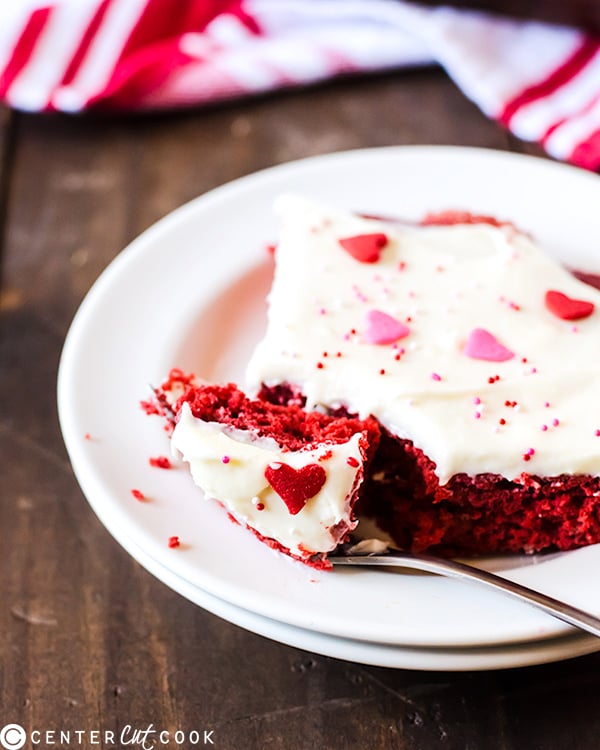 This particular red velvet sheet cake is full of flavor. Probably the most flavorful red velvet cake I've made in my life. And when it's topped with this creamy frosting. It's simply irresistible. The gorgeous red makes it perfect for a Valentine's Day party and I couldn't help but top it with heart-shaped sprinkles. I don't know about you, but a big slice of this red velvet sheet cake is exactly what I would want on Valentine's Day!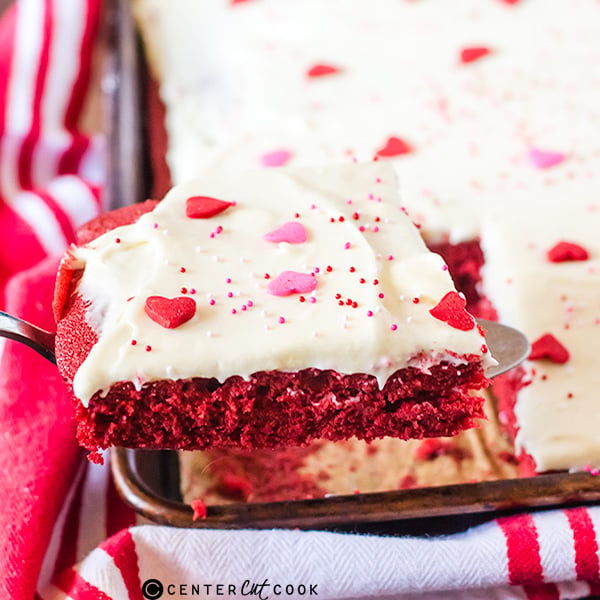 INGREDIENTS
INGREDIENTS
1/2 cup unsalted butter, room temperature
7 oz full-fat cream cheese, room temperature
2 1/2 cups powdered sugar
1 teaspoon vanilla extract
Sprinkles (optional)
DIRECTIONS
Prepare a large rimmed baking sheet (Mine is 18 x 12) by covering it in parchment paper. Lightly spray the parchment paper with cooking spray. Preheat the oven t0 350 degrees F.
In a bowl, mix together the flour, salt, baking soda, and cocoa powder. Set aside.
Cream the butter and sugar together until light and fluffy. Add in the vanilla extra and the eggs and beat well.
In a small bowl, mix together the buttermilk, vinegar, and food coloring together.
Alternate between adding the flour mixture (in three additions) and the buttermilk mixture (in two additions) into the butter. Start and end with the flour.
Bake cake for about 18 – 20 minutes, or until the cake bounces back when gently pressed upon. Allow to cool completely.
While the cake is baking, cream the butter and cream cheese together for the frosting. Slowly add the powdered sugar one cup at a time and beat well between additions.
Spread the cream cheese frosting on the cake and top with sprinkles, if desired.