I first fell in love with red velvet when I was in college. There was a gourmet cupcake bakery between two of the building and we would always stop for cupcakes between classes. Now, the cupcakes were 2.50 British pounds, which at the time was about $5. That's a lot for a single cupcake, but they were large – about the size of two and a half cupcakes. And they were possibly the most delicious cupcakes I've ever had. I tried their red velvet cupcake and immediately fell in love. From that moment on, I would only get red velvet cupcakes from there. Even bypassing their popular banana cupcake and their coconut mango cupcakes. I was hooked onto red velvet and that's all I wanted from that point on.
I would make red velvet anything while I was experimenting in the kitchen. Even a cherry pie with a red velvet pie crust! I think one of my favorites is a red velvet sugar cookie. It has the buttery, chewiness of cookies, but all the red velvet flavor. Basically, it's a little bite of bliss. On days when I want to make things more simple, I make these red velvet sugar cookie bars. They have a slightly crunchy edge, but the center melts in your mouth as you bite into it. And that cream cheese frosting turns this from an amazing red velvet sugar cookie bar to an incredibly irresistible red velvet sugar cookie bar.
I love thick red velvet sugar cookie bars, so I usually bake these in an 8×8 baking pan, but I also like using my 9×9 baking pan for something a little thinner and feeds a couple more people. In this recipe I opted for my 9×9 baking pan (we needed the extra snacks for the blizzard!), so if you want to use an 8×8 baking pan, add on a couple more minutes to the baking time!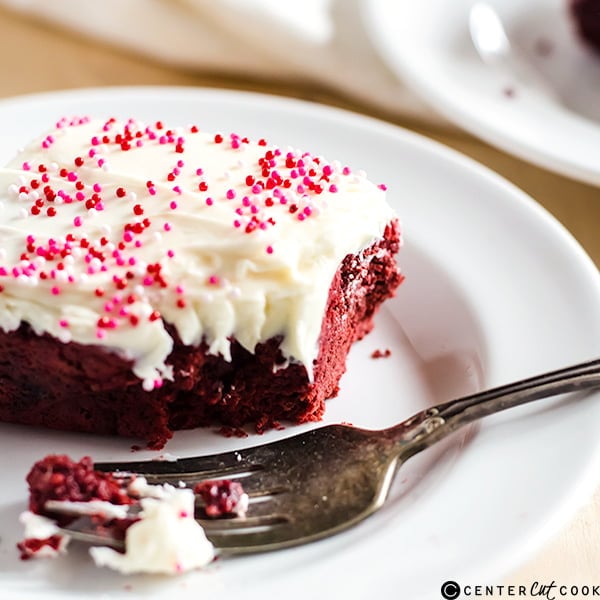 INGREDIENTS
DIRECTIONS
Line a 9×9 baking pan with parchment paper, leaving some overhang. Preheat the oven to 350 degrees F.
Beat the butter and sugar together until light and fluffy. Beat in each egg one at a time, then beat in the vanilla and red food coloring.
In a bowl, mix together the flour, cocoa powder, salt, baking soda, and cornstarch together.
Pour the flour into the wet ingredients and mix until just combined. Place the dough into the baking pan and spread out to the edges.
Bake for 15 – 18 minutes. Allow to cool for about 5 minutes in the pan and transfer to a wire rack. Cover with cream cheese frosting and optionally top with sprinkles. Cut into bars and serve.