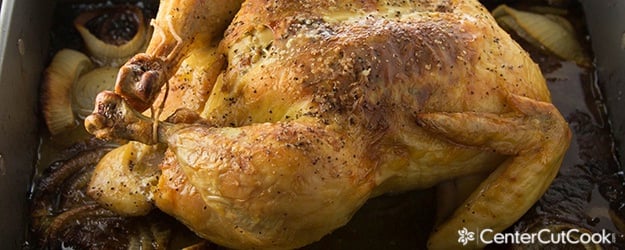 There's something about the smell of a chicken roasting in the oven that I just love, especially when it's this particular recipe for roast chicken. For a long time I was intimidated of cooking a whole chicken, and I'm not quite sure why. It looked so complicated! Once I realized how easy it was, I experimented with a few recipes until I found one that I loved more than all the others, and this is it! Hints of lemon and garlic can be tasted, and the chicken is tender, savory, and delicious.
Despite what you may think, it does not take a whole lot of effort to prepare a roast chicken. I spent about 20 minutes prepping, and then the rest is baking time which doesn't require any effort on your part! Just put it in the oven, walk away, and 1 hour and 15 minutes or so later, dinner is ready.
When it comes to side dishes for this recipe, I was recently introduced to a unique alternative to mashed potatoes (or any other traditional side dish) that goes SO perfectly with this roast chicken….. croutons! A friend of mine (Thanks Angela!) made roast chicken with homemade croutons and my first thought when she served it was croutons, with chicken? That's probably your thought right now too, but trust me, when you make them fresh, homemade croutons go just perfectly with this!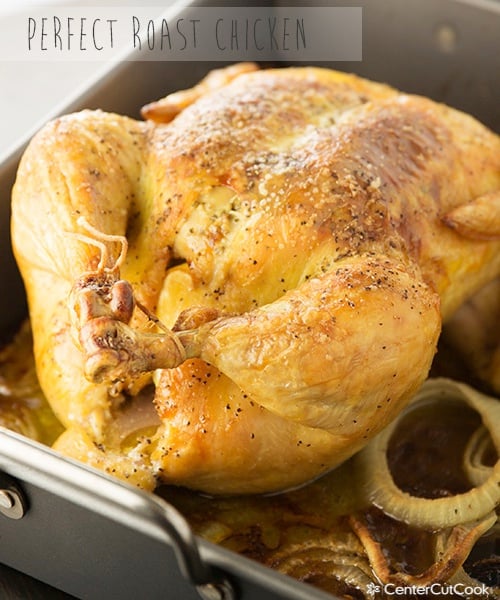 Tips: Kitchen string can be found in the baking aisle at most grocery stores, or wherever they keep the kitchen supplies. You'll need it to tie the legs of the chicken together. Also… the onions will likely burn, and that's okay. They still add delicious flavor to this chicken!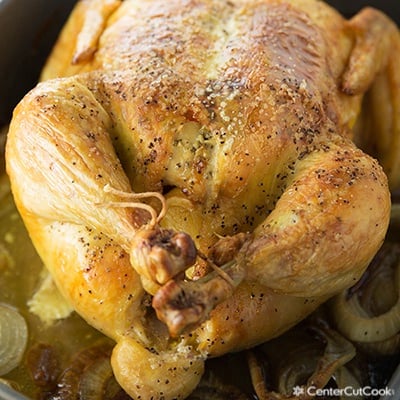 CHICKEN INGREDIENTS
1- 4-5lb chicken for roasting
1 large yellow onion, sliced
Drizzle or two of extra virgin olive oil
2 lemons, quartered
1 whole head of garlic, cut in half crosswise
1 teaspoon sea salt
1/2 teaspoon black pepper
2 tablespoons butter, melted
CROUTON INGREDIENTS
1 large baguette cut into 1 inch cubes
Olive Oil
Salt
Pepper
DIRECTIONS
Pre-heat your oven to 425 degrees.
Remove giblets from inside of the chicken. In the chickens I buy, the giblets are packaged separately in a bag, inside the center of the chicken so they are super easy to remove.
Rinse the chicken under cold water and pat dry.
Toss onion slices with a drizzle or two of extra virgin olive oil and spread them along the bottom of your roasting pan.
Place the chicken on top of the onions. Sprinkle the inside of the chicken with salt and pepper. Then stuff the lemons and garlic inside of the chicken.
Tie the legs of the chicken together using kitchen string, and tuck the wings under the bird.
Brush the outside of the chicken with melted butter, then liberally salt and pepper the outside of the chicken.
Place in the oven and bake for 30 minutes.
Reduce the heat to 375 degrees and continue baking for 45-55 minutes or until the juices run clear and the temperature reaches 165 degrees.
When the chicken is done roasting, remove it from the oven and allow to rest for about 10-15 minutes before cutting.
While the chicken is resting, prepare the homemade croutons. First heat about 2-3 tablespoons of olive oil in a large non-stick skillet.
When the oil is hot, add the croutons and sauté' for 5-10 minutes, or until the croutons are browned. You may need to cook these in batches.
Plating: Place 1/2-1 cup of croutons on a plate, and place sliced chicken on top. Serve with fresh steamed veggies.
Recipe adapted from
Barefoot Contessa