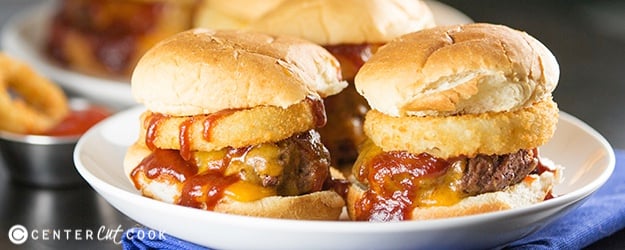 When Ryan and I first started dating in high school, he had a "thing" for the Rodeo Cheeseburgers from Burger King. He worked at Target at the time, and on nights when I wasn't working I'd run to Burger King to get him two Rodeo Cheeseburgers and a Hershey's Sunday Pie and I'd bring it to him at work for his dinner break.That's what a good girlfriend does, ya know… when you are in high school, you bring your boyfriend dinner!
Have you heard of the Rodeo Cheeseburger before? The concept is pretty simple, you start with a basic cheeseburger, but then you top it with crispy golden onion rings and sweet and spicy BBQ sauce. Because fast food is generally a thing of our past, I decided I'd make Rodeo Cheeseburgers at home so that Ryan could relive those high school days of working at Target and getting a visit from his girlfriend with a delivery of Rodeo Cheeseburgers from BK!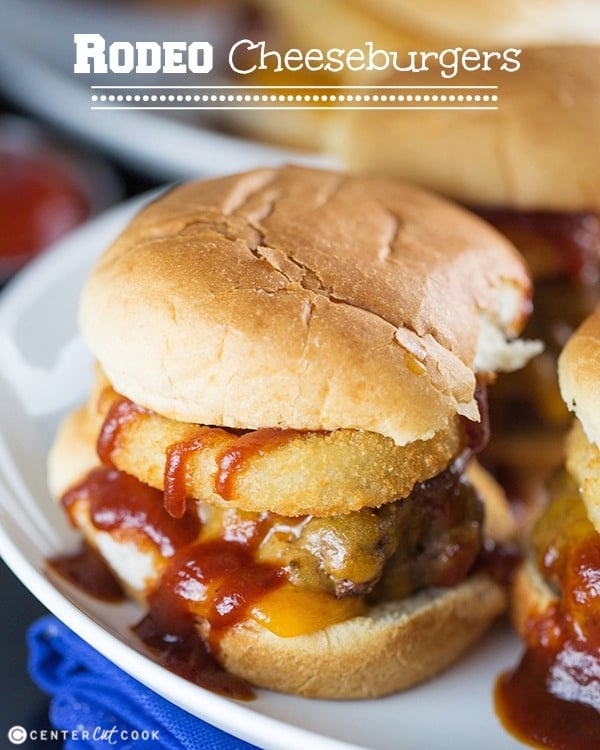 One of the key components to this recipe is the onion rings. You can use frozen onion rings from the grocery store, if you'd like, or here is my recipe for homemade onion rings. They are baked in the oven and they are crispy and delicious!
As for BBQ sauce, just use whatever is your favorite whether it's homemade or from the grocery store. If I don't make my sauce homemade, I tend to buy Famous Dave's Rich & Sassy or Sweet Baby Ray's.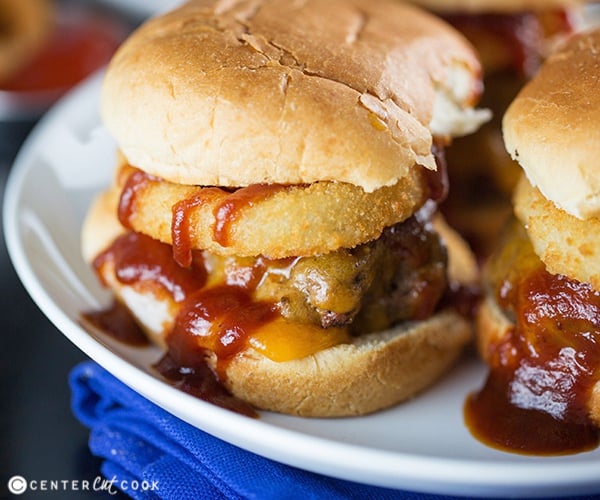 To make this more like a traditional Burger King Rodeo Cheeseburger, you'd need to use sesame seed buns. I didn't have those on hand so I used regular ole buns. The particular day I made these, it was rainy and cold so I used a grill pan indoors but they'd probably be even better grilled outside. Enjoy!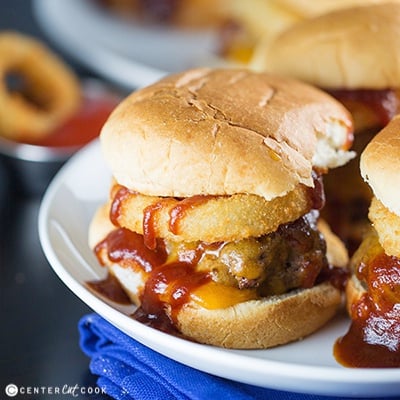 INGREDIENTS
Two pound ground chunk
Salt, black pepper, garlic powder, onion powder
6 hamburger buns
6 slices american cheese
12 crispy cooked onion rings
BBQ sauce of choice
DIRECTIONS
Heat grill or grill pan to medium heat.
Divide the meat evenly into six burger patties. Be sure not to pack them to tight.
Season both sides of the burger with salt, black pepper, garlic powder and onion powder.
Place the burgers on the grill and cook for about 5-6 minutes for the first side and about 3-4 minutes for the second side. Use a meat thermometer if you wish to get the desired doneness (145-150F medium, 150-165 medium well).
Remove the burgers from the grill. Add a slice of cheese to each burger. Loosely cover the burgers with foil and allow them to rest for a few minutes.
To assemble the burgers place a burger on each bun. Top with two onion rings and drizzle with your favorite BBQ sauce.
Enjoy!
Recipe from
CenterCutCook