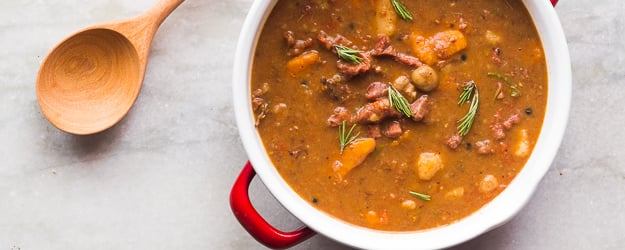 Before we start, I have to say that this is not a slow cooker recipe. It's just slow cooked in the oven and I think that makes this easy, homemade rosemary garlic beef stew so much more flavorful. This beef stew needs some effort and some love and care, and it's really worth the effort!
In our family, stews are made every second week. We like to make a large pot so that we have at least lunch or dinner sorted throughout the week, and my husband's an expert on re-using it to spice other things up. One day, he'll reduce the stew till it almost resembles a pulled pork like consistency and on other days he'll thicken up the sauce to eat it with fried eggs. It's amazing how much you can do with this one recipe!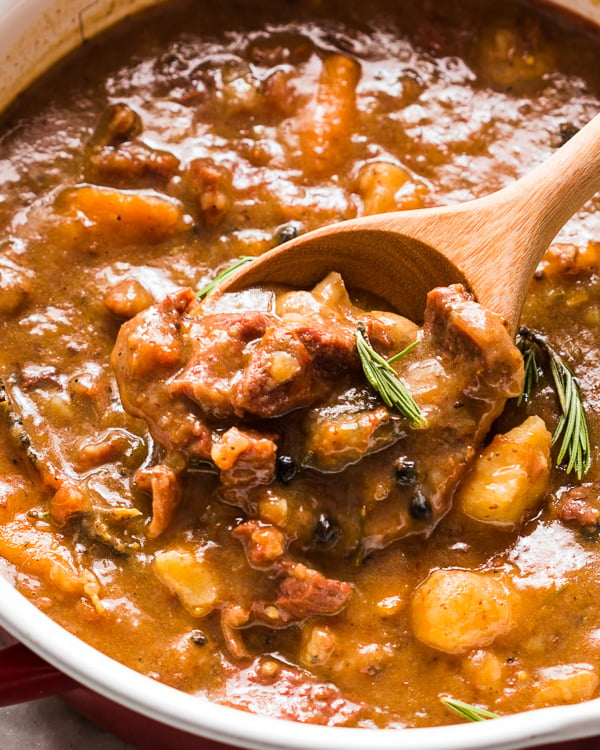 The cooking process of this beef stew is really therapeutic for me. It starts with browning the beef so that you lock in all the juices and flavors, and then creating the gravy for it with onions, garlic, carrots, potatoes and mushrooms – all the classic stew ingredients which just come together to make one beautiful, flavorful pot of comfort food. The rosemary just gets thrown in somewhere in between but it's an ingredient you can't do without it. It's perfect for beef.
We end up dishing out bowlfuls of this beef stew with crusty bread or mashed potatoes or even brown rice – sometimes a little bit of everything and there is nothing better!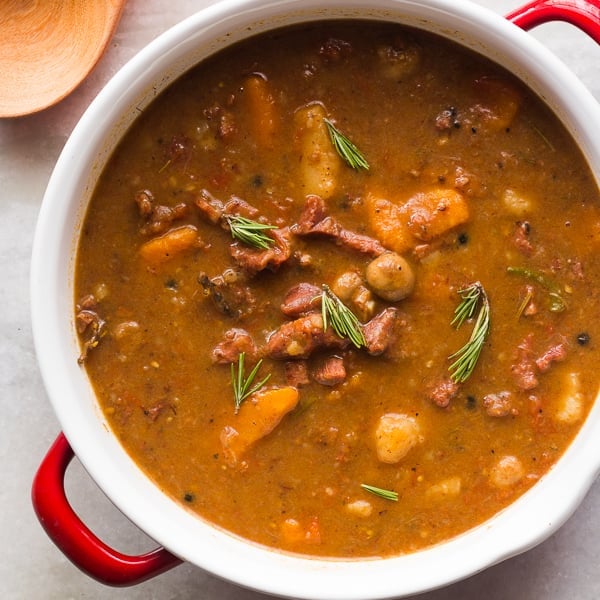 INGREDIENTS
2 tablespoons Butter
2 tablespoons Oil
1.5 pounds Beef stew meat, cut into cubes
1/4 cup All Purpose Flour
1 teaspoon + extra ground Pepper
1 tablespoon + extra Salt
4 Garlic cloves, minced
2 large Onions, diced
2 tablespoons Tomato Paste
2-3 Carrots, diced
3 Potatoes, quartered
1 1/2 cups Mushrooms, diced or whole
1 teaspoon Thyme
2-3 sprigs, Rosemary
2 cups Beef Broth
DIRECTIONS
Season the beef with 1 teaspoon pepper and 1 tablespoon salt and dredge it in flour.
Heat oil and butter in a large dutch oven and add beef in two batches. Do not crowd the pan. Brown the meat on either side, and remove it in a bowl with a slotted spoon.
Add garlic and onions to the pan and saute for 2-3 minutes. Stir in the tomato paste and cook for another minute or two.
While the tomato paste is cooking, pre-heat oven to 350 degrees.
Add beef, carrots, potatoes, mushrooms, thyme, rosemary, salt and pepper and pour in the beef broth. Bring this to a boil and then transfer to the oven for 2 hours approximately.
Serve with mashed potatoes, bread or brown rice.