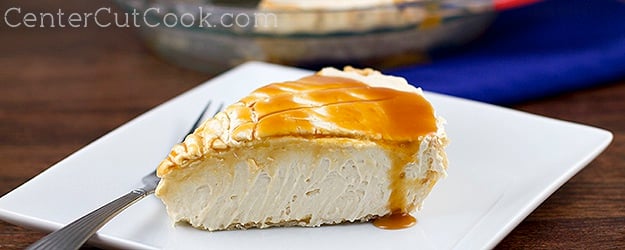 There is no better time than summer to take advantage of recipes that require little or no baking! This salted caramel pie is one example. Only 10 minutes of baking is required, right in the beginning, to bake the crust. The rest is just a process of mixing together a few ingredients, and allowing it to set-up in the fridge for a couple hours. Easy, peasy, right?
This pie is definitely for the caramel lovers out there! If you're not a fan of caramel, you probably won't enjoy this pie. It's a simple combination of cream cheese, cool whip, and of course, caramel. Because there are so few ingredients, the caramel flavor does tend to be a bit strong, especially with the additional caramel drizzled on top of the pie. My favorite part about the whole thing is the sprinkle of sea salt that the pie gets. There's something about the salty caramel flavor that I just love!
If you're looking for a simple, summer, caramel infused treat, definitely give this recipe a try! With the crust, you have options. You could make your own (link provided below) which will add some additional time, or you can just take a little help from the store and buy a pre-made refrigerated crust.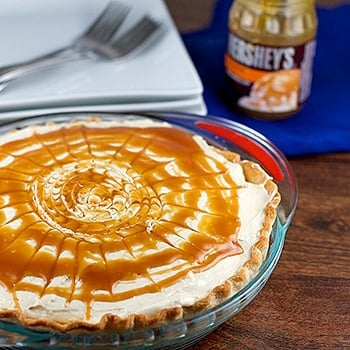 INGREDIENTS
1 pastry pie crust (I like this recipe from Pioneer Woman, or you could also take a little help from Pillsbury and use their refrigerated pie crust).
2- 8 ounce packages cream cheese, softened
1 1/4 cups caramel sauce
1- 8 ounce container cool whip, thawed
Sprinkle of sea salt
DIRECTIONS
Pre-heat your oven to 450 degrees.
Arrange the pie crust in a pie pan (I use glass) and flute the edges. I do this with my finger. Use a fork to poke holes all over the crust. Bake for about 10 minutes, or until the crust starts to lightly brown.
Allow the curst to cool for about 15 minutes.
With your mixer, combine 1 cup caramel sauce with softened cream cheese. Mix until the consistency is smooth.
By hand, stir in cool whip and mix well.
Spread the filling in the pie crust, and sprinkle about 1/8-1/4 teaspoon sea salt over the top.
Drizzle 1/4 cup caramel sauce on top of the pie and allow it to set in the refrigerator for about 2 hours.
Keep leftovers refrigerated.
Recipe adapted from
Pillsbury.com