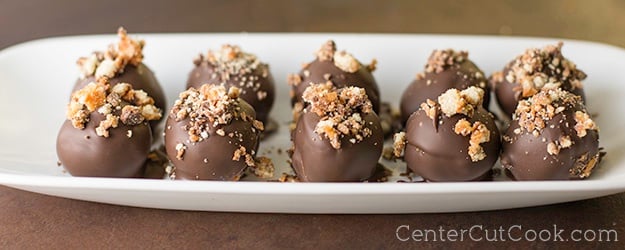 What is it about Girl Scout cookies that makes them so darn addicting? Is it simply because they're only sold once a year? Or is there something else about them that makes them hard to resist? Back in the day, I was a Girl Scout and sold (and ate) my fair share of cookies. I think the Samoas are probably one of the most popular Girl Scout cookies ever, along with the Thin Mints. I'm also a huge fan of the Tagalongs. You know the ones, with the peanut butter patties that are enveloped in chocolate? While I have several favorites, today, it's all about the Samoas!
Samoas are the cookies that have hints of caramel and coconut with a little bit of chocolate and work perfectly for truffles. It's a miracle that I had a couple boxes of Girl Scout cookies that haven't been eaten yet! For this recipe, you'll need about 15 ounces of cookies. If you don't have Samoas on hand, Keebler actually makes a copycat version called "Coconut Dreams" that would also work for this recipe. Along with the cookies you'll need an 8 ounce package of softened cream cheese, and a 20 ounce package of chocolate flavored almond bark. You'll start by crushing the Samoas Girl Scout cookies in a food processor until you're left with very fine crumbs. You could also use a rolling pin, but due to the chewy nature of Samoas, it'll be easier if you use a food processor. Reserve a couple of tablespoons of the crushed cookies for garnish. To the crumbled cookies, you'll add in a package of softened cream cheese and mix well.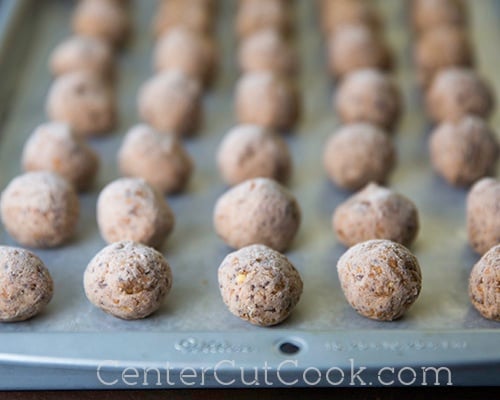 Next, you'll use about 1 tablespoon of the cookie/cream cheese mixture for each truffle. Use your hands to shape the truffles into rounded balls. Arrange each of the truffles on a cookie sheet lined with wax paper. I used a cookie dough scooper to help make the truffles. After all of the truffles have been formed, pop the tray in the freezer for about 30 minutes.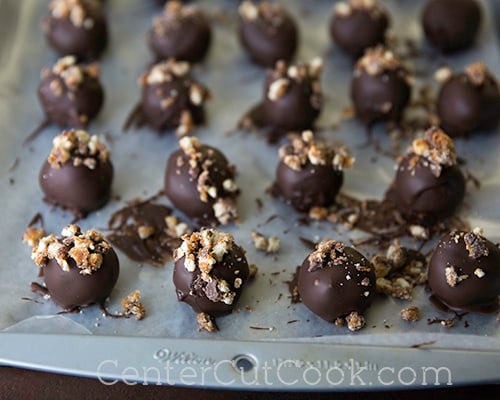 When the truffles have firmed up, you'll want to begin the process of melting the almond bark. Just follow the package directions and heat until the almond bark is melted and smooth. Then you'll begin coating each of the truffles. I have found that it is easiest to use two forks for coating the truffles. You will drop the truffle in the melted almond bark, and turn it to coat it well. Then, use a fork to lift the truffle out of the coating. Tap the fork on the edge of the bowl to allow any excess to drip off. Use the second for to help gently push the truffle off the fork and onto the wax paper. Immediately top with the reserved crushed cookies for garnish.
The coating hardens pretty quickly, so you'll want to garnish them immediately. I coated one truffle and garnished it before starting on the next truffle. I was able to get about 3 dozen truffles from the mixture.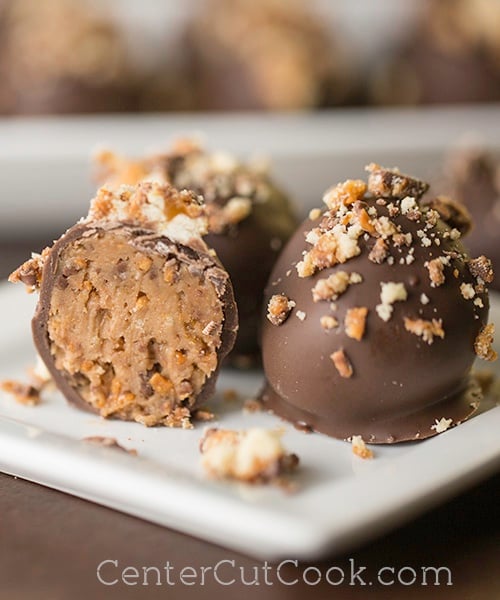 These Samoas Truffles are best eaten at room temperature. Store any leftovers in an air-tight container. Just like Girl Scout Cookies, these truffles won't last long! What's your favorite Girl Scout Cookie? (And if you haven't had Girl Scout cookies before, your'e missing out!).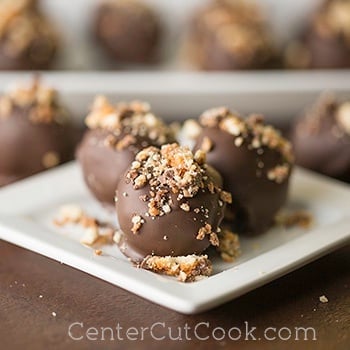 INGREDIENTS
15 ounces Samoas Girl Scout Cookies (alternatively, use Keebler Coconut Dreams if you don't have access to Girl Scout Cookies)
8 ounce package of cream cheese, softened
20 ounce package chocolate flavored Almond Bark
DIRECTIONS
Begin by crushing 15 ounces of Samoas Girl Scout Cookies. I used a food processor and processed them until I was left with very fine crumbs. Reserve a couple tablespoons of the crushed Smoas for garnish.
Using your mixer, combine the cookie crumbs with 8 ounces of softened cream cheese. Mix until well combined.
Use a tablespoon of mixture for each truffle. Use your hands to create rounded truffles. You will be able to get about 35-40 truffles from the mixture. Place them on a baking sheet lined with wax paper.
Pop the tray of truffles into the freezer for about 30 minutes, or the refrigerator for about an hour.
Melt the almond bark and begin dipping each truffle. Drop one truffle at a time into the coating. Lift it out of the coating with a fork. Tap the fork on the rim of the bowl so that excess coating drips off. Immediately garnish with the reserved cookie crumbs.
Recipe from
CenterCutCook