There's something so satisfying about a big steaming plate of creamy, savory fetuccini Alfredo. The chew from the the salted, thick al dente fetuccini noodles…the rich, garlicky Alfredo sauce…and the bite of the parmesan cheese over the top. I's just not fair.
I love adding in different proteins to change up fetuccini Alfredo, like salmon, chicken, and shrimp. This also turns the pasta from more of a side to a full meal.
The trick with the protein is you don't want to overdo it with flavor so you still allow for all the depth of flavor from the homemade Alfredo sauce to come through. Instead, just lightly season it with salt and pepper, and cook it perfectly in some olive oil. This also makes the meal very easy to make, since you don't have to be worrying about getting all crazy with technique on any one of the parts.
If you've never made your own Alfredo sauce, you're just not even gonna believe it. This sauce is so amazingly delicious, you'll never want to buy it from a jar again. It is very easy to make and just takes about 10 minutes to make. If you'd like, you could add in more flavors as you get familiar with the process. Some people like sun-dried tomatoes, roasted red peppers, additional cheese (like asiago or pecorino), and more. Me? I like the original. Endless options, though, for a great go-to creamy Alfredo sauce.
If you have extra sauce left over, it will keep in the refrigerator, but may start to separate some when reheated the next day. Don't worry, though, it will still be amazingly delicious, just not quite as white and creamy.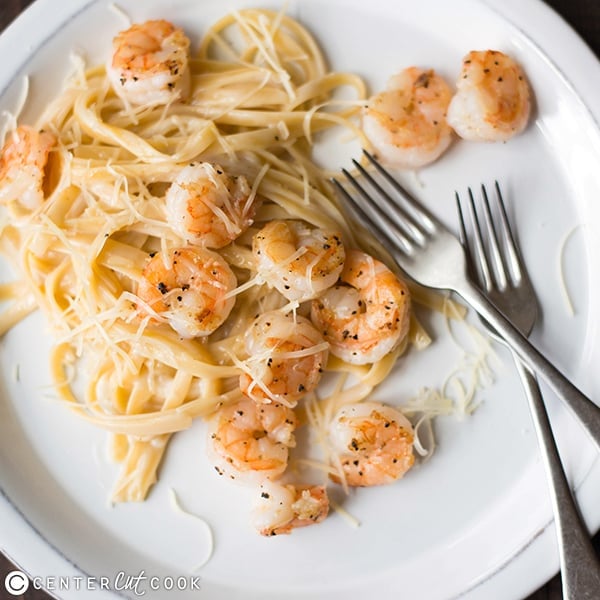 ALFREDO SAUCE INGREDIENTS
4 tbsp. unsalted butter
3 cloves garlic, finely minced
4 oz. cream cheese, softened and cut into 1/2-inch cubes
1 cup milk
3 oz. parmesan cheese, grated
1/2 tsp. ground black pepper
Kosher salt, to taste
SHRIMP FETUCCINI ALFREDO INGREDIENTS
1 lb. fetuccine noodles
1 tbsp kosher salt
1 tsp. kosher salt
2 cups Alfredo sauce (see recipe below)
1 tbsp. olive oil
1 lb. shrimp, deveined and de-shelled
1/2 tsp. ground black pepper
1/4 cup parmesan cheese, grated
ALFREDO SAUCE DIRECTIONS
Melt butter in a medium, non-stick saucepan over medium heat.
Add garlic and cook for 2 minutes.
Add cream cheese, stirring with whisk until smooth.
Add milk, a little at a time, whisking until smooth.
Stir in parmesan and pepper.
Season with kosher salt, if needed. Remove from heat when sauce reaches desired consistency. Sauce will thicken quickly.
SHRIMP FETUCCINI ALFREDO DIRECTIONS
Fill a large stock pot full with water and add 1 tbsp. kosher salt. Bring to a boil.
Once boiling, add the fettuccine noodles and cook until al dente (almost tender), about 8-10 minutes.
While the noodles are cooking, make the Alfredo sauce (recipe above).
Once noodles are ready, transfer them to the Alfredo sauce and stir to evenly coat the noodles with the sauce.
Heat the olive oil over medium-high heat. Add the shrimp to the hot oil and season with the remaining salt and pepper. Cook until shrimp is pink on the outside and opaque in the center, about 2-3 minutes per side.
Sprinkle with grated parmesan and enjoy.
Servings: 4