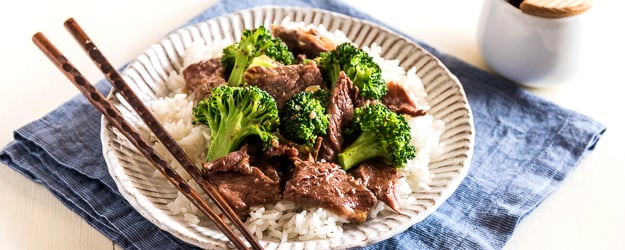 A properly cooked beef andh broccoli requires a wok and a powerful stove. The beef is quickly seared with hot oil and high heat, so it stays tender and moist after cooking. For anyone who is not familiar with basic stir-fry techniques, this task can be intimidating. Even for seasoned cooks, stir fry can be hit-or-miss. The finished dish might turn out bland and/or dry.
The good news is that now, you can make perfect beef with broccoli in your slow cooker. And the process couldn't be easier. Simply mix the sauce and the beef together, then flip the switch. That's it. Prepare the ingredients in the morning, you'll have a pot of flavorful and tender beef waiting for you at dinnertime.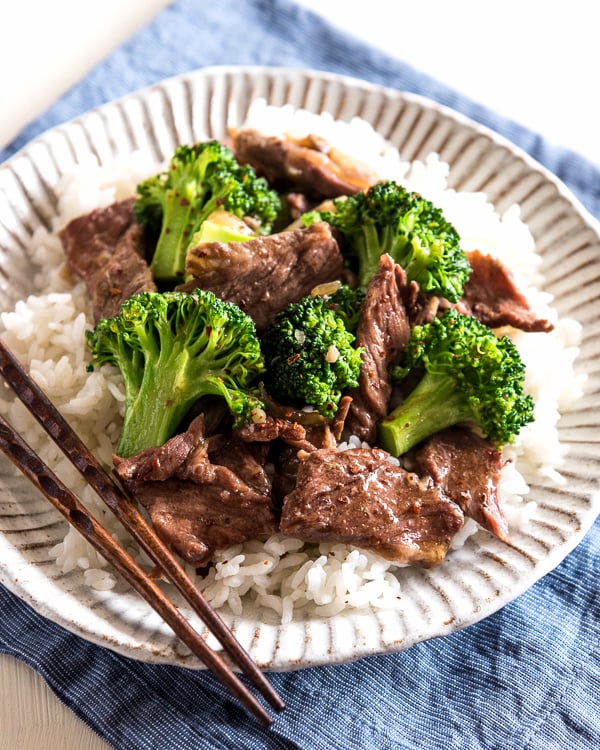 Once the beef has finished cooking, it is ready to serve. However if you want to create a thick sauce, just like your favorite takeout, you'll need to spend a bit more time to thicken the sauce. Simply mix the liquid with some cornstarch and let it cook. The sauce will thicken in about 30 minutes.
One word about the broccoli, I recommend you always cook it separately. You can blanch it or cook it in the microwave. The dish will end up with a much better color and the broccoli won't turn mushy.
Although the classic way to serve beef and broccoli is over freshly steamed white rice, you can also serve it on top of noodles, zucchini noodles, or quinoa.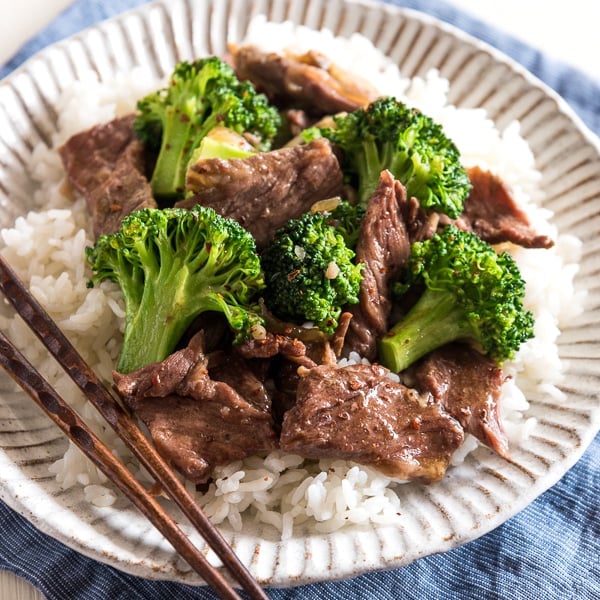 SAUCE INGREDIENTS
1 cup stock (chicken, beef, or vegetable stock)
2 tablespoons soy sauce
2 tablespoons rice wine (Shaoxing wine, or Japanese sake)
4 teaspoons brown sugar
1/4 teaspoon black pepper powder
(Optional) 1/2 teaspoon chili flakes
CROCKPOT INGREDIENTS
1 pound beef short ribs (or sirloin, or tenderloin), sliced into thin strips
1/2 white onion, sliced
3 garlic cloves, minced
2 slices ginger
1 tablespoon cornstarch
2 cups broccoli florets
DIRECTIONS
Combine stock, soy sauce, rice wine, brown sugar, black pepper powder, and chili flakes in a small bowl. Stir to mix well. Pour into crockpot.
Add beef slices in the liquid and toss to coat.
Turn on crock pot, cook for 6 hours on low or 4 hours on high.
When the beef is done, transfer 2 tablespoons liquid into a small bowl. Add cornstarch and stir to mix well. Pour back to the crock pot. Stir to mix again.
Add broccoli florets. Cook on low for an additional 30 minutes or so, until the sauce thickens and the broccoli is cooked through.
Serve warm over white rice.