Everybody has a favorite meal from their childhood days, right? A certain meal that brings back memories? For me, it's beef stroganoff. A little weird, I know. But I remember so many times having sleepovers at my grandma's house, and requesting that she make beef stroganoff for me because it was always so tasty. It's definitely on the list of comfort foods that I adore. This is my take on beef stroganoff, made in the slow cooker. It's a little healthier than the version you may be familiar with and it's made with no cream soup. While my favorite part about this recipe is the mushrooms, you can leave those out if you wish.
While there's a lot to adore about beef stroganoff, there's not a whole lot to love about the fact that most recipes out there call for cream of ____ soup, whether it be mushroom or chicken. Let me be honest here, these days I'm not much of a fan of cooking with cream soups from a can. Some of my favorite recipes call for the stuff, so I've been working to remake the recipes (or find recipes already out there),to avoid cream soup.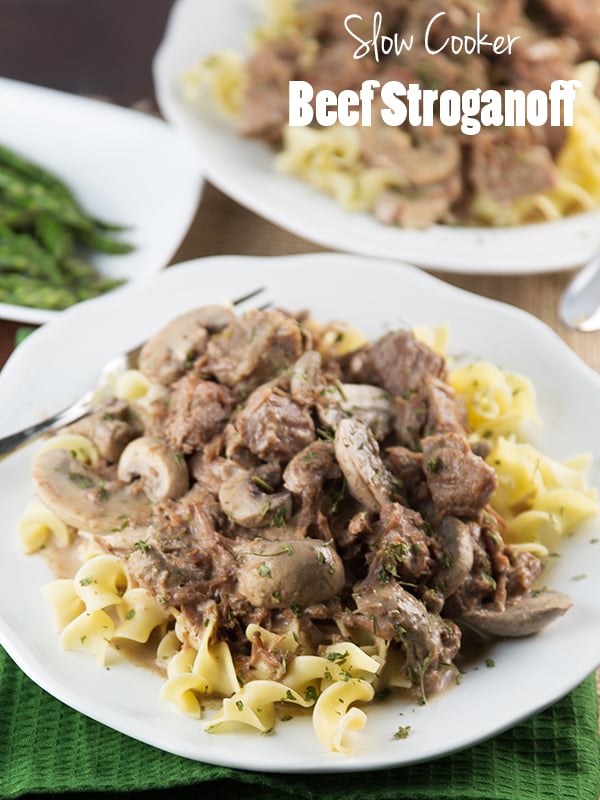 Several months ago I wanted to find a good beef stroganoff recipe that I could tinker around with that would give me the same flavors I was used to, but without the canned soup. I ended up finding a fantastic recipe that not only tastes delicious, but is cooked in the slow cooker. What's not to like about that? You dump the ingredients in, turn it on, walk away and come back hours later to dinner that's ready to be served (and a house that smells delicious).
The fact that it's cooked in the slower cooker also means that the beef has time to get super tender and just falls apart in your mouth. It can be served over rice, or egg noodles (my favorite) and heats up wonderfully as leftovers.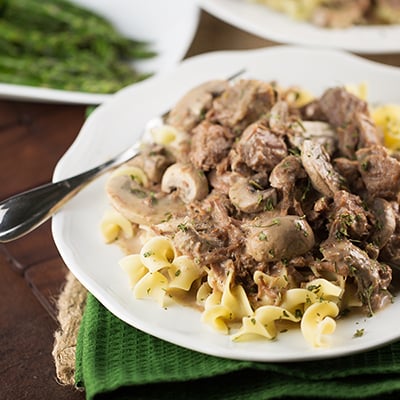 INGREDIENTS
Rice or Egg Noodles cooked according to directions on package
2-3 pounds stew meat
1 teaspoon salt
1/2 teaspoon coarse black pepper
1 yellow onion diced
1/2 teaspoon garlic salt
2 tablespoons Worcestershire sauce
1 1/2 cups beef broth
1 tablespoon ketchup
1/3 cup flour
6-7 tablespoons apple juice or water
10-12 ounces sliced mushrooms
1/2 cup sour cream
DIRECTIONS
Dice onions. Place stew meat in the crockpot, top with onions and add in salt, black pepper, and garlic salt.
In a small bowl combine worcestershire sauce, beef broth and ketchup. Whisk together until all ingredients are combined. Then pour over beef/onion mixture. Stir to combine.
Cook in slow cooker on low for 7-9 hours or on high for 4-5 hours
A half hour before you serve, in a small bowl combine flour and apple juice (or water) whisk well, then pour over beef mixture in the crock pot and stir vigorously. Add in mushrooms. Cook for another 30 minutes on high.
Right before serving, stir in sour cream.
I like to combine the egg noodles with the beef mixture BEFORE serving versus just plopping some of the beef mixture on top of the noodles. The taste is so much better when everything is combined before plating.
Recipe adapted from
Mel's Kitchen Cafe