Tacos are a staple in our house. They make an appearance on our dinner table at least once a week – usually twice. It's the one thing my kid will have seconds of and even eat leftovers the next day. If you're a parent, then you know that is saying something. Now that school is back up, I am always looking for ways to speed up dinner prep so we have more time for more important things like spending time sitting together at the dinner table and sharing our days.
My favorite way to do this is make slow cooker beef tacos. I throw together the ingredients in a slow cooker, and by the time we are back home, it is ready to eat! There is nothing better than coming home and not having to worry about cooking and having the house smelling incredible the moment you enter the door, right? We like to get a little crazy with topping since we saved so much time on the cooking. We get out all the cheese, tomatoes, spinach, and sauces. Sometimes I will make a quick avocado crema or salsa.
What I love most about these slow cooker beef tacos is that the flavor is incredible. The use of homemade taco season and salsa really adds some oompf to the tacos. It only gets better with age, so I like to make sure we have enough for leftovers the next day. When I want to mix things up, I will either toss the beef into a Mexican-inspired salad, or even make a simple Mexican casserole the next day. You really can't go wrong!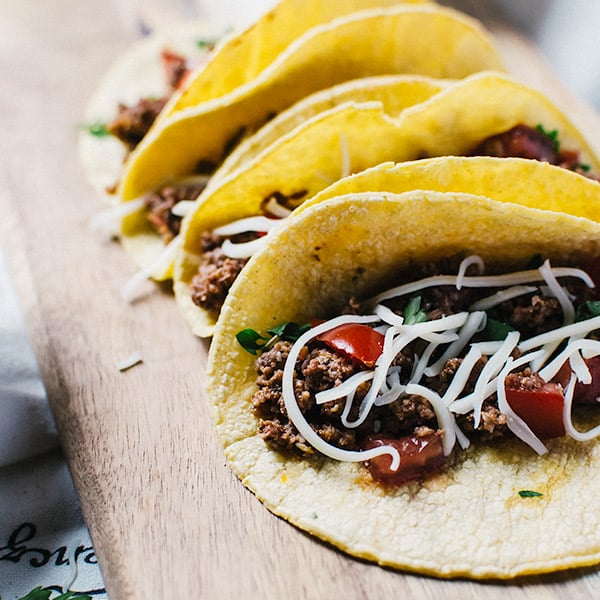 SEASONING INGREDIENTS
1 tablespoon chili powder
1/2 teaspoon cumin
1 teaspoon garlic powder
1 teaspoon onion powder
1/4 teaspoon red pepper flakes
1/2 teaspoon paprika
1 teaspoon oregano
1 teaspoon salt
1/2 teaspoon ground pepper
TACO INGREDIENTS
DIRECTIONS
Mix together the ingredients for the taco seasoning. Set aside.
Heat the slow cooker to low. Add in the ground beef and break apart with your spatula.
Sprinkle in the taco seasoning and mix well as you continue to break apart the ground beef.
Add in the salsa and stock then stir in well.
Cook on low for 6 – 8 hours. Alternatively, you can cook on high for 2 – 3 hours.
Serve with hard or soft shells, cheese, tomatoes, and any other toppings you desire!
Servings: 4 -6 people