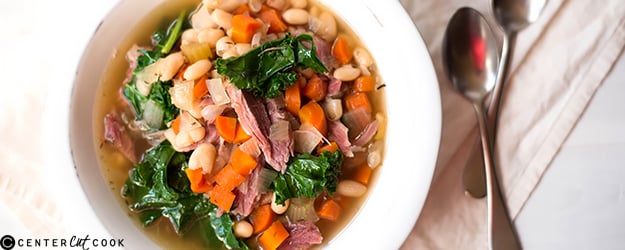 I had an extra hambone in the freezer the other day and wanted to try something new. I remembered a friend saying his favorite childhood soup was ham and bean soup so I thought I'd give it a try.
Not only was this soup extremely easy to make, it is absolutely delicious. I can see why this kind of soup would be popular for a family growing with little ones — it's relatively cheap, super easy, very nutritious, and very yummy.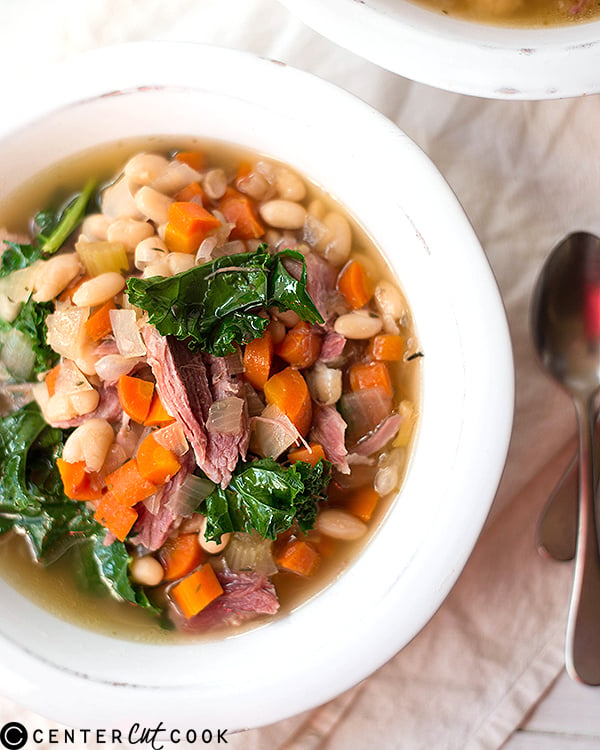 If you've never soaked your beans overnight, it couldn't be easier. All you have to do is place the dried/uncooked beans into a large bowl, cover with 2-3 tablespoons of clean water, and then allow to soak overnight or for at least 8 hours. When you wake up, the beans will have increased in size and will be ready to cook. Or, if you'd prefer, you can used canned Great Northern Beans or navy beans.
The kale is added for a little color and texture, but can easily be removed if you don't like it. Make sure to wait until almost the very end to toss it in, however, so you don't overcook it. When it's bright green, it's cooked and ready to eat.
This slow cooker ham and bean soup is full of flavor, healthy (super high in fiber, complex carbs, and protein), a kid-friendly soup, and super easy to make in the slow cooker. That makes it a winner in our house for sure!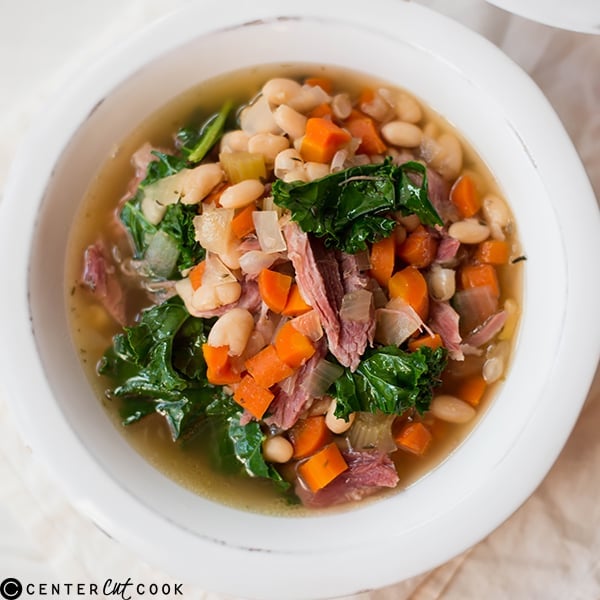 INGREDIENTS
1 1/2 lb. ham bone, meaty
2 cloves garlic, minced
1 medium yellow onion, diced
4 carrots, diced
2 stalks celery, diced
2 1/2 cups navy beans, uncooked (can substitute 2 10 oz. cans great northern beans)
1 tsp. dried oregano
1 tsp. dried rosemary
1 tsp. dried thyme
1 bay leaf
1/2 tsp. ground black pepper
6 cups chicken broth/stock, low sodium
1 cup kale, spine removed and roughly chopped
2 tbsp. Italian parsley, chopped, for garnish
DIRECTIONS
Put the beans into a large bowl and cover with 2 to 3 inches of cool, clean water. Set aside at room temperature for 8 hours or overnight, and then drain well.
Add all the ingredients but the kale and parsley in slow cooker.
Cook on high for 3-4 hrs or on low for 7-8 hours, until the ham easily falls off the bone.
Remove the ham bone and the ham from the bone. Shred into pieces and then return to the slow cooker. Remove the bay leaf and discard.
Add the kale 15 min. before done until bright green. Garnish with parsley.
Servings: 6