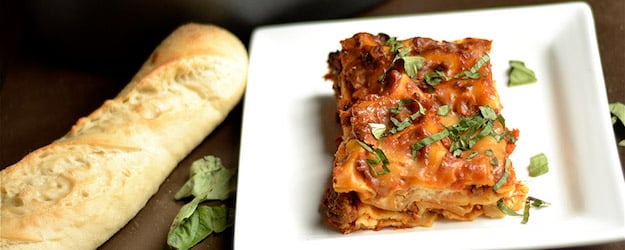 Lasagna is proof that the slow cooker truly is amazing and can cook anything! Layers of a meat sauce, a blend of 4 cheeses, and lasagna noodles that don't need a casserole dish. Just for those times when you want dinner to be ready when you get home, but you can't possibly be home for hours. No need to wait for the oven to heat up, and cook a lasagna for an hour. You can do all the work early in the day and have dinner ready when you get home!
This variation of lasagna is a classic, but feel free to adapt to your own tastes. One of my favorite parts of lasagna is adding sausage and beef together to give the dish a more classic Italian taste. Also use a high quality tomato store bought tomato sauce, even adding fresh garlic or onion. Love spinach or mushrooms? You can add them to this recipe too!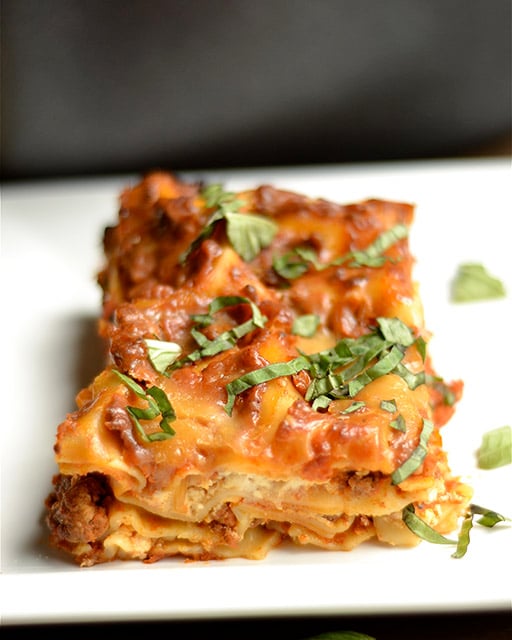 To start, you will need to cook your meat for about 5-7 minutes in a large skillet until cooked almost completely. I add garlic and onion here, but feel free to omit. Toss in 2 jars of a high quality tomato sauce and combine with the meat. Set aside. In another bowl, mix the cheeses together and season with salt and pepper. Start to layer your slow cooker. Begin by coating the bottom with a meat sauce, top with 3 noodles, again with meat sauce, and spoon dollops of the cheese mixture. Top with another layer of noodles and repeat 2 more times. After 4 layers of noodles, top with any remaining sauce, and sprinkle 1 cup mozzarella cheese over the top. Cook on low for 6 hours or high for 3-4 hours. Sprinkle with fresh basil!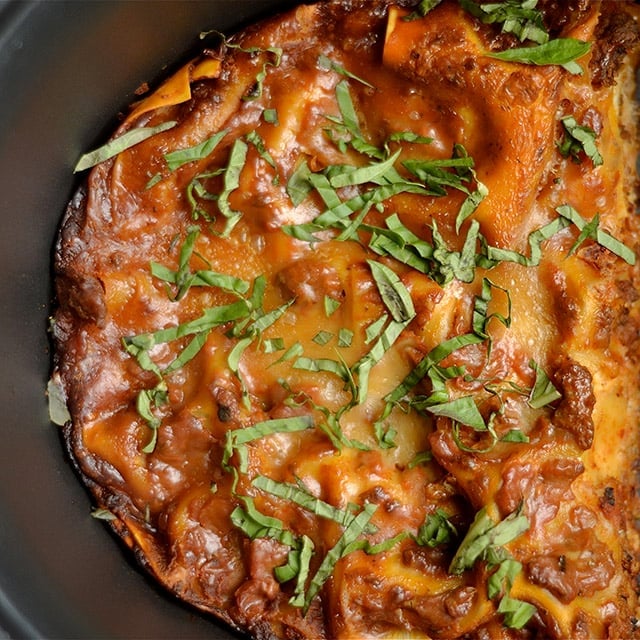 INGREDIENTS
2 tbsp olive oil
1/2 large white onion, chopped
2 cloves garlic, minced
8 oz ground beef
8 oz ground sausage
2 24 oz jars tomato sauce
16 oz ricotta cheese
4 oz cream cheese, softened
3/4 cup parmesan cheese
2 cups mozzarella cheese, divided
1 tbsp dried basil
Salt and pepper to taste
12 no bake lasagna noodles
1/2 cup fresh basil, chopped
DIRECTIONS
Heat a large skillet to medium high heat. Add onion and garlic cook for 3 minutes. Add ground beef and sausage, cook until no longer pink (approximately 5 mins).
Add tomato sauce to the skillet to create a meat sauce. Set aside.
In a small separate bowl, mix together ricotta, cream cheese, 1/2 cup parmesan cheese, and 1 cup mozzarella until well blended. Season with salt and pepper and dried basil.
Begin to layer your lasagna. Start with about 1 cup meat sauce on the bottom. Top with 2 lasagna noodles, another 1 cup of meat sauce, and drop spoonfuls of the cheese mixture on top. Repeat for 2 more layers, finally top with one final layer of noodles. If any sauce remains, drizzle sauce on top.
Add 1 cup mozzarella and 1/4 cup parmesan to the top. Close the lid of lasagna, and cook on low for 6 hours or high for 3-4 hours.
Serve with a sprinkle of chopped fresh basil.
Servings: 8 servings