One of my favorite things to do is eat food. I know – this comes as a shock coming from a food blogger. And, let's just be honest: a foodie – and a critical one at that!
Another one of my favorite things to do it create healthy versions of the foods I enjoy ordering out at restaurants. There's something so satisfying about creating a meal, dessert, or drink that I usually have to PAY someone to make me in my own home and using my own choice of ingredients.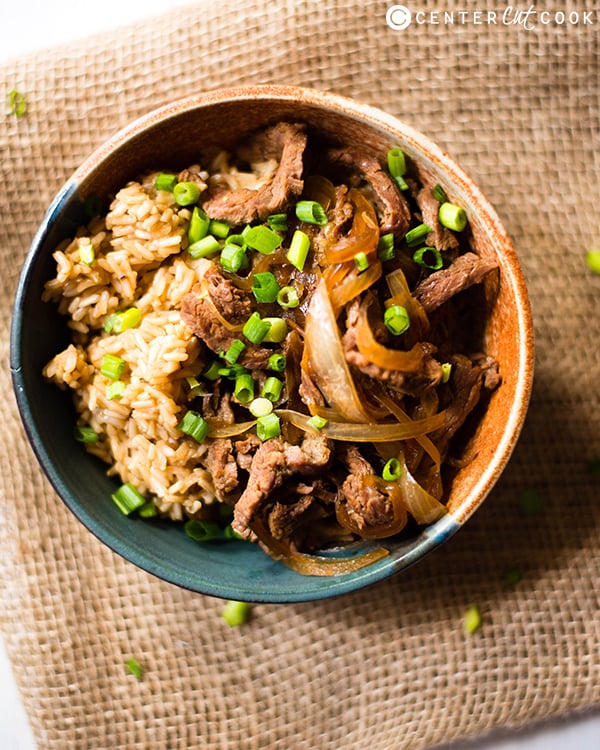 That way, I don't have to worry if they used processed sugars, added tons of extra butter, cooked it in lard, or added waaaay more salt than I would ever want to consume.
I've found a great way to enjoy the Chinese food I love in a healthier (and cheaper!) way is to make my favorite dishes using a slow cooker. Cooking for hours in the slow cooker not only makes the meat super tender, but it also really intensifies how rich and flavorful Chinese food is. Which, basically, makes my mouth and tummy very happy.
Mongolian Beef is one of those dishes we always order at Chinese restaurants. It's a great dependable dish that is full of protein and has delicious flavors. So, naturally, I wanted to try my own slow cooker Mongolian Beef version to make it on my own.
To make it healthier, I skipped coating the beef in cornstarch and frying beforehand. I also used low sodium soy sauce and no oil whatsoever in the entire meal. All in all, the dish is extremely flavorful and goes amazingly well with just some simple steamed brown rice below it to soak up all the delicious juices. Make sure to add the sliced green onions at the end to boost the meal with fresh, crisp bite!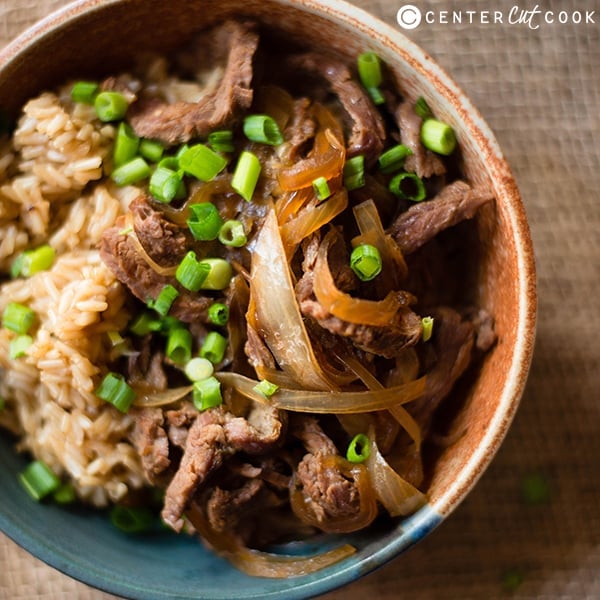 INGREDIENTS
1 lb. flank steak, thinly sliced against the grain
1 med. yellow onion, thinly sliced
1/2 cup low sodium soy sauce
3/4 cup chicken stock/broth
1/3 cup hoisin sauce
3 garlic cloves, minced
1/4 tsp. crushed red pepper flakes
3 green onions, sliced
Optional side: steamed brown rice
DIRECTIONS
Combine the flank steak and onion in the bowl of a slow cooker.
In a separate small mixing bowl, combine the soy sauce, chicken stock, hoisin sauce, garlic, and crushed red pepper flakes. Mix well.
Pour the soy sauce mixture over the flank steak and onion in the slow cooker. Toss to coat.
Cover and cook on low for 4 hours, or until the steak is very tender and the onions are cooked through.
To serve, garnish with the sliced green onions alongside steamed brown rice, if desired.
Servings: 4