Is there a combination more delectable than chocolate and peanut butter? I've spent my morning trying to think of another food combination that was just as good and I couldn't think of one. Sure, peanut butter and jelly is good. Grilled cheese and tomato soup is a classic. But nothing quite compares to the magic that occurs when you mix chocolate and peanut butter together. That's why today we are celebrating this amazing combination with a slow cooker peanut butter hot chocolate.
We are officially in the middle of fall and that means it's time for sweaters and hot chocolate and cuddling up to a good book or movie. You need lots of hot chocolate and you need it asap. This slow cooker peanut butter hot chocolate makes enough for you to safely share with your loved ones while still being sure there is enough for you to have another helping after everyone's gone to bed. You can get it ready before dinner and have it ready for when you are ready to relax, or make it Saturday morning and drink it throughout the day. Whatever you decide, I promise you will be satisfied!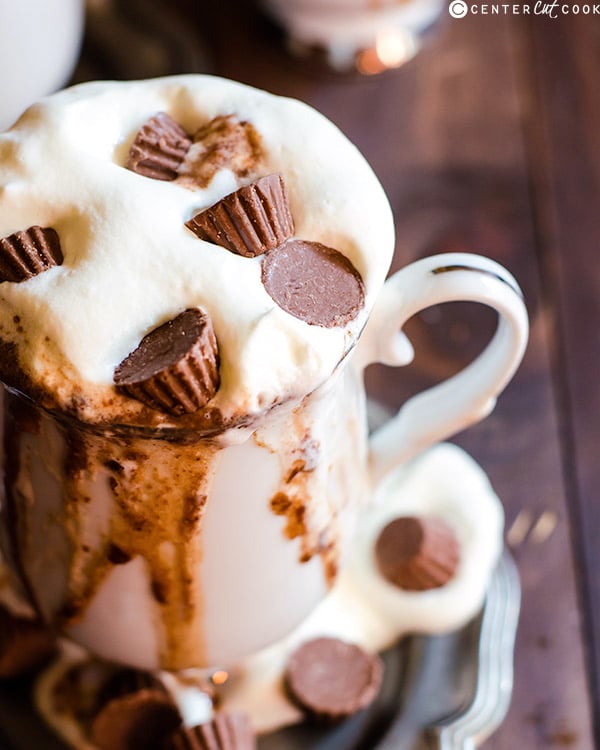 When making the slow cooker peanut butter hot chocolate, it is important to make sure the peanut butter is well incorporated into the drink. The way to do this is to slowly add the heavy cream to the peanut butter and mix well as you pour in the cream. The peanut butter should become a thick paste and slowly thin out as you add more heavy cream. If you don't mind the extra mess, you can even use a hand or stand mixer to incorporate the peanut butter into the cream. If you simply add the ingredients into the slow cooker without doing this, the peanut butter won't fully mix in and you will end up with clumps of peanut butter in the bottom of your pot. That isn't a bad thing for a peanut butter lover, but if you want a really nice, smooth texture, mixing it beforehand is essential!
I did not add any sugar to this hot chocolate. I didn't really feel the need for any. If you find your hot chocolate just isn't sweet enough and want yours a little sweeter after you've already made it, simply stir in your sugar and give the slow cooker peanut butter hot chocolate another 10 minutes for it to fully dissolve and incorporate the sugar.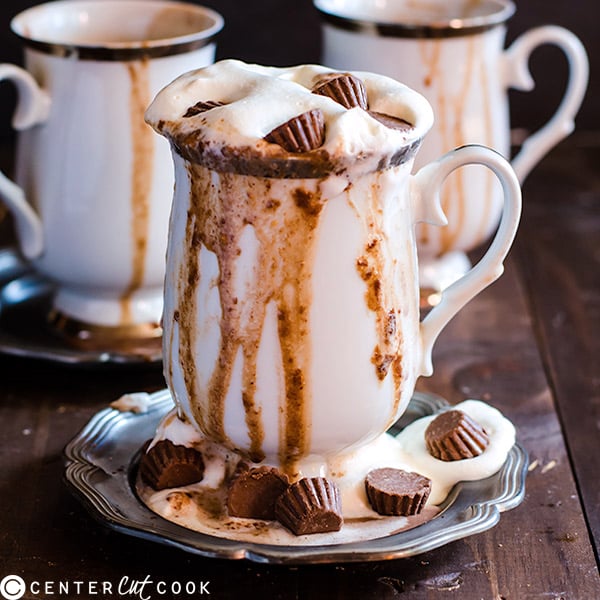 INGREDIENTS
2/3 cup creamy peanut butter
2 cups heavy cream
4 cups milk
2 cups chocolate (I used semisweet)
1 teaspoon vanilla extract
1/4 cup sugar (optional)
Whipped cream (optional)
Mini chocolate peanut butter cups (optional)
DIRECTIONS
Add the peanut butter to the slow cooker. Slowly add in the heavy cream, mixing it into the peanut butter well.
Stir in the milk, then add in the chocolate. If you prefer a sweet hot chocolate, add the sugar (I thought it was sweet enough without the sugar)
Heat the mixture on low for 4 hours, or high for 2 hours, stirring occasionally with a wooden spoon. Give it one last vigorous mix and get ready to serve!
Pour into your glasses and optionally top with whipped cream and mini chocolate peanut butter cups!
Servings: 6