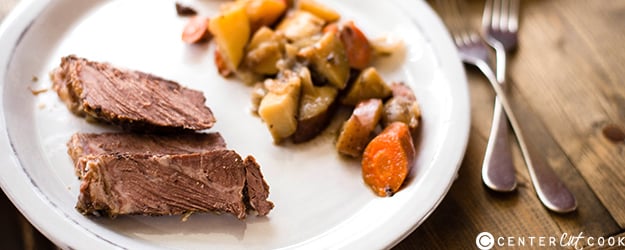 I love pot roast. The combination of the hearty vegetables, savory spices, and tender, moist beef is so flavorful and comforting. It always brings me back to my childhood and smelling pot roast cooking in the oven.
Even though the actual roast tended to be a little dry, I still loved it all slathered in ketchup.
I also love slow cookers. In fact, I'm finding more and more lately just how incredibly awesome they are.
So, I figured I'd try my beloved pot roast in a slow cooker because it seemed like it could be a match made in heaven – I mean…if we would combine the wonderful flavors and heartiness of a pot roast with the ease of a slow cooker, then that's something I'd wanna eat! Plus, I had a suspicion it would keep the roast nice and juicy.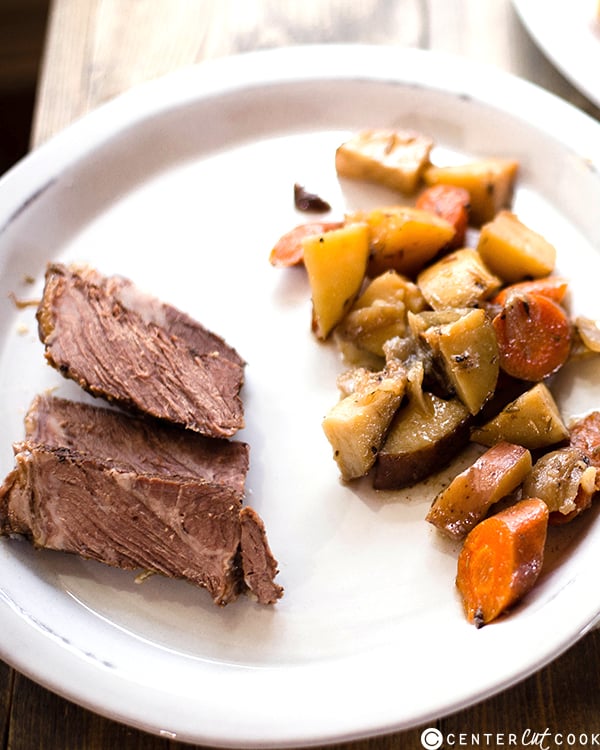 The good news is that it turned out fabulously. The slow cooker helps keep the roast very moist – which is something a lot of people have trouble when cooking a roast in the oven – so that's a great benefit as well.
I use a simple combination of yukon and red potatoes along with carrots in the pot roast. I like the combination of colors, flavors, and textures this provides. But, if you wanted to just use the same kind of potatoes, either one would work well on its own.
Overall, this is one delicious and amazingly easy meal that'll only take you 5 minutes to prep! Hooray for slow cookers!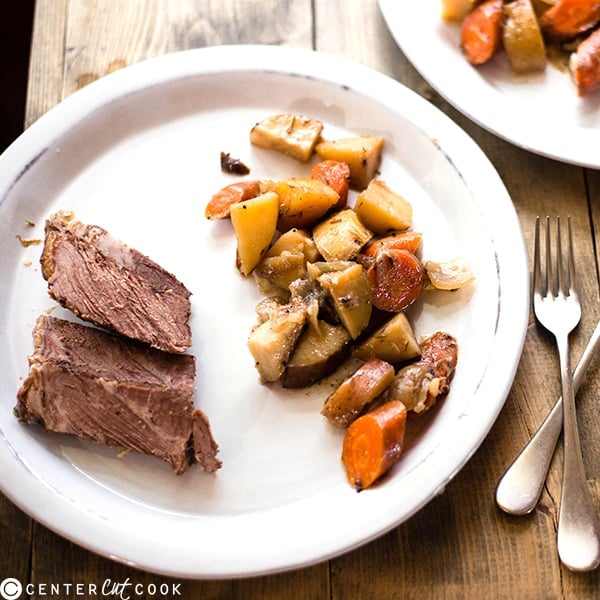 INGREDIENTS
3 lbs. beef chuck roast
1 1/2 tsp. kosher salt, to generously coat the roast
1 1/2 tsp. ground black pepper, to generously coat the roast
1 yellow onion, cut into wedges
5 carrots, sliced on the bias
2 yukon potatoes, diced
2 red potatoes, cubed
1 tbsp. Worcestershire sauce
1 tsp. dried oregano
DIRECTIONS
Generously season the beef with the salt and pepper and place into the slow cooker, fat side down.
Add the onion, carrots, and potatoes to the slow cooker.
Add the Worcestershire sauce and oregano and toss to combine with the vegetables.
Cover and cook on high 4-5 hours or on low 8-10 hours, or until the meat and vegetables are tender when pierced with a fork.
Servings: 6