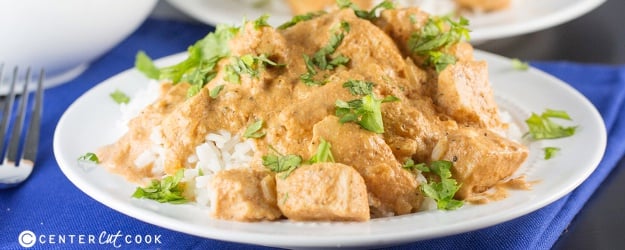 Have you heard of tikka Masala before? It is the ever so popular dish that you commonly see in Indian restaurants and I decided to try making it at home! While you can make Tikka Masala on the stove, I decided to try making it in the slow cooker for a fast and easy recipe that could cook all day long while we work. There's nothing better than a super flavorful meal that can be made right in the crock pot!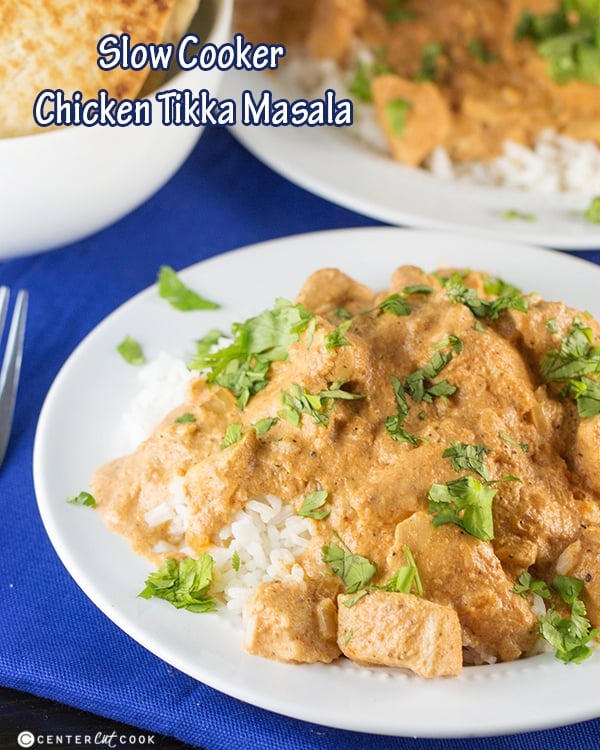 While Tikka Masala is really common in Indian restaurants, I'm sure it is new to some of you. Curry is typically associated with Indian dishes, but this recipe does not have any curry. Instead, one of the key seasonings in this recipe is the garam masala which is a blend of spices, typically black pepper, cumin, cinnamon, coriander and cardamom. The very first time I made this recipe I was wondering where the heck I'd find it. Come to find out, just about every grocery store sells little jars of garam masala. I found it at my grocery store in a little specialty spices section they had right next to the more common spices.
Tikka Masala has a wonderful slightly creamy consistency, thanks to the plain non-fat greek yogurt that gets tossed in. At the very end, you'll garnish the dish with some fresh chopped cilantro which compliments the bold flavors of the Tikka Masala. It'll cook in the slow cooker for 7-8 hours on low, or for 3-4 hours on high. I like to serve this over rice with toasted pita bread or naan and some steamed veggies. Yum, yum! Enjoy!
INGREDIENTS
1 pound boneless skinless chicken breasts, cut into bite sized pieces
1 medium yellow onion, diced
2 cloves garlic, minced
1 inch piece of ginger, peeled and finely grated
14 ounce can tomato puree
1 cup plain greek yogurt
1 Tablespoons Garam Masala
1/2 Tablespoon cumin
1/2 Tablespoon paprika
1 teaspoon salt
3/4 teaspoon ground black pepper
1 teaspoon cayenne pepper
1/2 cup heavy cream
1/4 Tablespoon cornstarch
Chopped cilantro for garnish
DIRECTIONS
Toss the chicken and onion together and place in the bottom of your slow cooker.
In a large bowl combine garlic, ginger, tomato puree, greek yogurt, garam masala, cumin, paprika, salt, black pepper and cayenne pepper. Stir to combine.
Pour this mixture over the chicken. Cook on low for 7-8 hours or on high for 3-4 hours.
20 minutes before you're ready to eat, combine heavy cream with cornstarch. Pour the mixture into the slow cooker and continue cooking for 20 minutes longer.
Serve over rice and garnish with chopped fresh cilantro.
Recipe from
CenterCutCook