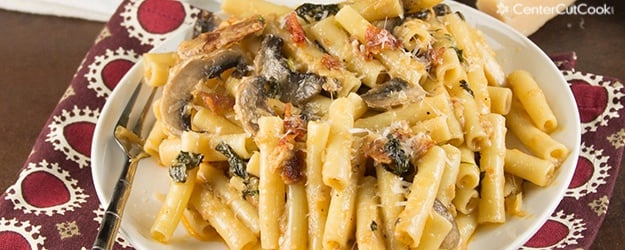 Today I am going to be talking ALL about noodles, and cheese, and bacon, and (that's lots of and's) a smoky creamy delicious sauce! All of these ingredients make me waaaay happier than any combination of ingredients should. I just can't help myself, especially when it comes to this Smokehouse Bacon Ziti Alfredo!
Let me introduce you this super easy, ultra delicious Smokehouse Bacon Ziti Alfredo! It is an incredible recipe whether you are cooking for a family, or looking for a pasta recipe that's perfect for two. One of my favorite things about this recipe is that it's got bright green spinach and fresh mushrooms smuggled inside to compliment the smoky bacon.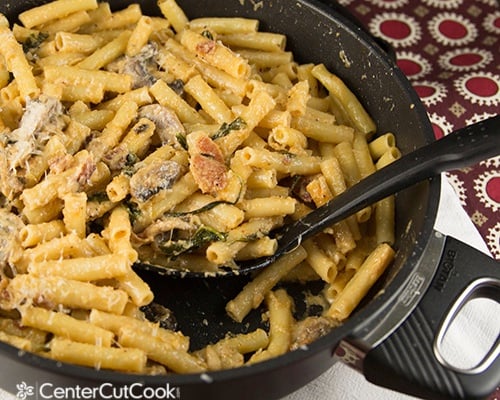 And the sauce! Oh the sauce! This alfredo sauce comes together lightening fast! It's packed with fresh parmesan cheese, a bit of mozzarella, and my secret ingredient? Smokey paprika! The smokey paprika adds just the right amount of smokiness to make this sauce explode with flavor.
Ziti may seem like an interesting choice of pasta to use; usually fettuccine is paired with alfredo sauce. I love the simplicity of the ziti in that you don't have to twirl noodles, or cut noodles, you just eat 'em as they are. Of course, feel free to use any pasta that you'd like!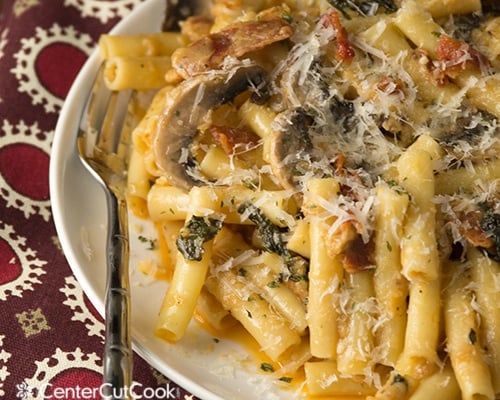 With bacon, cheese, spinach, and mushrooms in a creamy cheesy alfredo sauce, this Smokehouse Bacon Ziti Alfredo ready in under 30 minutes, is a recipe that your whole family will enjoy! *Note: If you're cooking this pasta recipe for two, just cut everything in half, unless of course, you want the leftovers. The leftovers aren't quite as good as fresh, but it's still pretty darn delicious! Enjoy!
PS: I'd love it if you took a minute to follow me on Pinterest! There you can find me pinning some of my favorite pasta recipes from all over the Internet!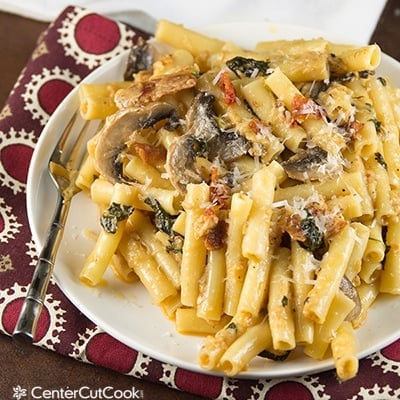 INGREDIENTS
1 pound ziti, cooked according to package directions
6 slices of bacon
8-10 ounces of fresh mushrooms, cleaned and sliced
3 garlic cloves, minced
1-2 cups fresh spinach
3 tablespoons butter
3 tablespoons extra virgin olive oil, divided
2 cups heavy cream
1 cup grated parmesan cheese
1 cup Mozzarella cheese
1 teaspoon smokey paprika
1/2 teaspoon black pepper
DIRECTIONS
Cook pasta according to package directions.
Cook 6 slices of bacon until crisp (I like to bake my bacon – instructions here)
In a large non-stick skillet, heat 1 tablespoon olive oil over medium heat. Cook mushrooms until tender. When the mushrooms are just about done, add in 3 garlic cloves, minced and cook for a minute longer. Remove the garlic and mushrooms from the pan and set aside.
Melt 3 tablespoons of butter in the same skillet you cooked the mushrooms in. When melted, add in 2 tablespoons olive oil. Whisk in heavy cream and bring to a simmer, stirring frequently. Stir in the parmesan cheese and simmer for 8-10 minutes, making sure to stir frequently.
After about 8-10 minutes, the sauce will start to thicken. Reduce the heat to low. Add in mozzarella cheese, smokey paprika, and black pepper. Stir in crispy cooked bacon, fresh spinach, then add in the cooked mushrooms and garlic. Stir in the cooked pasta and serve immediately with additional fresh parmesan cheese for garnish.
Adjust salt and pepper to taste.
Recipe from
CenterCutCook