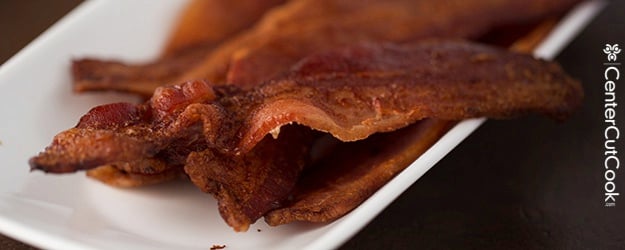 A guide on how to bake bacon – perfect bacon every single time!
Have you ever felt like you were super late to the game? Out of the loop? Last to arrive?
I feel that way all. the. time.
Let's take the latest fashion trends as an example. Printed pants? Super popular, and stylish. I haven't even tried on a pair.
How about the hottest mobile game for months and months… Sugar Crush. I just downloaded it last week and I am still not seeing what all the rage is about.
Oh, and let's not even talk about Instagram! It's on my to-do list this week. I may be the last person on the planet to sign-up, but better late than never, I suppose!
And then there's baked bacon…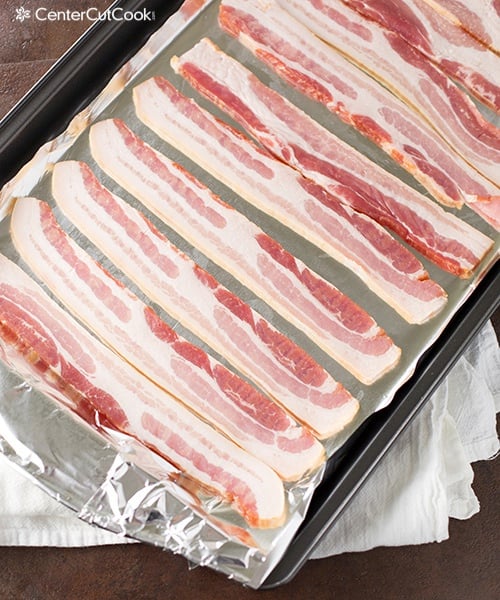 I've been cooking bacon on a regular (almost too regular.. I <3 bacon) basis for the last 10 years, yet it wasn't until just a few years ago that I heard about baking bacon.
My first thought was probably something along the lines of… "why would I bake bacon, isn't my oven going to be a mess!" Likely followed by …"you mean the bacon sits in all of the grease as it's cooking? Ewe."
And then I learned what baking bacon is all about and discovered that it's actually super easy and better yet, it's less messy than pan frying bacon!
Not only is it easier to bake bacon, I also think it tastes better. For whatever reason, baked bacon crisps up perfectly every single time. Crispy yet chewy, just the way I like it.
And did I mention the part about how you don't have to babysit it? When I pan-fry bacon, I am glued to the stove to keep an eye on the bacon and flipping it when needed. When I bake bacon, I pop it in the oven and walk away.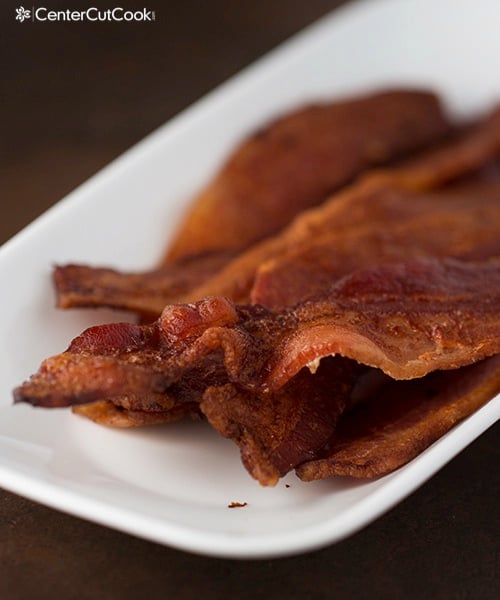 So let me sum this up for you. Baked bacon is less messy than pan fried bacon, it crisps up wonderfully, and clean-up is a breeze! You can even add flavors to the bacon. Sometimes I sprinkle a little brown sugar over the bacon before it bakes. Other times I drizzle the raw bacon with a little maple syrup. Both options are yum and no matter what, if you bake bacon, you'll have perfect bacon every single time!
INGREDIENTS
DIRECTIONS
Line a rimmed baking sheet (jelly roll pan) with foil (or parchment paper).
Arrange the bacon in a single layer.
Place the tray of bacon in a cold oven. Turn on the oven to 400 degrees.
Bake for anywhere from 17-25 minutes, or until the bacon is cooked to your preference.
Baking time will vary depending on how fast your oven gets up to temp, and how thick your bacon is. Thinner bacon will cook faster than thicker bacon.
When the bacon is crispy, carefully remove the pan from the oven making sure not to spill the bacon grease.
Transfer the bacon to a paper towel lined plate to drain. Then ejoy!
If you want to save the bacon grease, pour it into a heat-safe container.
*Note: If you have never baked bacon in your oven before, start checking the bacon as early as 8 minutes. The rate at which the bacon cooks varies depending on how fast your oven comes to temp. I've heard of bacon cooking as fast as 10 minutes and taking as long as 30 minutes. From my experience, it is usually done between 17-25 minutes.