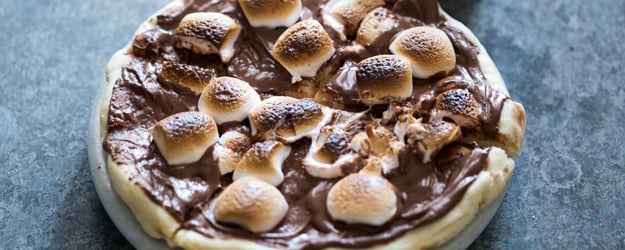 If you are a chocolate lover, this S'mores Chocolate Pizza is your dream come true! I love combining dessert with my favourite dishes. Like when you make dessert dips or when we make this chocolate pizza. It gives you even more satisfaction than the original recipe.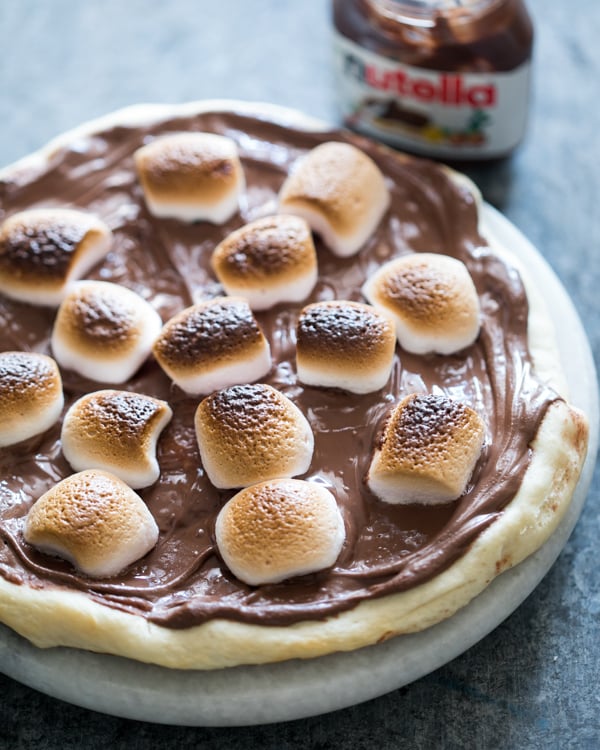 This s'mores chocolate pizza is not seasonal but if you want to, it's actually perfect for grilling season that's coming up. I know it's only March but I feel like spring will soon turn into summer and we should be prepared. And armed with our favourite recipes.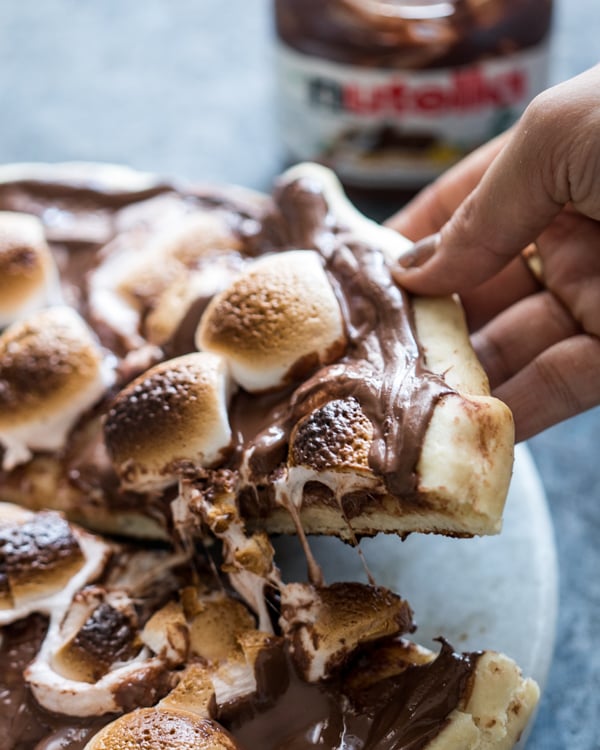 And when you light up that grill, give this s'mores chocolate pizza a try. I used store-bought pizza dough, formed it into a pizza and baked it till it was nice and crisp from the bottom but still soft and fluffy inside. And then I spread as much Nutella as I possible could on it, topped it with marshmallows and baked it till the top was nice and golden brown. This is the real 3 ingredient dessert pizza that we've all been waiting for. And it's ours for the taking!
If you have a Nutella lover in your house, they are going to love this! Because bread and Nutella can never go wrong. You can also make this pizza with homemade dough – I have tried it a couple of times but i just find it faster to use store bought. If you do use homemade dough, it won't be three ingredient any more but I think that's okay. You can also top this with sprinkles and m&m's or your favourite fruit. I love topping ours with mixed berries. And try mixing in some peanut butter as a spread. Actually this is perfect way to get kids involved! They'd love trying out new combinations and going crazy with their dessert pizza topping. This is definitely a fun family pizza and I hope you give this a try!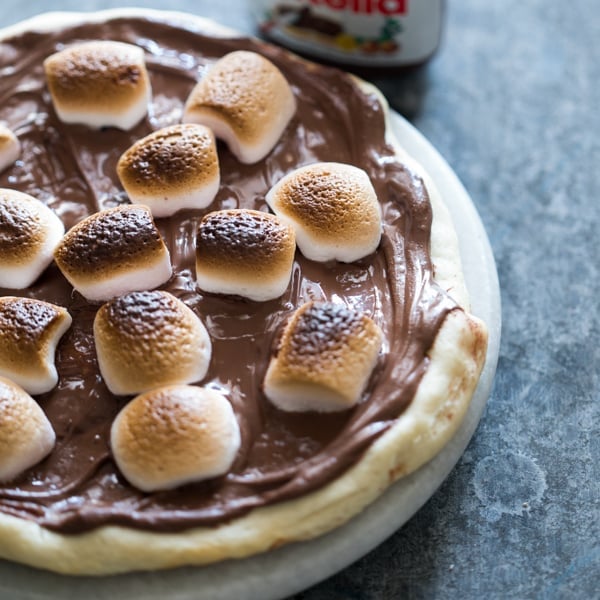 INGREDIENTS
450 grams store bought Pizza dough, at room temperature
3/4 cup Nutella, at room temperature
1 1/2 cup Marshmallows, cut into half
2 tablespoons melted Butter for brushing
DIRECTIONS
Pre-heat oven to 450F
Brush a 12 inch round pizza pan with better. Turn the risen dough on to the pan and stretch out with your hands into an even thickness, while making the edges slightly thicker than the rest.
Bake the dough for 10-12 minutes till the dough is slightly crisp at the bottom and baked through.
Take the pizza out of the oven and brush the top with melted butter. Spread nutella on the dough and top with marshmallows.
Bake for 2-3 minutes till the chocolate starts melting and the marshmallows are a golden brown. Cut into slices and serve while still warm.
Servings: 4-5 people