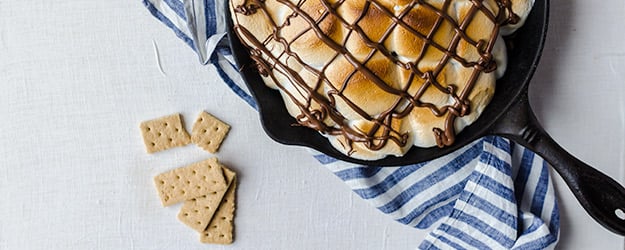 S'mores are probably the best dessert that was ever invented. There is something about the combination of crunchy graham crackers, melty chocolate, and toasted marshmallow that makes just about anyone who eats it fall in love. The thing is, it is so hard to save s'more for the campfire, so my family and I find any way we can incorporate s'mores into our lives. One of our favorite ways is to make s'mores nachos.
S'mores nachos are basically crunchy, gooey dessert nachos which aren't anything like nachos. It's layers of graham cracker, chocolate, and marshmallow that you eat while your hands get covered in the wonderfully sticky concoction. There is nothing like placing s'mores nachos in the middle of a table and let everyone go at it. My favorite nachos pieces are the ones that are completely covered in marshmallow with just a few drizzles of chocolate.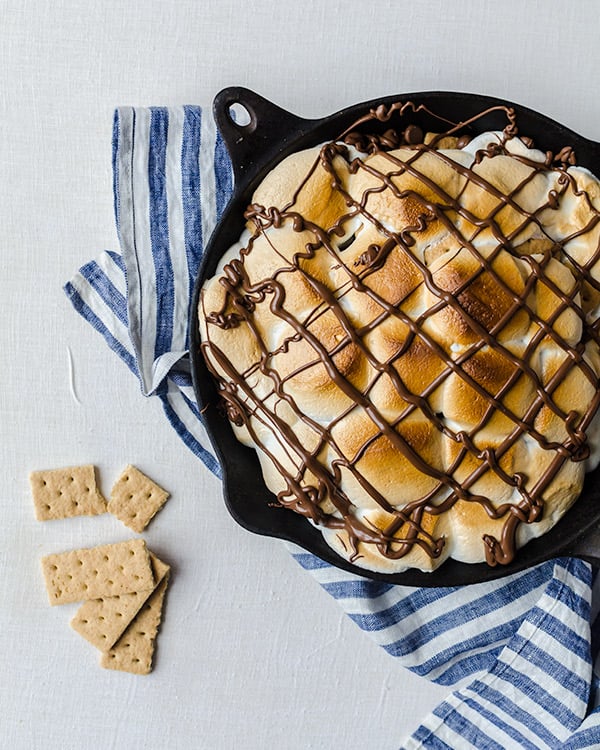 This s'mores nacho recipe is the basic recipe that I use all the time. You can easily dress these up to change things up a bit if you want. For example, you can use flavored marshmallows, or even homemade marshmallows. Sometimes I will use a combination of regular and chocolate graham crackers or mix up the type of chocolate I use. For Valentine's Day we love to use raspberry marshmallows with white chocolate and chocolate graham crackers. Sometimes we will even add some fruit or whipped cream to the top of the finished marshmallows.
These s'mores nachos are as good as your imagination. There is no end to how you can make them. That being said, these traditional s'mores nachos are our favorite. If you want to get the marshmallows extra toasty, you can turn on the broiler on low for 30 seconds to a minute until you get the right amount of toastiness. If you don't like your marshmallows really toasted, you can also put aluminum foil over them when you start baking.
I typically use chocolate chips in these s'mores nachos which works wonderfully, but if you want the chocolate to really melt over everything, I recommend using chopped chocolate bars. Experiment and see what you like best!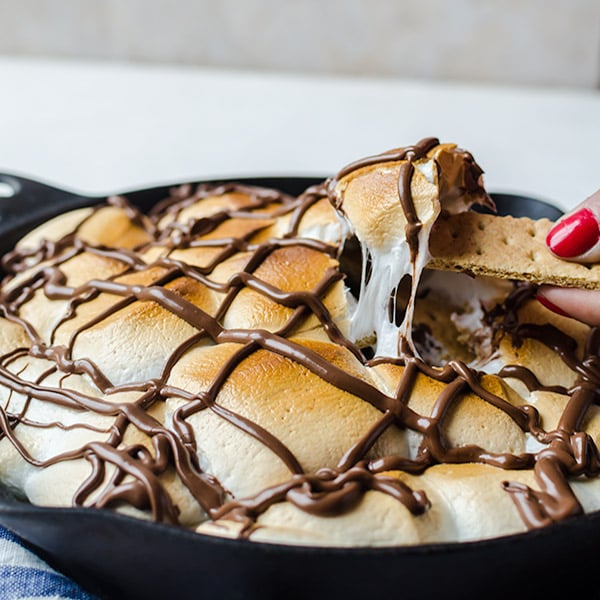 INGREDIENTS
DIRECTIONS
Preheat the oven to 350 degrees F. Break up the large graham crackers into four pieces.
In a cast iron skillet or other oven safe vessel, line the bottom completely with half the graham crackers.
Top the graham crackers with half the marshmallows.
Sprinkle on a cup of the chocolate chips, then top with the remaining marshmallows.
Bake for 10 minutes.
While the s'mores are baking, place the remaining chocolate in a microwave-safe bowl and heat until melted using 30 second intervals in the microwave. Stir well between each interval. Place the melted chocolate in a sandwich bag and snip off one corner.
Remove the s'mores from the oven and drizzle the melted chocolate over the toasted marshmallows.
Allow to cool for about 2 – 3 minutes, then serve warm.